NIH Head Says FDA Best Judge of Vaccine Safety, After Trump Says White House Must Approve Rules
Dr. Francis Collins, director of the National Institutes of Health (NIH), has said the Food and Drug Administration (FDA) is best placed to judge whether a potential coronavirus vaccine is safe and effective. He made the remarks after President Donald Trump claimed the White House can overrule potential safety guidelines set out by the FDA.
On Wednesday's The Situation Room, CNN presenter Wolf Blitzer asked Collins whether the White House or the FDA has the final say on whether a coronavirus vaccine is approved.
Collins said that he did not know as he is not a lawyer, but that the FDA is in the "best" position to judge whether a vaccine is safe and effective as the agency that has the experience and scientific expertise.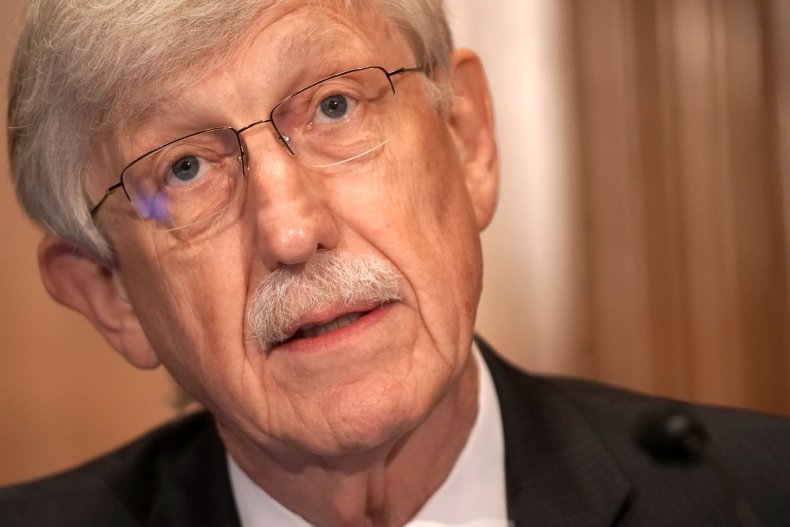 "You already have a problem in this country where a lot of people are worried about whether this vaccine is going to be something that they want to take. The last thing we need to do is create another cloud of uncertainty on whether this is being done appropriately, so that we can reassure people it's something they'd want to take advantage of," he said.
The physician-geneticist made the comments after Trump said the White House could override FDA guidelines on the approval of a vaccine. Trump was responding to reports the FDA was considering stricter rules for an emergency use authorization (EUA) of a coronavirus vaccine. A EUA has a lower threshold than an approval. Reports suggested this would push authorization past the November 3 presidential election. The president has repeatedly forecast a vaccine could be ready by election day. An FDA spokesperson declined to comment when contacted by Newsweek.
"We're looking at that and that has to be approved by the White House. We may or may not approve it. That sounds like a political move," the president said at a news conference at the White House on Wednesday.
An Axios/Ipsos poll published Tuesday, the day that the 200,000th U.S. death in the pandemic was recorded, found most Americans would not get a first-generation COVID-19 vaccine as soon as it is available. A separate ABC/Ipsos poll published over the weekend found most Americans do not have confidence in either Trump or Democratic presidential nominee Joe Biden to confirm a vaccine is effective and safe. Earlier in the month, a KFF Health Tracking Poll found respondents were very or somewhat worried the FDA will rush to approve a coronavirus vaccine without making sure that it is safe and effective due to political pressure from the Trump Administration.
On Wednesday, FDA Commissioner Stephen Hahn told a Senate hearing on the government's coronavirus response: "I will fight for science." Hahn went on: "I will fight for the integrity of the agency, and I will put the interests of the American people before anything else."
Four potential coronavirus vaccines are currently in phase 3 clinical trials in the U.S., by Johnson & Johnson, Moderna, Pfizer and AstraZeneca.