How to Watch Nik Wallenda's Highwire Act in Times Square: Live Stream, Air Date, Channel and More Info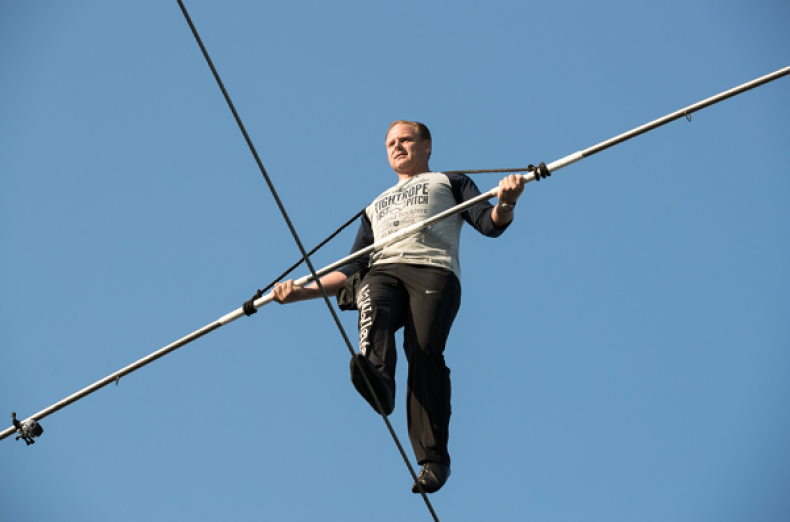 Nik Wallenda will attempt to do what no other man has ever done before—Walk across New York City's Times Square on a highwire some 1,300 feet above street level. The daredevil will be accompanied by his sister, Lijana Wallenda, for the stunt, which will air live on ABC on Sunday.
The siblings, who are the seventh generation of Wallendas to perform within the family's circus troupe, will walk a tightrope 25 stories above street level between the iconic 1 Times Square and 2 Times Square buildings. They are expected to walk from opposite ends of the rope, meet and cross in the middle of Times Square and move along to the other side of the rope.
Highwire Live in Times square with Nik Wallenda will include exclusive interviews and historical video footage of the famous acrobatic family's previous acts.
The two-hour event, hosted by Good Morning America's Michael Strahan and The $100,000 Pyramid host Erin Andrews, will air on ABC at 8 p.m. ET. Viewers can tune into the must-see performance via live stream on the ABC app as well as the network's website with a cable provider login.
Nik Wallenda, who wowed fans with his successful highwire walks across Niagara Falls and the Grand Canyon, was thrilled for the opportunity to make the walk across Times Square for the first time ever. "In 1928, my family performed at Madison Square Garden in the City of Dreams for the first time in the USA," he said in a statement. "I have the great opportunity to fulfill a lifelong dream of my own by paying homage to that performance as we return for my most exhilarating feat yet."
The performance marks Lijana Wallenda's return to the tightrope following her horrific 2017 accident, in which she and four other acrobats fell from a tightrope during a rehearsal. Lijana Wallenda broke a rib and bones in her face as well as several other injuries from the fall.
The siblings will be wearing a safety harness tethered to a wire for their upcoming New York City performance as a requirement by ABC and the city, the broadcast network said.
During their recent appearance on Good Morning America Lijana Wallenda said the Times Square stunt was "a little intimidating," but her brother believed they would see the act through successfully.
"There is that physical aspect that she hasn't been on the wire for a long time, so that's a major concern," he said on Thursday. "I have concerns that when she gets up here I don't know that she'll take that first step. I think she will. Our family blood says never give up, continue on."
To prepare, the tightrope duo trained for the worst possible conditions and practiced with wind-blowing machines that reach wind speeds up to 90 mile-per-hour. Makeshift torrential rain from water hoses also helped them prep for any type of weather that could affect the performance.