Nike Call Center Employee Describes Racists, Trump Supporters Blasting Kaepernick Ad Campaign
Nike call center employees were targeted by racists, Trump supporters and irate Republican soccer moms who angrily phoned in by the thousands to blast the company's Colin Kaepernick "Just Do It" ad campaign.
A young, black Nike employee described how call center workers were forced to hear innumerable rants using the n-word and other profanities despite being unable to respond with anything other than a prepared company line.
Speaking with Rolling Stone, the anonymous Nike call center employee detailed how frustrated coworkers cried as they were on the receiving end of vitriolic backlash from people who despise the NFL player national anthem protests.
The call center worker said an "older black lady" in his office broke down in tears after being told by a caller that it doesn't matter if "a few cops kill some n*****s every once in a while because black teens shoot each other every day."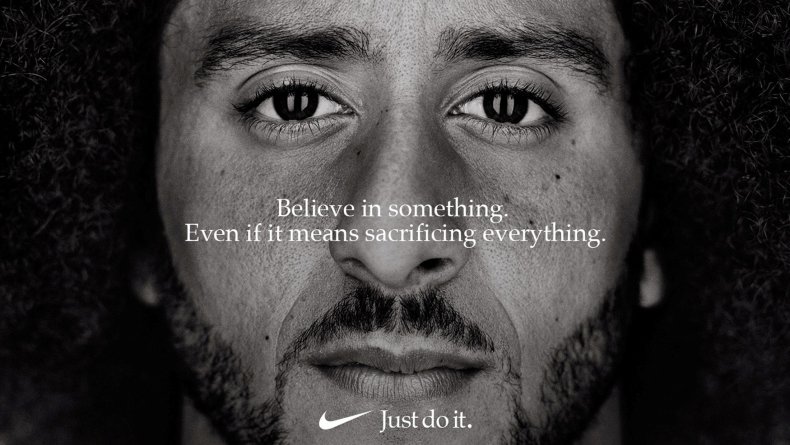 The employee described the irate calls as a "proverbial klan's mask" given the anonymity of the often racist tirades. In response to each call complaining specifically about Kaepernick, the company provided employees a pre-written, default line: "At Nike we're deeply sorry that you feel this way. May we take down feedback?"
The employee told Rolling Stone that endless calls asked "why does Nike hate the troops?" and a self-described police officer called Kaepernick "un-American, rude" and disrespectful. Kaepernick, who first popularized the kneeling protests against police brutality and racial inequality in 2016, was referred to by several racist nicknames including "Colin Cottonpick" and "Kaepern****r."
Several callers phoned in to brag about throwing Nike products off highway overpasses and detailed how they are burning their own sneakers in protest of the Kaepernick ad campaign. A "group of Republican moms" called in to say they were donating all of their children's Nike products and pulling all their stock investments out of the company. Several self-identifying supporters of President Donald Trump phoned in to call Kaepernick a "terrorist" and a "communist."
According to the Rolling Stone report, the Nike bosses purchased Papa John's pizza to reward the workers for enduring the abuse. Papa John's CEO John Schnatter recently stepped down over comments criticizing the NFL's handling of player protests.
A white coworker at the Nike call center was reportedly reprimanded by managers for hanging up on a caller who used the n-word. He was asked by the bosses to give warnings to people using racial slurs before ending any calls.