Nike Delays Release of Travis Scott Air Max Shoe After Astroworld Tragedy
Nike has postponed the release of its Air Max shoe collaboration with Travis Scott, following the tragedy at his Astroworld Festival.
At least 10 attendees of the music festival have passed away after a crowd surge toward the stage at the NRG Park stadium in Houston on November 5 sparked a deadly stampede among the 50,000-strong patrons.
In the aftermath, Scott and the event's organizers have been hit with several lawsuits. Drake, who had joined fellow rapper Scott onstage as a surprise guest at the event, has also been sued.
Nike has now stated that the planned release of the Air Max 1 x Cactus Jack, which was set to be made available via the sporting apparel giant's SNKRS app from December 16, has been postponed.
"Out of respect for everyone impacted by the tragic events at the Astroworld Festival, we are postponing the launch of the Air Max 1 x Cactus Jack," Nike said in statement shared on Monday.
On Sunday, Ezra Blount, 9, became the youngest of the stampede victims to die. The family of the young boy—who sustained severe damage to his brain, kidney, and liver—has since sued Scott for at least $1 million.
Leaked logs from Houston firefighters suggest that the crowd had started to spiral out of control some 12 hours before the show was eventually brought to an end.
According to the documents, obtained by USA Today, firefighters arrived to NRG Park just before 7 a.m. on the day to meet with police ahead of the event.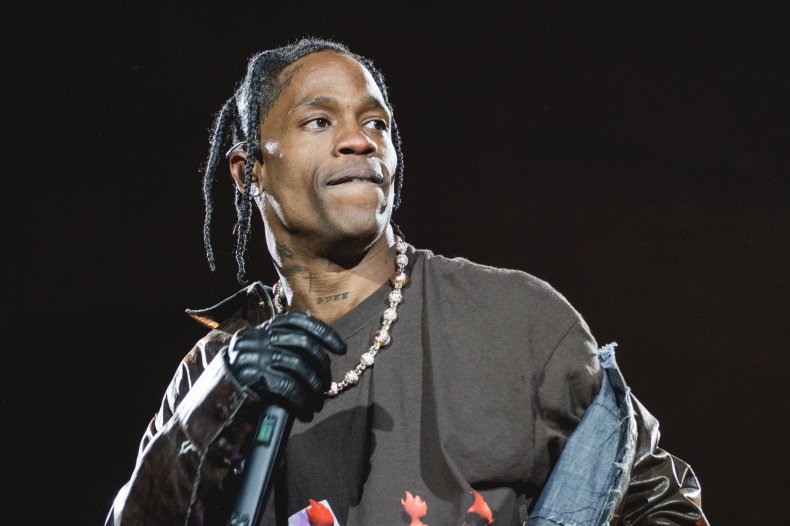 By 10:02 a.m., firefighters reported damaged fences at the venue and "no control of participants." In the initial rush of the gates—one of at least 10 documented—four attendees had already been injured.
By the time Scott's show was brought to an end 12 hours later, eight people had died in the crowd. Two others died days later, including Blount.
Shortly after the festival, an "absolutely devastated" Scott shared a statement on Twitter, in which he addressed the tragic turn of events.
"My prayers go out to the families and all those impacted by what happened at Astroworld Festival," he said. "Houston PD has my total support as they continue to look into the tragic loss of life.
"I am committed to working together with the Houston community to heal and support the families in need. Thank you to Houston PD, Fire Department and NRG Park for their immediate response and support. Love you all."
It was announced last week that Scott will cover all funeral costs of those who died as a result of the crowd stampede, as well as provide free one-on-one online therapy for others who were impacted by the events.