Nike Called Out for Low Wages in Asia Amid Colin Kaepernick Ad Promotion
As international attention has focused on Colin Kaepernick's Nike ad, activists and many on social media have pointed to the well-documented low wages, long hours and poor working conditions many who make the global corporation's products endure.
"Activists, organizers and leaders sometimes make mistakes, and I think [Kaepernick] made a mistake by aligning himself with a company that exploits workers and breaks unions," Rosa Clemente, an activist and political commentator, told The New York Times this week. "It's not just a capitalist company — it's a hyper-capitalist company."
Nike's new campaign, which commemorates the 30th anniversary of its iconic "Just Do It" slogan, features the former NFL, with the lines: "Believe in something. Even if it means sacrificing everything." One meme shared on social media has played on the ad's message, changing out Kaepernick's image for one of a young woman working in what appears to be a Nike factory. The slogan is the same, but at the bottom, the image says: "Just do it, for $0.23 per hour."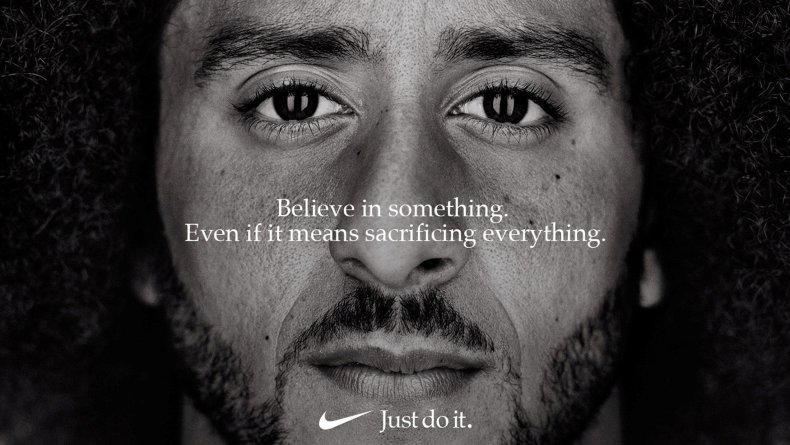 The amount factory workers earn making Nike products varies depending on the facility and the country. Nike did not immediately respond to Newsweek 's request for comment and clarification about how much it pays workers on average.
However, a June report from the Clean Clothes Campaign (CCC) alleged that factory workers today receive even less of Nike profits than they did in the 1990s.
"The share of production costs of Nike and Adidas shoes that ends up in a worker's pocket is now a staggering 30 percent less than in the early 1990s (2.5 percent in 2017 for Nike shoes compared with 4 percent in 1995)," the organization said, Reuters reported. According to CCC, the company has transferred much of its manufacturing to Indonesia, Cambodia and Vietnam as wages have increased in China.
In the three southeast Asian nations, average earnings for garment workers are 45 to 65 percent below the so-called "living wage," according to CCC.
Nike told Reuters that all its factories are required to pay at least the local minimum wage or the "prevailing wage." This includes additional pay for overtime and legally mandated benefits.
"We remain invested in conversations with governments, manufacturers, NGOs, brands, unions, and factory workers to support long-lasting, systemic change," a spokesperson told the news agency.
However, Martin Buttle of the Ethical Trading Initiative, told Reuters that Nike's factories can leave workers "trapped in a cycle of poverty."
A June 2017 report by The Guardian also revealed that more than 500 workers in four factories supplying to Nike, Puma, Asics and VF Corporation in Cambodia had been hospitalized due to working conditions. The brands confirmed that the incidents occurred. Most of the workers fainted due to high temperatures and long work hours.
Union representatives and workers told the U.K.-based newspaper that many of the employees worked 10 hours a day and six days a week, with factory temperatures sometimes soaring into the high 90s. None of the four factories reportedly paid what is seen as a "living wage" in the country, considered to be just under $400 per month.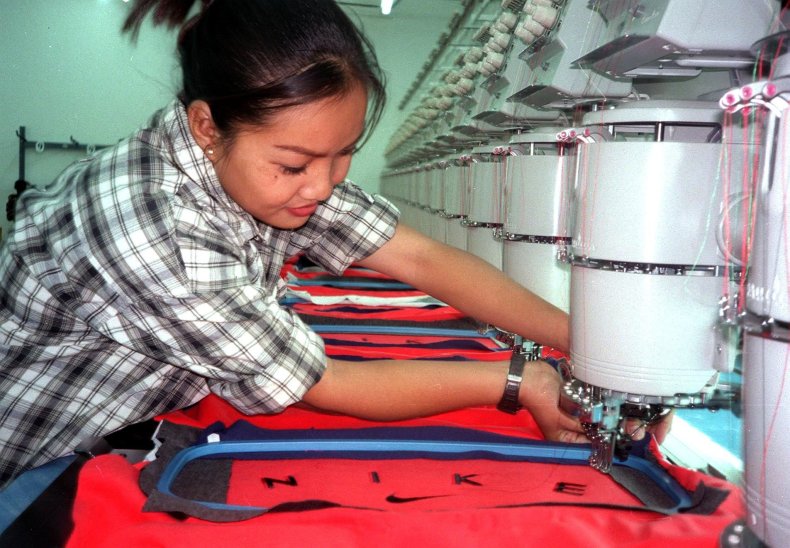 Nike and other sportswear companies are however following normal practices that many of the world's top apparel makers adhere to. The garment industry has also spurred significant economic growth throughout Asia.
"The garment industry in Asia provides millions of job[s] to millions of women and men, it has been behind some of the biggest economic growth in the region. But this rapid growth has come at a price – and it is the workers who are paying it," Asia Floor Wage, an organization that pushes for better wages for factory workers in various Asian countries, explained on its website.
"All garment workers in Asia need a wage increase to be able to provide for themselves and their families basic needs - including housing, food, education and healthcare. However, often when workers struggle to improve their wage and conditions in one country, companies relocate to another country where wages and conditions are lower," the organization said.