Nike Files Fourth Lawsuit Against Skechers Alleging Knockoff Sneakers, Denies 'Bullying' Claim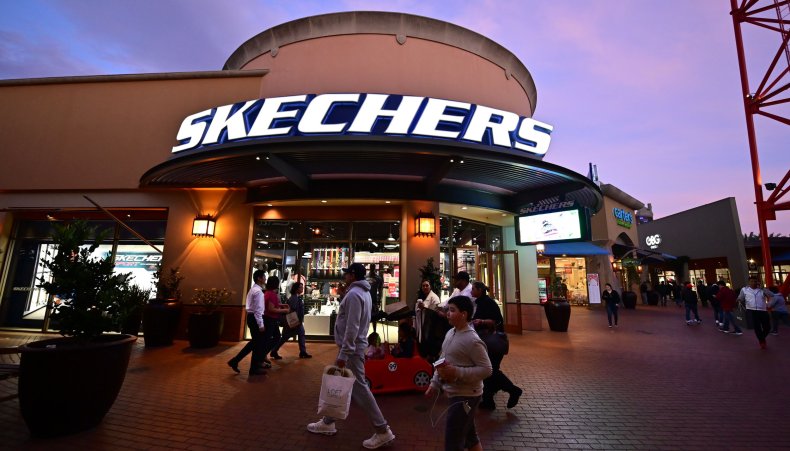 Nike denied being a "bully" as lawyers a new lawsuit against rival shoe brand Skechers on Monday, claiming the company had knocked off their sneaker designs.
The new lawsuit is the latest in a series of four complaints the Oregon-based company has made against California's Skechers in recent years. The suit was filed in U.S. District Court in Los Angeles, California. The company specifically claims that utility patents for their "Air" shoe cushioning technology were infringed on with the "Skech-Air Mega" and "Skech-Air Jumpin' Dots" shoes.
The lawsuit also claims that Skechers CEO Robert Greenberg "gives orders to knock-off competitor products" and that code words were used in the company's "copying documents" to protect against legal action due to the company making "exact copies" of rival products.
"Instead of innovating its own designs and technologies, Skechers' business strategy includes copying its competitors' designs and using innovative technologies developed by others to gain market share," the lawsuit claims.
Nike had previously filed suit against the company on September 30, making similar claims about the "Skech-Air 92," "Skech-Air Stratus," "Skech-Air Blast" and "Skech-Air Atlas" shoes. Nike alleges the shoes steal from their "VaporMax" and "Air 270" designs.
On October 14, Skechers fired back with an ad in The New York Times, which accused the shoe giant of being a "bully," while denying any suggestion that they had stolen from their rival.
The ad, which was written in the format of a "letter," was also posted to Twitter. Nike's new lawsuit mentions the Twitter post and includes some of the responses the letter received on the platform, which seem to be largely negative and agree with the idea that the company has "copied" Nike's designs.
In Monday's lawsuit, the company's lawyers also specifically denied the Skechers "bully" claim, saying "Nike's enforcement of its intellectual property rights against infringers, including copyists like Skechers, is not bullying and it does not stifle competition. The opposite is true."
"Nike has a strong history of innovation and leadership in footwear design and development," the company said in a statement to the Portland Business Journal. "We innovate to help athletes reach their potential and we vigorously defend and enforce the intellectual property that protects those innovations."
Two earlier lawsuits by Nike have also accused Skechers of illegally using designs or technology. In 2014, the company claimed that the "Chuck Taylor" design of Nike subsidiary Converse was stolen by Sketchers. And in 2016 they sued the company for allegedly infringing on eight different patents.