Nike's announcement that former San Francisco 49ers quarterback Colin Kaepernick would be the face of the company's upcoming "Just Do It" campaign was met with mixed reactions, with some detractors contrasting the quarterback with NFL star turned Army veteran Pat Tillman. Tillman's image was used as a contrasting example of who should be held in high esteem—but his biographer said Tillman would have been kneeling right alongside Kaepernick.
Kaepernick began protesting social injustice and racial inequality by kneeling for the national anthem in 2016, and although he hasn't been on the NFL field since the 2016 season, other players continued his protest without him. Many people have shown strong support for the protest, while others are adamantly against it, and Monday's announcement was met with a similar variety of reactions.
NBA star LeBron James, tennis star Serena Williams and comedian Kathy Griffin were among the people who vocalized their support for the former NFL quarterback and Nike. The hashtag #ImWithKap circulated online.
Yet another hashtag that began appearing on social media was #BoycottNike, and some social media users who disagreed with the decision to feature Kaepernick even burned their Nike apparel.
Given that Kaepernick's protest has been characterized by some as disrespectful to America's military troops and veterans, critics of Nike's campaign began posting photos of Kaepernick's quote on a picture of Tillman.
However, Jon Krakauer, the author of Where Men Win Glory, a biography of Tillman, told The Washington Postthat the Army veteran would have sided with Kaepernick.
"Pat would have found Kaepernick an extremely admirable person for what he believed in," Krakauer explained. "I have no doubt if he was in the NFL today, he would be the first to kneel. So there is irony about what is going on."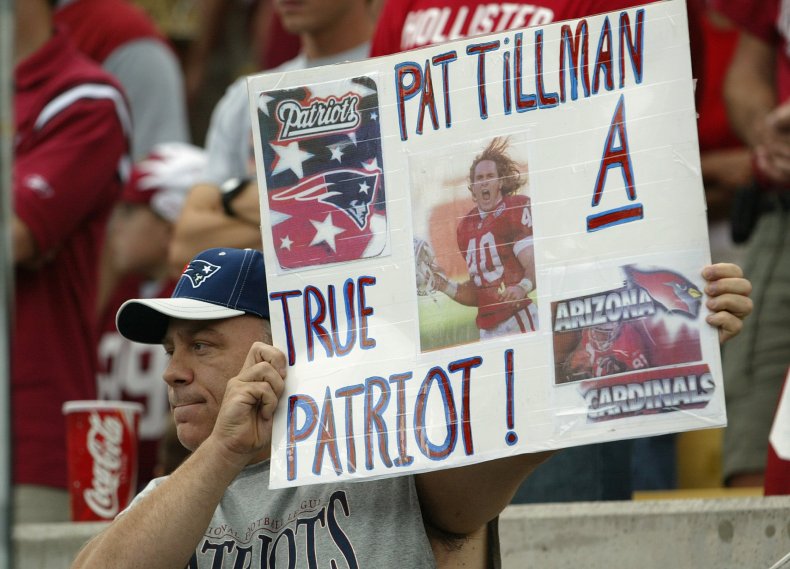 Tillman enlisted in the Army following the attacks on September 11, 2001, turning down a multimillion dollar contract in the NFL. He was killed by friendly fire while serving in Afghanistan in 2004 and has since become a role model and example of courage and heroism.
The controversy surrounding Kaepernick's campaign with Nike isn't the first time Tillman's sacrifice for his country has been used by critics to argue against Kaepernick's protest. In 2017, Tillman's wife, Marie, asked people to stop using his name to divide people politically.
"Pat's service, along with that of every man and woman's service, should never be politicized in a way that divides us," she told CNN. "We are too great of a country for that."
Marie added that service members are fighting for the American ideals of "freedom, justice and democracy," knowing the cost of that fight. She explained that Pat and all others who gave their lives to serve their country did so for the "very action of self-expression and freedom to speak from one's heart."
After being let go from the San Francisco 49ers, Kaepernick filed a lawsuit against the NFL alleging that owners colluded to keep him out of a job as a football player. He has since remained active in his fight for social justice.