Nike Denies Pulling Kobe Bryant-branded Products From Its Website to Stop Sellers Stockpiling
Nike appears to have no Kobe Bryant-related products available for purchase on its online store, following the former NBA star's death. Bryant died on Sunday, along with his 13-year-old daughter Gianna and another seven people, when the helicopter he was flying in crashed outside Calabasas, California, northwest of Los Angeles.
According to a report by ESPN, to prevent products being sold at inflated prices on secondary markets, Nike is understood to be keen to limit the amount of existing products resellers can stockpile for the time being.
The swoosh brand has dismissed the story, describing it as "inaccurate" and a Nike spokesperson told Newsweek that the products were in fact sold out.
A purple and yellow gift card bearing the Los Angeles Lakers logo is the only result for searches for Bryant's products on Nike's official website.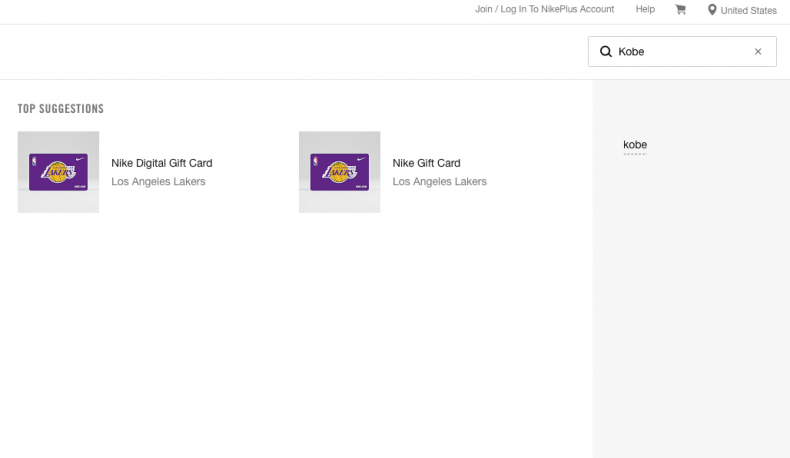 ESPN reported on Monday night that Nike was in the process of re-evaluating its plans to release Bryant's signature shoes.
Since joining the swoosh brand in 2003, Bryant had developed into not just one of the company's most recognizable athlete, but a bonafide global icon. The five-time NBA champion played an active role with Nike, working with designers and producers tasked with developing new products.
"Along with millions of athletes and fans throughout the world, we are devastated by today's tragic news," a statement published on the company's website states.
"We extend our deepest sympathies to those closest to Kobe and Gianna, especially their family and friends. As we are learning more details of the accident and the others who have tragically lost their lives, our heartfelt sympathies go out to everyone involved and impacted.
"Kobe was one of the greatest athletes of his generation and has had an immeasurable impact on the world of sport and the community of basketball. He was a beloved member of the Nike family. We will miss him greatly. Mamba forever."
Data released by the company last month, showed almost 67 percent of NBA players have worn Nike sneakers on court this season.
Of those, 102 wear a retro edition of the Kobe 4 signature shoe, making it one of the most popular in the NBA, surpassing even the current lines designed on LeBron James, Giannis Antetokounmpo and Kyrie Irving.
Released in the 2008-09 season, the Kobe 4 was a drastic move away from Bryant's first three Nike shoes, as he became the most high-profile NBA player to wear low tops.
It proved to be an incredibly successful shift in dynamic, as 10 of the 16 current signature basketball shoes on the market at the moment are low tops.
Upon Bryant's retirement in 2016, he agreed with Nike that his annual Kobe AD would feature the newest materials available, while his older sneakers would be re-released with both NBA players and casual fans alike in mind—a significant change from other signature sneakers who tend to be designed specifically for fans, as opposed to players.
A year ago, during the All-Star weekend in Charlotte, North Carolina, Nike re-released the Kobe 4 in Hornets colors. The decision was a clear nod to the fact the franchise drafted Bryant with the 13th overall pick of the 1996 draft, before immediately trading him to the Lakers.
A new celebratory edition of the Kobe 5 in white, black trophy and gold—combining the colors of the shoes Bryant wore during the 2010 NBA Finals, when he clinched his fifth and final ring—was due for release on February 7 but ESPN reported Nike is still debating whether to go through with the launch.
Update 1/28/2020, 11:00 a.m. ET: This article and headline was updated to include Nike's response to the ESPN report claiming it had pulled sales of Kobe Bryant merchandise.