Nike Scraps American flag-themed Shoe After Colin Kaepernick Calls the Flag Offensive
American shoe company Nike planned to unveil a sneaker that would feature an early American flag to celebrate this week's Independence Day. However, former NFL quarterback Colin Kaepernick, now an activist who gained notoriety when he began kneeling during the national anthem, told Nike the flag is a symbol he considers offensive.
Nike has decided to ultimately scrap the 'Betsy Ross Flag' Air Max1 USA that was to go on sale this week. The giant sneaker retailer has already shipped the shoes to distributors, but has asked for their return without any explanation, according to the Wall Street Journal.
"Nike has chosen not to release the Air Max 1 Quick Strike Fourth of July as it featured the old version of the American flag," a Nike spokeswoman told WSJ.
The shoe's heel was to feature the early American flag of 13 white stars arranged in a circle. This flag design was created during the American Revolution, and Ross has been credited with its origin. The 13 stars represent the original 13 colonies in America.
Nike posted images of the shoe online, which have since been removed, according to the WSJ, which reported that Kaepernick contacted the company to tell them the flag has a connection to the slavery era in the United States, and that it offended him and other people he knew.
Kaepernick, 31, began kneeling during the national anthem at NFL games during the 2016 preseason to raise awareness to social injustice, police brutality in black communities and racial inequalities. That year was his last to play in the league.
Since then, Kaepernick tried to get on with other NFL teams, but none of them would sign him, which prompted a lawsuit by him against the league, saying the teams conspired to not sign him because of his political views.
Kaepernick and former San Francisco 49ers teammate Eric Reid reached a settlement with the NFL last year that was a little less than $10 million.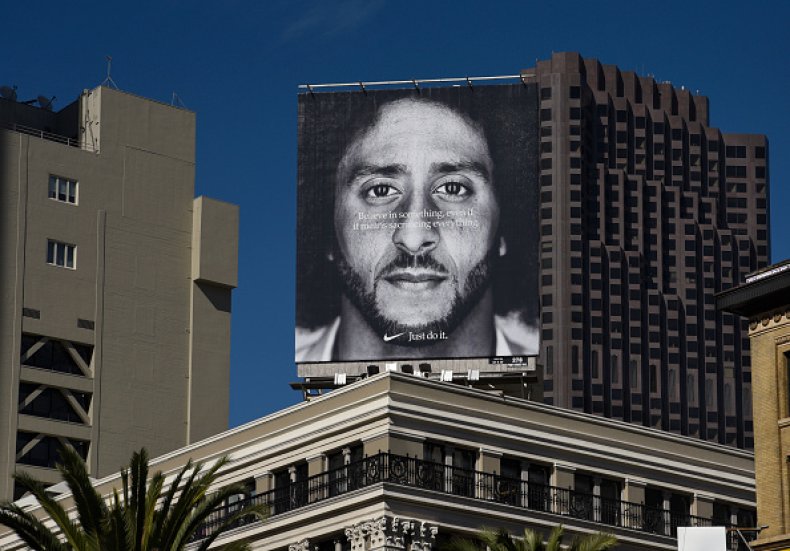 In September 2018, Nike launched an advertising campaign that used the faces of many current athletes, including Kaepernick. The slogan on the Kaepernick ad read: "Believe in something. Even if it means sacrificing everything."
Though the shoe has been shelved by Nike and removed from its website, an image remains on Stockx.com, which shows the retail value of the shoe at $120, with a trade value up to $599.
Nike Scraps American flag-themed Shoe After Colin Kaepernick Calls the Flag Offensive | U.S.