Nike Stock Price: How Shares Are Reacting After Trump Tweet About Kaepernick Ad?
President Donald Trump isn't happy with Nike. He made that pretty clear on Friday.
But his anger wasn't enough to tank the company's stock.
Midday Friday, Nike was trading just around $80.50 per share, which would amount to holding steady from where it opened (if not a tiny rise) on the day. That price would not, however, mark a full recovery from where it stood earlier in the week, at more than $82 per share. That was the share price before it took a dip on Tuesday, around the same time the company dropped what proved to be a controversial ad featuring Colin Kaepernick, who—of course—sparked the NFL kneeling protests aimed at raising awareness of the oppression of black people in America.
It's worth noting, however, that both Adidas and Puma have had similar drop-offs this week, meaning larger market forces could be at work since neither of those companies have endorsement deals with the out-of-work quarterback.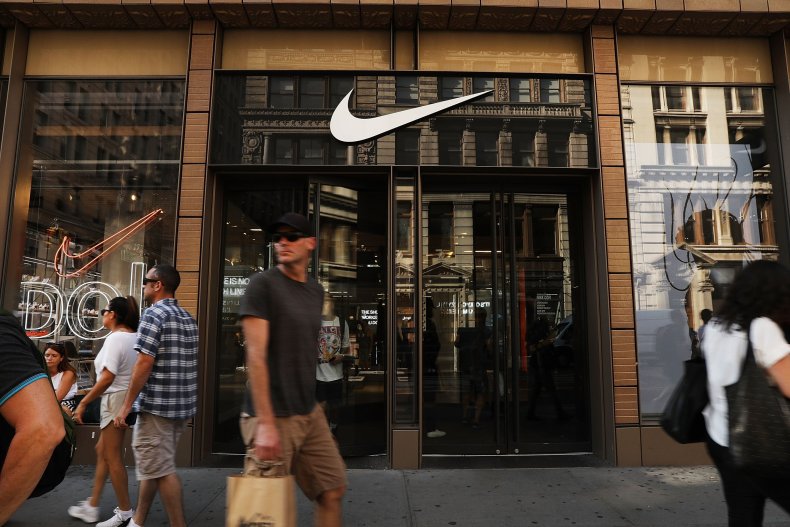 Trump criticized Nike and its ad—featuring the tagline "Believe in something, even if it means sacrificing everything"—on Twitter on Friday.
"What was Nike thinking?" Trump tweeted in the early morning hours.
A previous tweet on Wednesday featured expanded thoughts: "Just like the NFL, whose ratings have gone WAY DOWN, Nike is getting absolutely killed with anger and boycotts. I wonder if they had any idea that it would be this way? As far as the NFL is concerned, I just find it hard to watch, and always will, until they stand for the FLAG!"
Despite criticism from the president and a number of other conservatives, Nike seemed to show no signs of backing away from the ad. It played a version of the spot on Thursday night during the NFL season opener between the Philadelphia Eagles and Atlanta Falcons. And the company is not stopping there.
"Nike's 'Dream Crazy' campaign will air this week during sporting events such as the U.S. Open, M.L.B. and college football in addition to 'Thursday Night Football,'" Nike spokesman Josh Benedek told the The New York Times this week.