Nike's Record-Breaking Vaporfly Shoe Set to be Banned by World Athletics
Nike's Vaporfly shoe, the latest version of which was worn by a marathon winner who smashed a world record last year, is reportedly set to be banned by World Athletics (formerly known as the International Association of Athletic Federations) amid allegations that its unique design provides an unfair advantage to runners.
The sneaker has come under scrutiny, with claims that its foam and carbon fiber composition in the sole serves as a spring that gives runners an edge by providing an increased forward push on each stride.
The design of the shoe is under review by a group of officials who are slated to reveal their findings later this year.
"A working group, consisting of technical officials, athletes, health and science practitioners and legal experts, are reviewing the shoe, the technology and the wording around the rule. We hope to make their findings available early in the new year," World Athletics said in a statement.
Concerns have also been raised over the long-term health risks imposed by the shoe's design, which features carbon plates in its soles, and the impact it has on runners who primarily use their heels rather than toes as springboards for their steps.
The ZoomX Vaporfly Next% shoe was worn by Kenya's Brigid Kosgei when she set the record for the fastest marathon time for a woman, winning the women's event of Chicago Marathon last October.
The win saw her usurp the previous record of 2 hours, 15 minutes and 25 seconds (set by Britain's Paula Radcliffe in London) by just over a minute.
In the same month, a version of the Vaporfly shoe was also worn by Kenyan running champion Eliud Kipchoge during a race in Vienna known as the Ineos 1:59 Challenge, which made him the first-ever athlete to complete a marathon in under two hours.
While recent claims say the Vaporfly shoe boosts runners' performance, some medical experts say this could be a result of several variables.
Speaking to Newsweek, Dr. Adam Tenforde, of the American Medical Society of Sports Medicine (AMSSM), said: "The challenge in determining an advantage for equipment or technology requires independent testing. There is clearly excitement around recent performances in road competitions with a number of runners with faster performances wearing the Vaporfly shoes.
"However, many variables including weather, competition and the psychology of runners may also contribute to performance. For example, shared expectations going into a race that runners will run fast may result in a large number of runners performing well," noted Dr. Tenforde, the director of running medicine at Spaulding National Running Center and sports medicine physician at the Boston Children's Hospital and assistant professor at Harvard Medical School.
Speaking to Newsweek, Dr. William Roberts of the AMSSM added: "Innovations occur at the top level of competition so it is difficult to tell if it is the shoe [Vaporfly] or the company [Nike] just picked the right runner."
"I do not know if the shoe provides an advantage or not. In other sports like Nordic skiing, downhill skiing and sailing the equipment is not always uniform so I am not sure this should be different in running," said Dr. Roberts, a professor of family medicine and community health at the University of Minnesota and faculty member of its sports medicine program.
"If there is an advantage to the shoe, it may be better to provide for all who wish to use the shoe. I would bet that Brooks, Adidas, etc are all working on competitive prototypes. It will be hard to ban each shoe," he adds.
Regarding the health risks posed by the Vaporfly shoes, Dr. Tenforde noted: "We do not know whether the shoe design will result in injuries. Sports science does show that footwear does change how a runner lands, and the change in force can contribute to overuse injuries.
"We know that runners who are habituated to running with shoes providing cushion tend to land with a rearfoot strike pattern (heel strike) compared to those who run barefoot will land with a forefoot strike running pattern. Anyone who uses a new type of footwear technology should expect that this sudden change in footwear may change biomechanical forces and could contribute to injury," he adds.
World Athletics has yet to announce a decision on the ban and whether Kosgei's record time will remain valid. A moratorium is reportedly being considered by World Athletics that could see the world records stand despite the ban, The Sun reported.
New regulation on the use of carbon plates and placing a limit on the thickness of a sole are also reportedly set to be legislated by World Athletics.
Running spikes developed for sprinters will also be banned.
"Recent advances in technology mean that the concept of 'assistance' to athletes, whether from shoes, prostheses, or technologies with a similar effect, has been the subject of much debate in the athletics world. It is clear that some forms of technology would provide an athlete with assistance that runs contrary to the values of the sport," World Athletics said in a statement last year.
"The challenge for the IAAF [now known as World Athletics] is to find the right balance in the technical rules between encouraging the development and use of new technologies in athletics and the preservation of the fundamental characteristics of the sport: accessibility, universality and fairness.
"To that end, the IAAF [now known as World Athletics] Technical Committee has established a working group to consider the issues and, if necessary, recommend changes to the technical rules. The working group includes two former athletes alongside experts in science, ethics, footwear, biomechanics and law," it added.
Newsweek has contacted Nike as well as the Association of International Marathons and Distance Races and USA Track & Field for further comment on the potential shoe ban.
Nike's first Vaporfly shoe—the Zoom Vaporfly 4%—was unveiled in 2017. It was worn by Kipchoge when he recorded the fastest time across all six World Marathon Majors.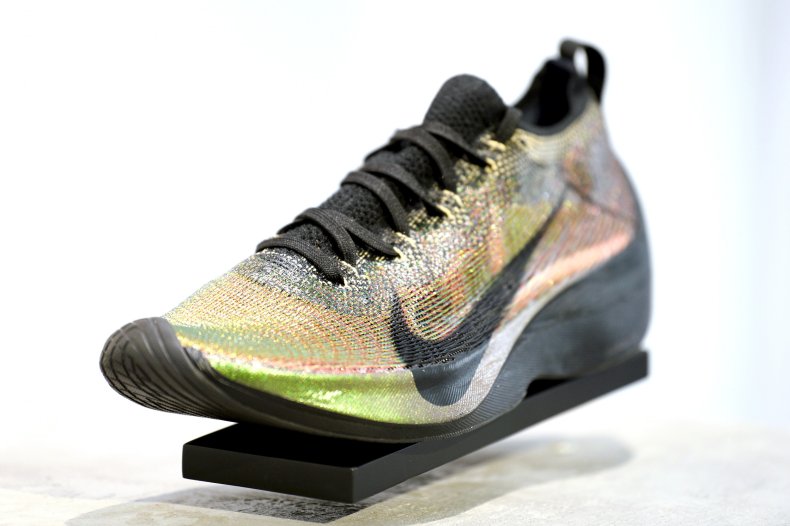 It gained a reputation as the record-breaking running shoe, having been worn by various athletes who collectively bagged 19 top finishes and 6 world marathons in Tokyo, Boston, London, Berlin, Chicago and New York, according to Nike.
In 2018, Nike also introduced the Zoom Vaporfly Elite Flyprint, which is 0.39 ounces lighter than the Vaporfly 4% and made with a more breathable upper layer.
Highlighted design features of the latest iteration—the ZoomX Vaporfly Next%—include its controversial foam which has been "scientifically proven in Nike's Sport Research Lab to further increase energy return" as well as "redistributed to decrease the offset from 11 mm to 8 mm [0.43 inches to 0.31 inches] to provide a more stable feeling and help maximize energy return at the critical toe-off," Nike describes.
"Contoured treads with deep grooves on the outsole facilitate smoother movement during turns" while a thin foam pod inside the heel provides added support for the Achilles, the company notes.
This article has been updated with comments from the American Medical Society of Sports Medicine.