Who Was Niki Lauda? Legendary Formula One Driver Who Survived Fiery Crash to Win F1 Championship, Dies Aged 70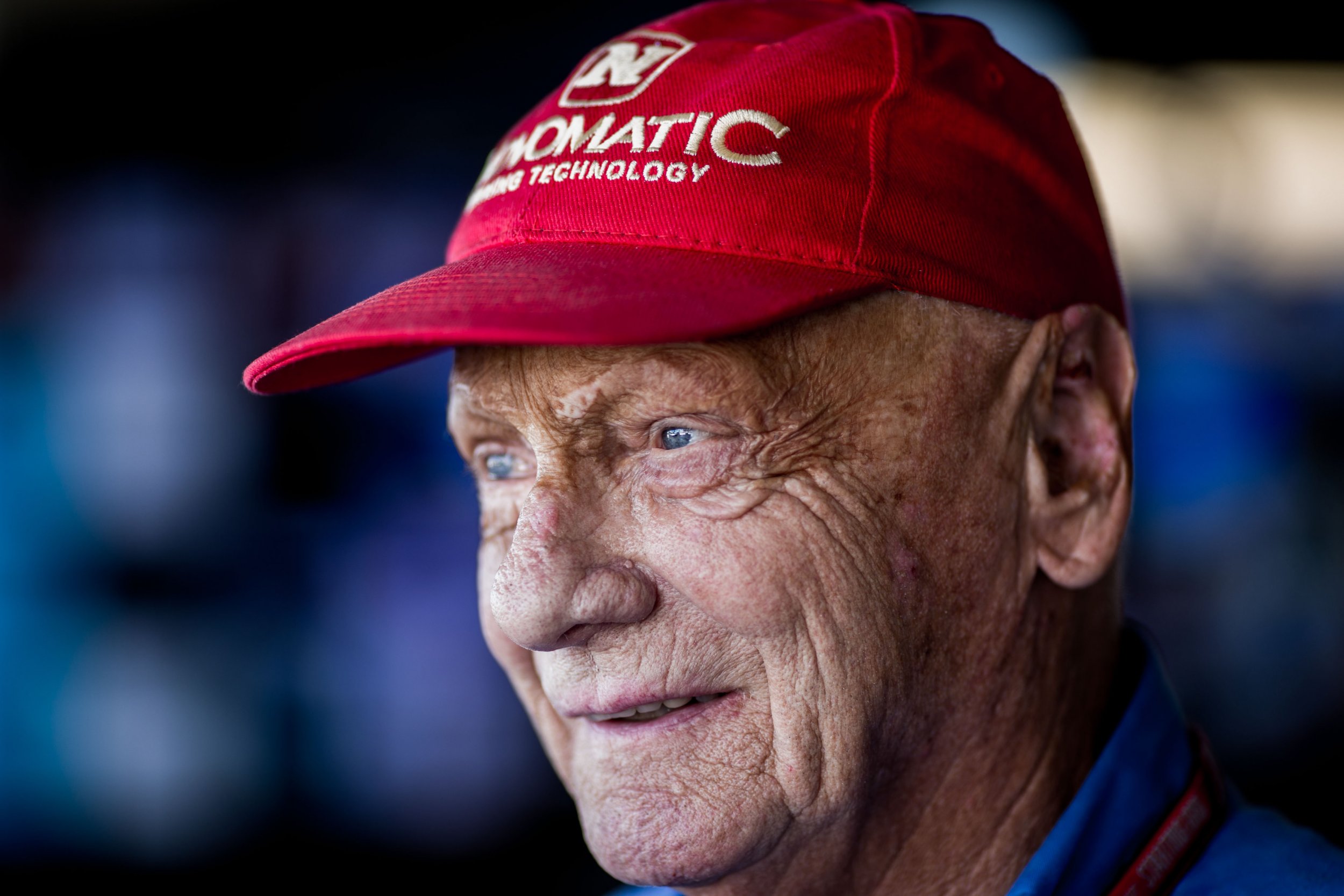 Legendary Austrian racing driver Niki Lauda died aged 70 on Monday in his home city of Vienna. Remembered for returning to Formula 1 just weeks after a catastrophic crash that saw his car engulfed in flames, the three-time world champion is one of the best-known figures in the sport.
Born in Vienna, Austria, in 1949, the young and relatively inexperienced formula one driver rose to prominence after joining a then struggling Ferarri team in 1974. In 1975, he claimed his first world championship.
Lauda's infamous, near-fatal crash took place during the 1976 German Grand Prix at Nurburgring—a winding circuit in the Eifel mountain range he had warned was unsafe. He was badly injured when his car smashed into an embankment and burst into flames. The crash seriously burnt his head and scarred him for life. Lauda lost the majority of his right ear in the incident. He had to undergo surgery to reconstruct his singed eyelids.
Just 40 days after the accident, Lauda was racing again. He competed in the Italian Grand Prix and came fourth. The driver was forced to rip off his balaclava at the end of the race because it had become stuck to his seeping wounds, as the BBC noted.
But his remarkable return wasn't enough to cinch the world title that year. Having missed two races during his relatively brief hiatus, he lost narrowly to British driver James Hunt. Lauda came back with a vengeance the next year, winning the world championship for a second time in 1977.
After switching teams from Ferrari to Brabham for 1978, Lauda's prominence waned and he became tired of the sport. During a 1979 practice session he told Brabham boss Bernie Ecclestone he was done, and retired for two years.
"Everyone at Ferrari is deeply saddened at the news of the death of our dear friend Niki Lauda. He won two of his three world championships with us and will always be in our hearts and in those of all Ferrari fans," Scuderia Ferrari wrote on Twitter Tuesday. "Our sincere condolences go to all his family and friends."
Lauda returned to F1 after rival team McLaren offered him a record-breaking $3 million. In 1984 he reclaimed the world champion title, before retiring from the sport permanently in 1985.
After his death, the team wrote on Twitter: "All at McLaren are deeply saddened to learn that our friend, colleague and 1984 Formula 1 World Champion, Niki Lauda, has passed away…[he] will forever be in our hearts and enshrined in our history."
After his racing career ended, Lauda continued to influence the world of F1, taking on management roles and an analyst role on German television. He briefly worked with Ferrari, then Jaguar, before eventually moving to Mercedes in 2012. As non-executive director, and later, 10 percent shareholder, he played a key role in signing Lewis Hamilton, as the BBC noted. Hamilton went on to win four world championships with Mercedes.
On Twitter, Mercedes-AMG F1 shared an image of Lauda with a heart symbol and the words: "Niki, 1949 - 2019."
Outside of his F1 career, Lauda was a keen pilot who set up two airlines: Lauda Air, which he sold to Austrian Airlines, and Niki Air.
Lauda had a lung transplant in 2018 after contracting a serious infection. He developed pneumonia in January 2019. He passed away on May 20, 2019. He is survived by five children: Max, Mia, Mathias, Lukas and Christoph.
"His unique achievements as an athlete and entrepreneur are and will remain unforgettable," his family said in a statement quoted by Reuters. "His tireless zest for action, his straightforwardness and his courage remain a role model and a benchmark for all of us, he was a loving and caring husband, father and grandfather away from the public, and he will be missed."