Why Nikki And Brie Bella Quit WWE—And Changed Their Names
The Bella Twins, Nikki and Brie, have announced that they are leaving the WWE and reverting back to their birth names.
The wrestling icons said that they would be moving forward with new ventures and would be using their real names—Brie Garcia and Nikki Garcia—after they officially announced their departure from WWE.
During the latest episode of their Sirius XM show, the sisters announced: "Today we are officially from here on out, the Garcia Twins, Brie and Nikki Garcia."
Going forward, their show will now be officially called The Nikki & Brie Show.
Explaining why they had reverted to their real names, Nikki said that it was because they were looking to embrace a "new chapter" after deciding to leave the WWE behind.
She said that as well as enjoying being mothers, business entrepreneurs and executive producers on their shows, there was another more matter-of-fact reason for the changes: "We're going to be 40 in November."
Nikki added that when the time had come to renew their WWE contracts, they "just knew it was time to head into this next chapter."
Brie said that she had no regrets on leaving her stage name behind, saying she is "so excited to close the chapter on Brie Bella".
She added that she can't wait for fans to "see what Brie Garcia is going to do next."
Nikki and Brie signed with WWE in 2007 and were dubbed the Bella Twins ahead of their in-ring debut the same year.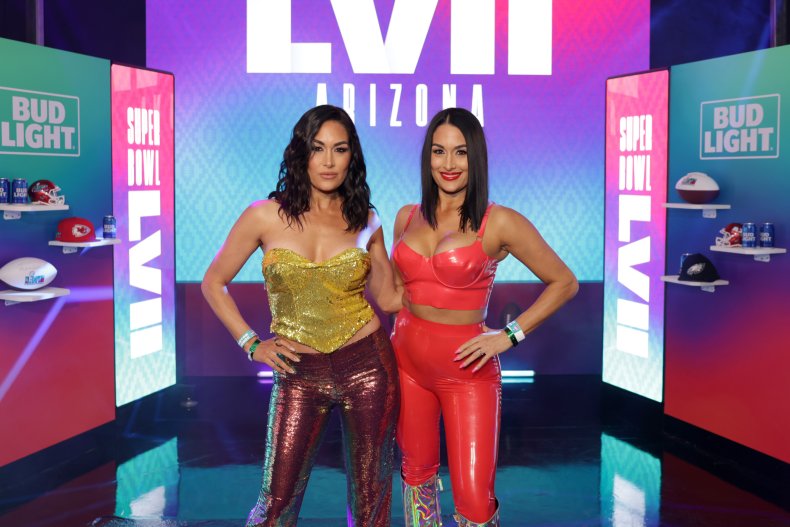 They went on to become crossover stars, featuring on numerous reality TV shows.
It was on a TV show, Dancing With The Stars, that Nikki met her now husband, Artem Chigvinstev, who was her professional dance partner in the series.
They began dating in 2019 and announced their engagement later that year before tying the knot in front of the cameras for an E! wedding special, Nikki Bella Says I Do.
They welcomed their son Matteo in July 2020. Brie shares two children, Birdie and Buddy, with her husband AEW wrestler Bryan Danielson.
The Nikki and Brie Show will continue on Sirius XM and new episodes drop every Wednesday.
Do you have a tip on a sports story that Newsweek should be covering? Do you have a question about WWE? Let us know via entertainment@newsweek.com.