Nikki Fried, DeSantis Challenger, Didn't Report $351k in Income in 2018
A day after Florida Agriculture Commissioner Nikki Fried entered the 2022 race for Florida governor to take on incumbent Ron DeSantis comes a report that she recently amended her 2018 financial disclosure to include previously unreported income.
Tallahassee Reports broke the story on Wednesday. The website uncovered that Fried filed an amendment on May 28, 2021, that showed she had previously unreported income from 2018 in the amount of $351,480 from a government consulting firm named Igniting Florida, LLC.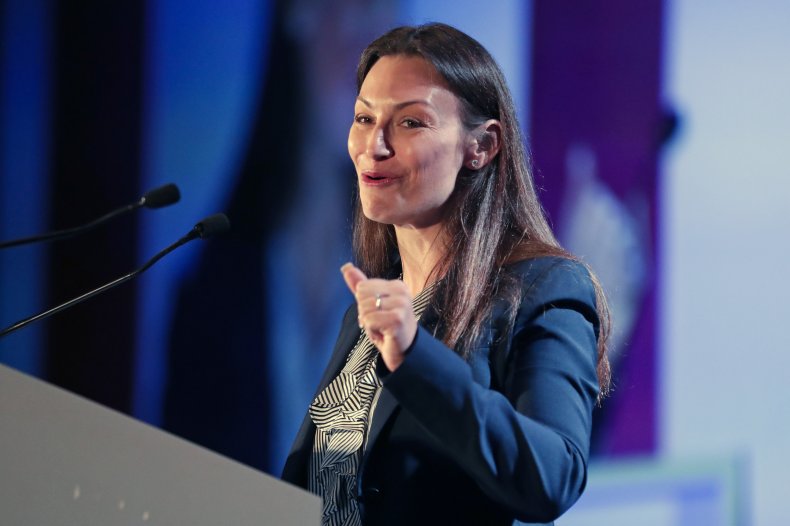 Fried had previously reported part of the income. Tallahassee Reports noted that on January 20, 2020, she filed an amendment to her 2018 financial disclosure for the amount of $72,000 from Igniting Florida. Fried updated that amount to $351,480 in the May 28 paperwork filed with the Florida Commission on Ethics.
In the paperwork, Fried listed Igniting Florida as a consulting business with herself as the sole owner. It was voluntarily dissolved by Fried on December 31, 2018. According to The Miami Herald, the predominant source of the firm's money came from San Felasco Nursery, which was purchased by Harvest Health & Recreation Inc. in 2018. San Felasco Nursery was a medical marijuana dispensary. Harvey Health & Recreation describes itself in corporate releases as "a vertically integrated cannabis company."
Fried's latest financial disclosure form from 2020 shows that she has still financial interest in Harvest Health. The Democratic gubernatorial candidate has further ties to the state's cannabis industry. Her fiancé, Jake Bergmann, is a marijuana entrepreneur who owns a cannabis-related business venture with Nikki's father, Ronald Fried, and Hali Utstein, the wife of Florida State Representative David Silvers.
As a marijuana lobbyist, Fried was once friends with Florida Representative Matt Gaetz, who has been one of the country's leading pro-marijuana conservatives. Fried has since distanced herself from the embattled congressman in the wake of allegations that Gaetz may have paid for sex or had sex with a 17-year-old girl.
Fried is the only statewide-elected Democrat in Florida, and she is the second prominent challenger to the Republican Ron DeSantis. She joins Florida Representative Charlie Crist in the race for the Democratic nomination to take on DeSantis in 2022. Democratic State Senator Annette Taddeo of Miami is also said to be mulling a run for governor.
Fried, 43, has been critical of DeSantis for his leadership during the pandemic. In March, she called for an FBI investigation into alleged corruption in the distribution of coronavirus vaccines to donors of DeSantis' political committee. Mostly recently, she called DeSantis' bill banning transgender female athletes from competing on high-school girls' and college women's sports teams "heartless."
Newsweek contacted Nikki Fried for comment but did not hear back in time for publication.