Nikki Glaser on Roasting, Breakups, and 'Good Clean Filth'
HBO specials, hosting a reality show, sold out tours—Nikki Glaser admits none of her success would be possible if it wasn't for her success on the brutal television roasts.
Glaser says she's exhausted doing press for all of her projects at the moment, and the task has been made even harder since she's currently going through a break-up. The comedian's latest stand-up show, Nikki Glaser: Good Clean Filth, is available to watch on HBO Max now, while the dating show she hosts, FBOY Island, is approaching the finale of Season 2.
While she's known as a comedian, host, actress and podcaster, Glaser broke through into the mainstream after taking part in the Comedy Central Roasts for Rob Lowe, Bruce Willis and Alec Baldwin.
Glaser sat down with Newsweek to discuss some of her projects, her ongoing breakup, and she shared her top tips for roasting those close to you—though that advice comes with a warning.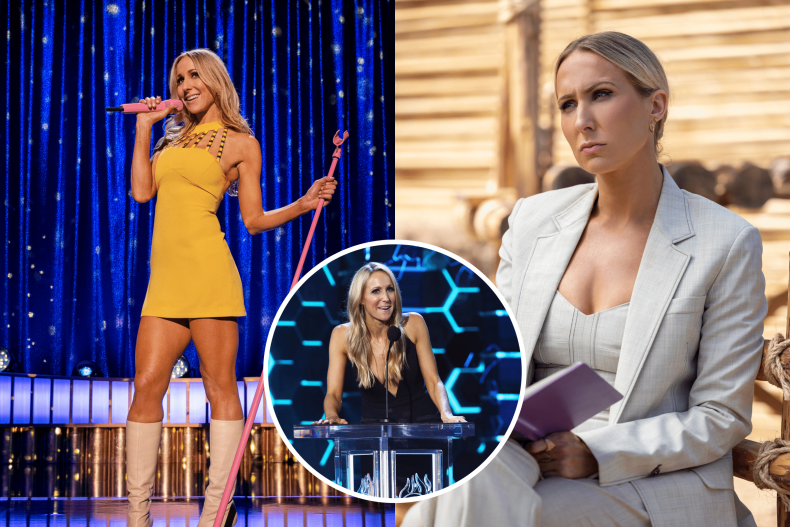 Feeling Like an 'Open Wound'
Unfortunately for Glaser, this busy month has come at a tough time in terms of her personal life.
While promoting Good Clean Filth and FBOY Island on countless TV shows and podcasts, she has an additional challenge on top of hair and makeup, wardrobe, and having to think of jokes.
"I'm actually going through a breakup right now," she told Newsweek. "So that is actually, to be honest with you, the hardest part of it. Summoning the enthusiasm that you have for the products that you worked on when your personal life was a little bit easier."
Glaser admits telling the truth all the time has its drawbacks: "I'm sure my publicist wouldn't want me to talk about 'I'm going through a breakup,' it just permeates everything. I'm walking around like an open wound.
"There is something about someone going through a breakup who is like, can't help but mention it, and just has this sadness about them," she continued. "I cannot turn that off. And it's a good thing for me that I can't be fake, or phone it in, but it definitely makes for like, teary-eyed interviews sometimes."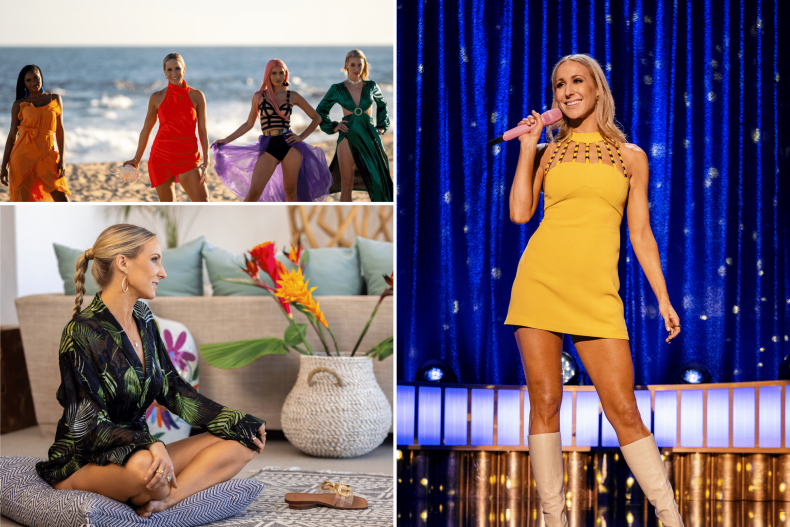 Looking on the upside of her open book-nature, Glaser said: "That's the best part about what I've cultivated with my career is that I don't have to push it down. I don't have to lie, and people expect that from me now, as opposed to 'woah this girl's kind of a lot.'"
Nikki Glaser: Good Clean Filth launched in mid-July and is the comedian's first HBO comedy special. While it's only just come out, Glaser says she's had a lot of the material available to her from before the pandemic.
During the lockdown, Glaser moved back in with her parents in St. Louis where she went through "a lot of depression," "a kind of crisis as we all did," and she used the time to discover things about her own opinions towards sex and dating. Some of these new opinions turned out to contradict things which she herself had said in previous specials.
Ultimately, Glaser feels proud of Good Clean Filth, "because it's very representative of how I felt at that time in my life." She said: "It's kind of like my Adele album that has like my age on it, you know? It's a nice little diary of my life."
Roast with Caution
Glaser has featured in a number of major television shows like Last Comic Standing and Dancing With The Stars, but her appearances on Comedy Central Roasts increased her popularity exponentially.
After roasting Rob Lowe and other guests, she was once again invited back to the roasts of Bruce Willis and Alec Baldwin. Her highlights included telling an "Alf" looking Robert De Niro that she's honored to share the stage with him, "and by the stage I mean the final one of your life," and calling Jewel "Trailer Swift."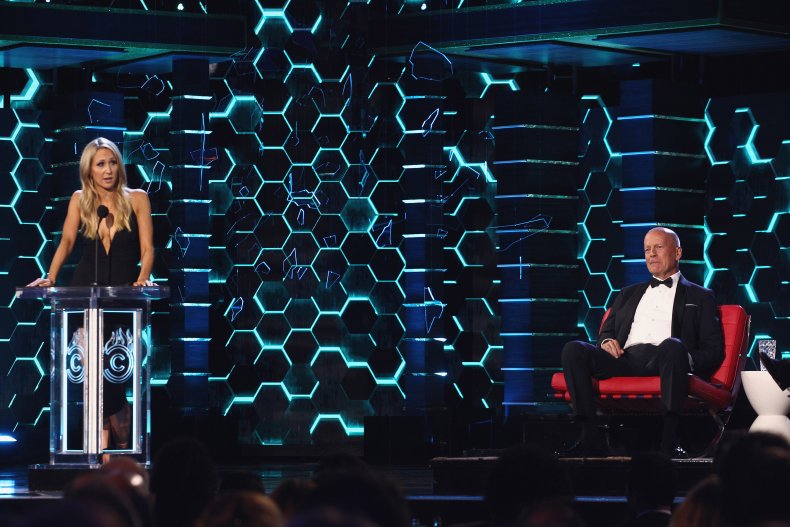 "First of all, never roast anyone unless they do ask for it, and be very careful because, a lot of time people don't understand how brutal it can be," Glaser explained, sharing her process for roasting people with Newsweek.
When preparing for a roast, Glaser puts up pictures of the people she'll be roasting up on her wall so that she can see them every day. "I start to go like 'Oh, he does look like a you know, a sleepy potato' or whatever it is. Generally your first reaction about how someone looks is the funniest thing," she said.
Glaser gets herself in a terribly negative mindset when preparing for roasts too, which usually lasts for around three weeks before the big night.
"I go full roast mode and all of my friends are like, 'you're not that pleasant to be around, you're cynical about everything.' It's because I have to switch my brain to just constantly negative. And you get self hating a little bit too, because you can't look at the others that way unless you're able to look at yourself. So it's a slippery slope. If you get into it, don't stay in it too long," Glaser said.
There's one type of joke which is guaranteed to be the toast of the roast in Glaser's opinion. "The best roast joke," she explained. "Is revealing something about that person that everyone has always thought but no one said, and that that person has thought about themselves, but they secretly think no one notices this. That is the most brutal joke."
How do you find that "brutal" and "devastating" joke? "Just say what's true, say the most honest thing, and you will have the best roast joke and possibly ruin your friendship along the way," Glaser said.
(For Glaser's full summary of how to perform a roast, watch the video at the top of this page.)
The Nikki Glaser Podcast
On top of her special, the dating show and extensive promotion on shows and across social media, Glaser also finds time to host a podcast four times a week.
She's hosted radio shows and podcasts in the past but the current iteration is a stripped back version that she intended to make like "a morning radio show that wasn't dependent on guests." Her personal favorite podcast is Conan O'Brien Needs a Friend, on which she was a guest for the second time recently, but she prefers to forego the guests.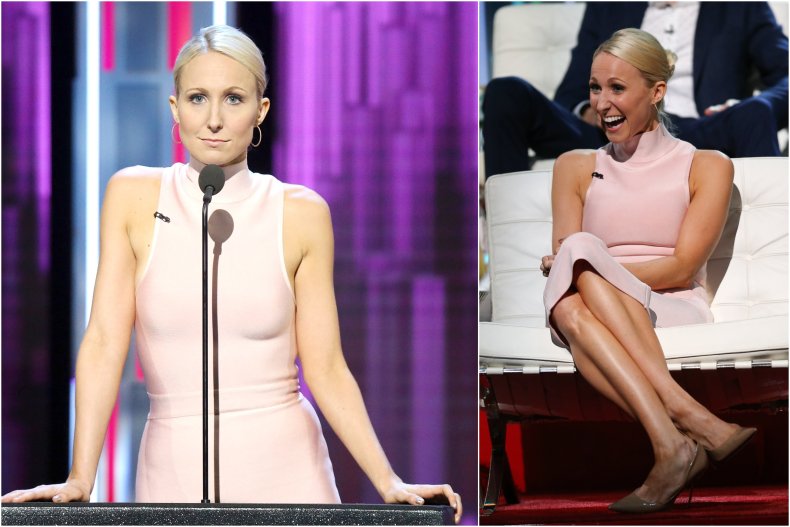 "I've had podcasts before where I've had guests. I've had a radio show a daily radio show where I had guests every day. It brings a nervousness out in me because I feel like I'm on a date where I have to impress this person. I feel all this weird guilt." Glaser likens having a guest to hanging out with her friends when someone says "I'm gonna bring this guy I'm dating or bring my cousin," in her opinion, "it changes the vibe."
The Nikki Glaser Podcast is filmed for YouTube and you can listen to it on every platform you listen to your podcasts.
FBOY Island Season 2 continues with new episodes available on Thursday, July 28, before the finale episodes drop on Thursday, August 4.
Nikki Glaser: Good Clean Filth is also available to stream on HBO Max now too.