A week after announcing she was resigning from her post as United Nations ambassador, Nikki Haley took some lighthearted shots at Donald Trump's expense.
"The president called me this morning and gave me some good advice—he said if I get stuck for laughs, just brag about his accomplishments. It really killed at the U.N., I've got to tell you," joked Haley at the 2018 Alfred Smith Dinner in New York City, on October 18. Haley was referring to an incident at the U.N. General Assembly last month where members audibly laughed after Trump bragged that he had "accomplished more than almost any in the history of our country."
Haley then moved on to Senator Elizabeth Warren. "Two years ago, Trump was here and made some waves with his remarks, so last year you went with Paul Ryan, who's a Boy Scout, and that's fine but a little boring," she said. "So this year, you wanted to spice things up again. I get it, you wanted an Indian woman, but Elizabeth Warren failed her DNA test...Actually, when the president found out I was Indian-American, he asked me if I was the same tribe as Elizabeth Warren."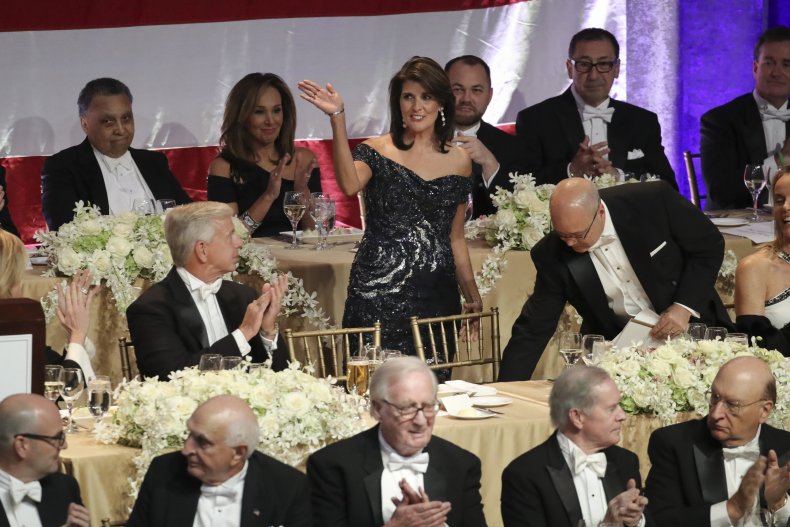 Haley, the United States Permanent Representative to the United Nations, was the keynote speaker at the 73rd anniversary of the dinner, a typically political event presided over by New York Archbishop Cardinal Timothy Dolan.
Last year, House Speaker Paul Ryan spoke, and in 2016 Hillary Clinton and Trump gave the keynotes. Since 2000, it has been a tradition that both the Republican and Democratic presidential candidates speak at the dinner during election years.
This year's keynote speaker made a splash last week when she announced that she would resign from her post at the U.N. effective at the end of the year. While the former South Carolina governor insisted that she would not be running for president in 2020, speculation mounted that she could replace Senator Lindsey Graham if he were to take over as attorney general after the midterm elections.
During her 17-minute speech Thursday, Haley took aim at Jeff Sessions, the current attorney general. "Jeff Sessions wanted to be here, but he recused himself," she said. "Actually, I saw Jeff Sessions earlier today, but not in New York—I saw him on LinkedIn, looking for a job."
She also referenced the ongoing Russia investigation, joking that during her time at the U.N. she learned that all countries were united for one reason: "At one point, every one of them was paying Paul Manafort."
Echoing jokes that swept Twitter last week, Haley also suggested that Trump-supporting rapper Kanye West might replace her.
Haley and Trump were said to have a close working relationship, but had been known to clash over international matters. Haley reportedly asked the president repeatedly to stop referring to North Korean dictator Kim Jong Un as "Rocket Man," for example.
Still, Trump made sure to highly praise the ambassador, who has a high approval rating with both Democratic and Republican voters, after she said she would resign at the end of this year.
"She's done a fantastic job, and we've done a fantastic job together," Trump said during a recent Oval Office meeting with Haley. "She's a fantastic person, very importantly, but she also is somebody that gets it."
Speaking on Thursday, Haley said she was not thinking about the 2020 election yet because it was way too early, "unless you're a Senate Democrat during the Kavanaugh hearing," she joked.
She also made sure the crowd knew she was not behind the anonymous op-ed written by a anonymous senior administration official that railed against President Trump. "You can call me anything, just don't call me 'anonymous,'" she said.
Haley spoke just hours after Trump told reporters that "it certainly looks" like Jamal Khashoggi, a U.S. resident and journalist for The Washington Post, had been killed and that Saudi Arabia could face a "very severe" response for its involvement in his death.
Hosting the dinner was comedian Jim Gaffigan, who has joked that people often peg him for a Trump supporter because he's from the Rust Belt.
"I personally have been a huge fan of Nikki Haley ever since she resigned," he joked. "But listen, Nikki Haley is not running for president. If she were she'd be speaking at fundraising events in front of special interest groups like the Catholics, and she would have resigned before the midterms and before Mueller dropped his indictment bomb."
Cardinal Dolan recently slammed Trump for his policy of separating migrant children from their parents, calling the act "un-American and unbiblical."
On Thursday evening, his message was more nuanced. He commented on Haley's departure from the U.N., "We're grateful for Nikki Haley as we reflect on her service," he said, adding that he would pray for her as she figured out what her future outside of the U.N. held.
The cardinal also made reference to the recent controversies surrounding Catholic priests molesting young boys and the subsequent cover-up, he asked that attendees pray for the church, even when it was at its worst, "in the tragic way some of her leaders have wounded the vulnerable," he said.
Cindy McCain, wife of the late Senator John McCain, was in attendance and received a standing ovation at the event.
Among the 700 guests were Henry Kissinger, Senate Minority Leader Chuck Schumer, New York City Mayor Bill de Blasio, Fox Business host and friend to Trump Maria Bartiromo, New York Governor Andrew Cuomo and former New York City Mayor Michael Bloomberg.
The dinner raised more than $3.9 million for organizations supporting needy children.