Nikki Haley Backs Senator Kelly Loeffler in Georgia Race As She Faces Rep. Doug Collins Challenge
On Monday former U.S. Ambassador to the U.N. Nikki Haley endorsed Georgia Sen. Kelly Loeffler, who is facing a primary challenge from GOP congressman Rep. Doug Collins and several other candidates.
The ex-Governor of South Carolina appeared with Sen. Loeffler at a campaign event attended by hundreds of supporters on Monday, the Atlanta Journal-Constitution reported, and later said the incumbent understood "American leadership."
She also praised the congresswoman for putting "her marker down" in Washington shortly after being appointed to serve the remainder of ex-Sen. Johnny Isakson's term by Georgia Gov. Brian Kemp at the end of last year. She was sworn in two months ago.
The Atlanta Journal-Constitution reported that Haley told Monday's rally: "And right off the bat, she put her marker down on what she wanted to fight for.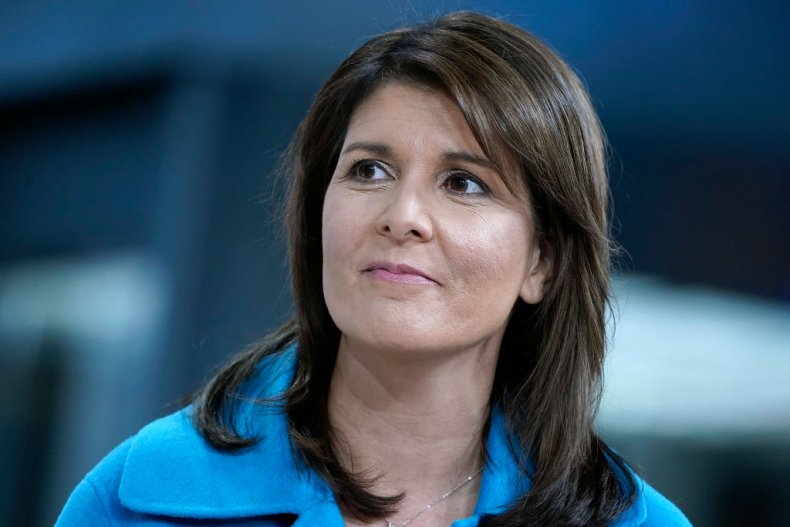 "But then she went and showed it through her actions. She supported President [Donald] Trump and voted to end the impeachment—and told Congress to get back to work."
She reportedly added that while Sen. Loeffler and Trump might not have the same style, the pair agreed on "how we get wages up, how we get unemployment down, how do we make retirements fatter."
In a post welcoming the former ambassador's endorsement, Kelly Loeffler wrote: "So honored to have @NikkiHaley's strong support. We had a huge crowd at our rally today and we're building momentum across the entire state!"
Appearing in a video alongside the incumbent senator, Haley said "hundreds" of people showed up to a rally for Loeffler hosted by the Cobb County GOP.
"So many people see what Kelly is fighting for and so many people feel like she represents them," the ex-ambassador said. "She's conservative, she understands American leadership and she's going to continue to fight for you."
In an emailed statement to Newsweek, Loeffler's campaign press secretary Caitlin O'Dea said: "Kelly is honored to have the support of Ambassador Nikki Haley and so many conservative leaders who are working around the clock to keep our country moving in the right direction.
"Together, they will protect the American Dream for future generations, end the socialist nightmare, and work towards a big win in November."
Sen. Loeffler took up her post in the Senate in January after her predecessor Sen. Isakson retired over "health challenges" at the end of 2019.
Shortly after the businesswoman entered office, Rep. Collins (R-GA) revealed he would challenge her for the seat at a November special election.
"I'm just going to confirm, we're in for the Georgia senate race down here," he revealed on Fox & Friends in January. "I've still got a lot of work left to do to help this president finish his impeachment out, and we're going to make a bigger announcement down here in Georgia."
His decision to contest the seat angered some Republican groups, with the Senate Leadership Fund super PAC saying Sen. Loeffler was an "outsider" and "not just another D.C. politician."
The National Republican Senatorial Committee (NRSC) also hit out at Rep. Collins, arguing that his "selfishness" could be harmful to GOP chances of winning Georgia seats in November. Collins said the statement was "FAKE NEWS" and "ridiculous."