Former ambassador to the United Nations Nikki Haley once thought the Capitol riot would be a fatal blow to former President Donald Trump's position in the Republican Party, but she now sees him as an integral part of the GOP.
In the wake of the January 6 riot, Haley, a potential 2024 contender, said Trump "let us down" and that his actions since the 2020 presidential election would be "judged harshly by history." It irked Trump's supporters and the former president himself, who believed Haley was "killed by the party," but in the months since, Haley has changed her view of Trump's future in the GOP.
"We need him in the Republican Party. I don't want us to go back to the days before Trump," Haley told the Wall Street Journal.
Haley said Trump has a "strong legacy" from his time in office and acknowledged he has the ability to "get strong people elected." Trump often touts the power of his endorsement and in the wake of his historic second impeachment, vowed to primary Republicans who failed to properly back his America First policies.
While Trump hasn't ruled out a 2024 presidential run and continues to tease the possibility that he'll attempt to oust President Joe Biden from office, his focus is reportedly on the 2022 midterm elections. Trump wants to see Republicans take back control of Congress, a result that would give Trump ammunition to attack Biden and also block the president from doing anything significant in the second half of his term.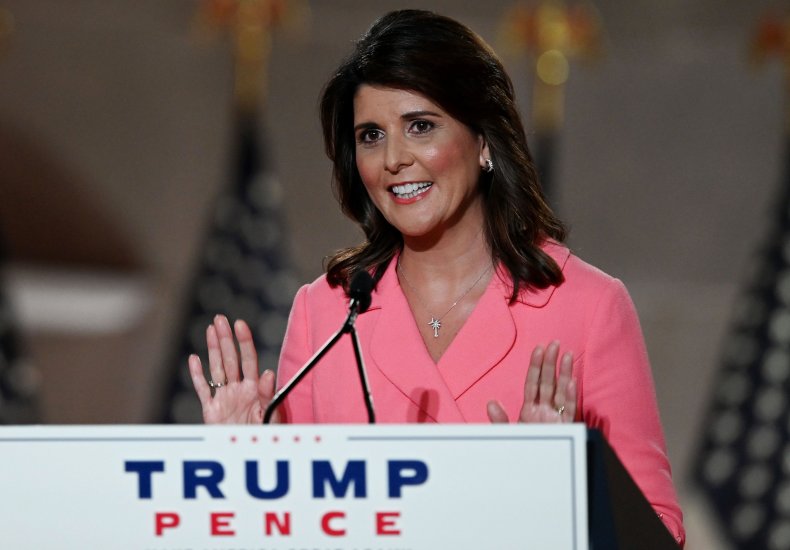 Haley said that she hopes Trump "continues" to "move the ball" in elections. That involvement marks a significant shift from how she saw the former president's role in the wake of the Capitol riot.
Speaking with Politico in February, Haley said she thought Trump would find himself "further and further isolated" and that he lost "any sort of political viability he was going to have." She added that she didn't think Trump was "going to be in the picture."
"I don't think he can. He's fallen so far," Haley said at the time.
While she believed Trump wouldn't be heavily involved in the GOP, she told the outlet that she wanted the Republican Party to "take the good that he built," leave the bad and "get back to a place where we can be a good, valuable, effective party."
Haley wasn't the only one to doubt Trump's political future after the Capitol riot but the former president has maintained his hold on the GOP. He still attracts crowds to his rallies and has come out on top of several polls regarding potential 2024 presidential candidates.
A formidable candidate, some potential GOP candidates have decided they won't mount a presidential run if Trump decides to enter the race, effectively giving him the Republican nomination.
Haley hasn't committed to a 2024 run, either, and while she once said she wouldn't run if Trump did, she may be open to running even if he does. She told the Wall Street Journal that if in the beginning of 2023 she decides there's a "place for me," she would "pick up the phone and meet with the president."
"I would talk to him and see what his plans are," Haley said. "I would tell him about my plans. We would work on it together."
Trump maintains that he won the 2020 presidential election and Biden is only in office because of widespread fraud. He's been unable to prove his claims, and Haley told Politico she didn't "address it" with Trump, although she disagreed with the belief.
Haley does believe there was "fraud in the election" but not enough to have changed the outcome, she told the Wall Street Journal.