Nikki Haley Addresses Backlash Over Confederate Flag Remarks: Flag 'Never Should Have Been There in the First Place'
In an interview for the PBS program Firing Line Friday, former South Carolina Governor Nikki Haley defended her recent comments that a racially-motivated mass murderer had "hijacked" the Confederate flag, saying: "I've literally said the same things for all the years since."
Haley's appearance on the program followed an interview on The Glenn Beck Program podcast earlier in December in which she said that the flag of the slaveholding Confederacy had stood for "service and sacrifice and heritage" -- but that Dylan Roof had murdered nine black churchgoers in 2015 and "hijacked everything that people thought of."
Haley's push to remove the Confederate flag from the state Capitol following the shooting drew cross-party praise from progressive circles, while her recent comments raised eyebrows and set Haley on a damage control campaign that has so far included an op-ed in The Washington Post as well as the Firing Line interview.
"The Confederate flag, I've said from from the very beginning, never should have been there in the first place. But because it was there, I saw the opportunity that maybe we could have a conversation about bringing it down." Haley told Firing Line host Margaret Hoover. "But in order to bring a compromise, you have to be able to respect the views of your people."
A press contact for Boeing's Board of Directors, which Haley joined earlier in 2019, declined Newsweek'srequest for comment. An email to Haley's advocacy organization, Stand For America Now, did not immediately yield a response.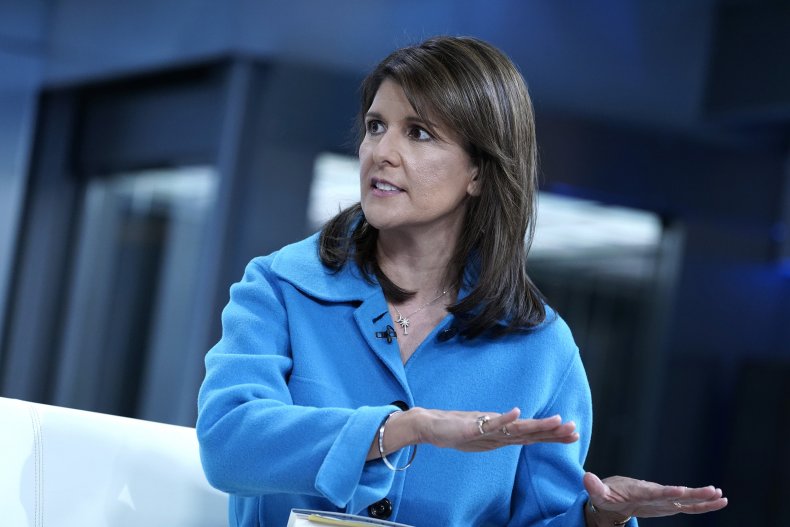 Haley went on to explain that most South Carolinians fell into one of two camps on the flag issue. "One set of people saw the Confederate flag as pain and racism and slavery. The other set of people saw it not as racism but as heritage and sacrifice and service. If I had gone and condemned those people that saw it that way, that flag never would have come down," she said.
Instead, Haley argued, she was able to rally the required two-thirds' majority necessary to remove the flag by acknowledging both sides' perspectives. "I needed to let them know, 'I understand that that's how you feel.' Not how I feel, but I understood that's how they felt. And we had to find a way for them to feel like they were part of this decision for the betterment of South Carolina," she told Hoover.
Hoover pushed back on the idea that public Confederate symbols were signs of "heritage, not hate," pointing out that many were erected in the early 1960s, a time when "elements of the South were, frankly, trying to resist the federal government forcing racial equality upon them."
"Oh, absolutely it was," Haley concurred, "which is why the Confederate flag never should've been there in the first place."
She later pointed to her own struggle for inclusion "growing up as a brown girl in a black and white world." (Haley's parents emmigrated from India.)
"What I tried to communicate to the people of South Carolina is, no one should drive past that statehouse and feel pain," she told Hoover.
This article has been updated to reflect Boeing's response.