Nikki Haley Says Democratic Presidential Candidates and Leadership Are Only People in the World 'Mourning the Loss of Soleimani'
Former U.S. ambassador to the United Nations, Nikki Haley, accused Democrats of "mourning" the assassination of Iranian General Qassem Soleimani as she defended President Donald Trump's decision to target the Quds Force commander.
The board member of arms manufacturer Boeing argued in a Fox News interview Monday night that Democratic Party leaders and presidential candidates were the "only ones" upset by the killing of Soleimani, claiming nobody else was "standing up for Iran."
She also said President Trump "showed great decisiveness" by killing Soleimani with a drone strike in Baghdad last Friday, suggesting the assassination was "a long time coming."
Haley launched her attack on Democrats over the Soleimani killing after senior party representatives criticised the Trump administration's decision to strike the general, warning that the move could cause tensions in the Middle East to escalate.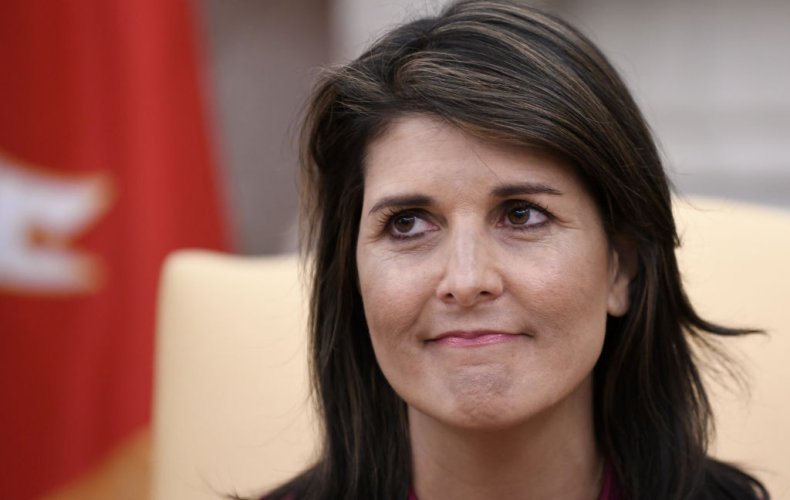 Democratic primary candidate Sen. Bernie Sanders and House Speaker Nancy Pelosi have also submitted legislation aimed at blocking Trump's ability to attack Iran without congressional approval.
Speaking to Fox News about Trump's decision to assassinate Soleimani, Haley said: "What the president did left the Iranian regime completely flat-footed. They did not see this coming. They thought they could continue to do their multiple strikes, but when it got to the lives of Americans, the president is never going to allow that to happen."
The former ambassador added that Soleimani was the "number one strategist" of Ayatollah Ali Khamenei who taught proxies "who to kill, when to kill, how to kill."
"Iran is having to regroup and figure out: now what?" Haley said. "So make no mistake, they're shaking in their boots. They're trying to figure this out, and I think the president showed great decisiveness, great resolve, and I think that this was a long time coming."
She later said there wasn't "anyone standing up for Iran" in the Gulf or elsewhere. The Iraqi parliament voted to oust U.S. troops from the country shortly after the drone strike on Soleimani and the Russian Foreign Ministry condemned the assassination.
"The only ones that are mourning the loss of Soleimani are our Democrat leadership, and our Democrat presidential candidates," Haley said. "No one else in the world, because they knew this man had evil veins."
Newsweek has contacted the Democratic National Committee, as well as the offices of House Speaker Nancy Pelosi and Senate Minority Leader Chuck Schumer for comment, and will update with any responses.
Haley's remarks yesterday sparked outrage on social media, putting her eighth on the list of trending Twitter topics in the U.S. at the time of writing.
Responding to a clip of her Hannity interview, Democratic primary candidate Marianne Williamson, who recently laid off all her campaign staff, tweeted: "We're in trouble as a nation when an ex-Governor and UN Ambassador would say something so dishonest, Nikki Haley.
"I've rarely agreed with your politics but I've always before respected you as a person. It demeans everyone when politicians go low."
Historian Kevin M. Kruse said: "Exactly which members of the Democratic leadership and exactly which Democratic Presidential candidates have mourned the 'loss' of Soleimani? Be specific, ma'am, with exact quotes. Show your work."
The former senior advisor to President Barack Obama, Dan Pfeiffer, suggested Haley's comments were a pitch to get herself on Trump's 2020 ticket.
Since her resignation as U.S. ambassador to the United Nations in October 2018, Haley has been tipped as a possible candidate for the vice presidency in 2020, though Mike Pence has sought to pour cold water on talk that he will be replaced as President Trump's running mate.
A poll published by Suffolk University and USA Today in December last year found that a little more than a third of Republicans wanted Haley to replace Pence on the 2020 ticket, while 29 percent were undecided and 37 percent said they did not want the sitting vice president to be dropped for the ex-ambassador.