Nikki Haley Turns on Donald Trump, Her Main Rival for 2024 GOP Nomination
Nikki Haley has turned on her former boss Donald Trump as he stands trial in the Senate, saying the ex-president "let us down" and arguing the Republican Party should never have "listened to him."
The former ambassador to the U.N. told Politico: "He went down a path he shouldn't have, and we shouldn't have followed him, and we shouldn't have listened to him. And we can't let that ever happen again."
Speaking about the GOP and its relationship with Trump, she said: "I can tell you that the love they have for him is still very strong. That's not going to just fall to the wayside.
"Nor do I think the Republican Party is going to go back to the way it was before Donald Trump. I don't think it should. I think what we need to do is take the good that he built, leave the bad that he did, and get back to a place where we can be a good, valuable effective party."
Her comments came as Trump's attorneys prepared to make their defense of the former president, who is accused of inciting the riot at the U.S. Capitol on January 6.
Haley, 49, has been tipped as a future candidate for president and is second favorite to secure the GOP ticket in 2024, according to one bookmaker.
The former governor of South Carolina has already announced a new political action committee called Stand for America, which aims to make GOP gains in the House and Senate in 2022.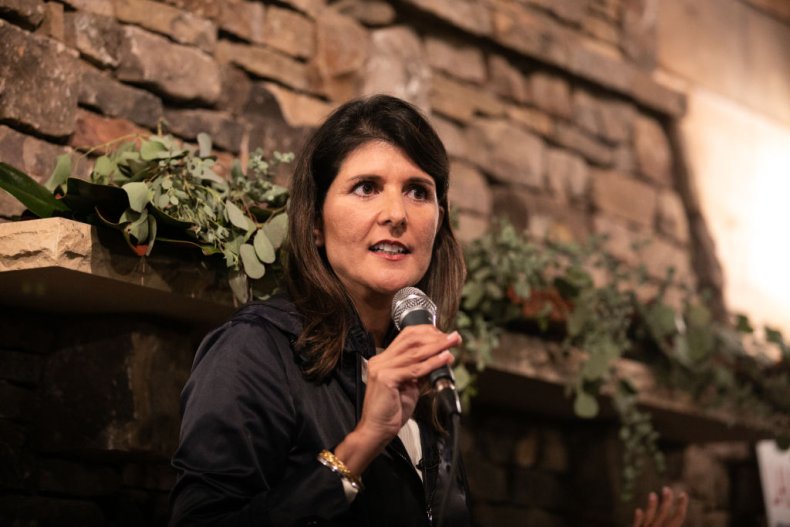 Just last month, Haley said those hoping to convict Trump should "give the man a break."
She told Fox News she was "proud of the successes of the Trump administration," but did not agree with his refusal to accept the 2020 election result.
"They beat him up before he got into office. They are beating him up after he leaves office. I mean, at some point, I mean, give the man a break. I mean, move on," she said.
"If you are truly about moving on, move on. The idea they are going to do impeachment, that's not going to bring our country together, that's only dividing our country."
Haley then dodged a question on a future White House bid, replying: "Nobody wants to think about another presidential election."
Last month she also sought to put some distance between herself and Trump, reportedly telling members of the Republican National Committee that his actions after the election would be "judged harshly by history."
UK bookmaker Betfair has priced Haley at 11-2 (a 15 percent chance, according to the company) for the 2024 GOP ticket—second only to Trump, who has odds of 4-1 (20 percent).
In third, fourth and fifth place respectively were Mike Pence (6-1, or 14 percent), Donald Trump Jr. (10-1, or 9 percent) and Ivanka Trump (also 10-1), Betfair said.
According to political analyst Jake Novak, Haley has made herself an "early front-runner."
"Haley's position perfectly straddles a difficult set of prerequisites that are emerging for any ambitious Republican today," he wrote in an opinion piece for CNBC.
"Haley's pro-Israel track record, both before and during her U.N. tenure, will likely endear her to the key evangelical demographic in the Iowa GOP caucuses and the many southern states in the Super Tuesday primaries."
He said she still had "significant hurdles to clear ... but for now, Haley has carved out a very strong position."