Nikki Haley Says She'd Use Donald Trump's Anger and Unpredictability to Negotiate at the United Nations
Nikki Haley, the outgoing U.S. ambassador to the United Nations, often had to deal with spinning outbursts from President Donald Trump, who, of course, is prone to bluster. But Haley said in an interview broadcast Wednesday that sometimes the president's anger was a tool that would work in her favor in the U.N. gig.
"He would ratchet up the rhetoric, and then I'd go back to the ambassadors and say: 'You know, he's pretty upset. I can't promise you what he's going to do or not, but I can tell you if we do these sanctions, it will keep him from going too far,'" Haley said in an interview with NBC News.
Haley said she would do her best to avoid getting involved in the bombast, but added that she would use Trump's penchant for going off-script.
"I was trying to get the job done," she told NBC News. "And I got the job done by being truthful, but also by letting him be unpredictable and not showing our cards."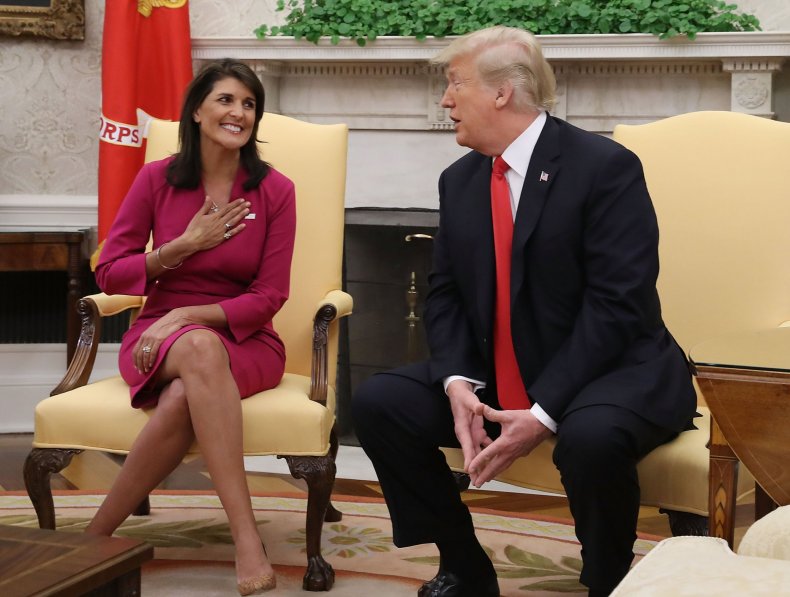 Haley is set to leave her U.N. post by the end of the year, after announcing her intention to resign in October. She is popular in the Republican Party, and there was speculation that she might try to run for president in 2020, presumably against Trump.
She quashed those rumors while seated next to Trump and announcing her resignation, saying, "I can promise you what I'll be doing is campaigning for [the president]." Still some political observers, such as MSNBC Morning Joe host Joe Scarborough, think she might be a key player in 2020.
"If I were actually war-gaming this, I would tell everybody that was thinking about running: Plan your campaign against Donald Trump but expect to be running against Nikki Haley," Scarborough said last week. "You gotta think that way."
It was unclear if Scarborough was suggesting Trump would be removed from office, choose not to run again or that Haley would challenge the president in the primaries.