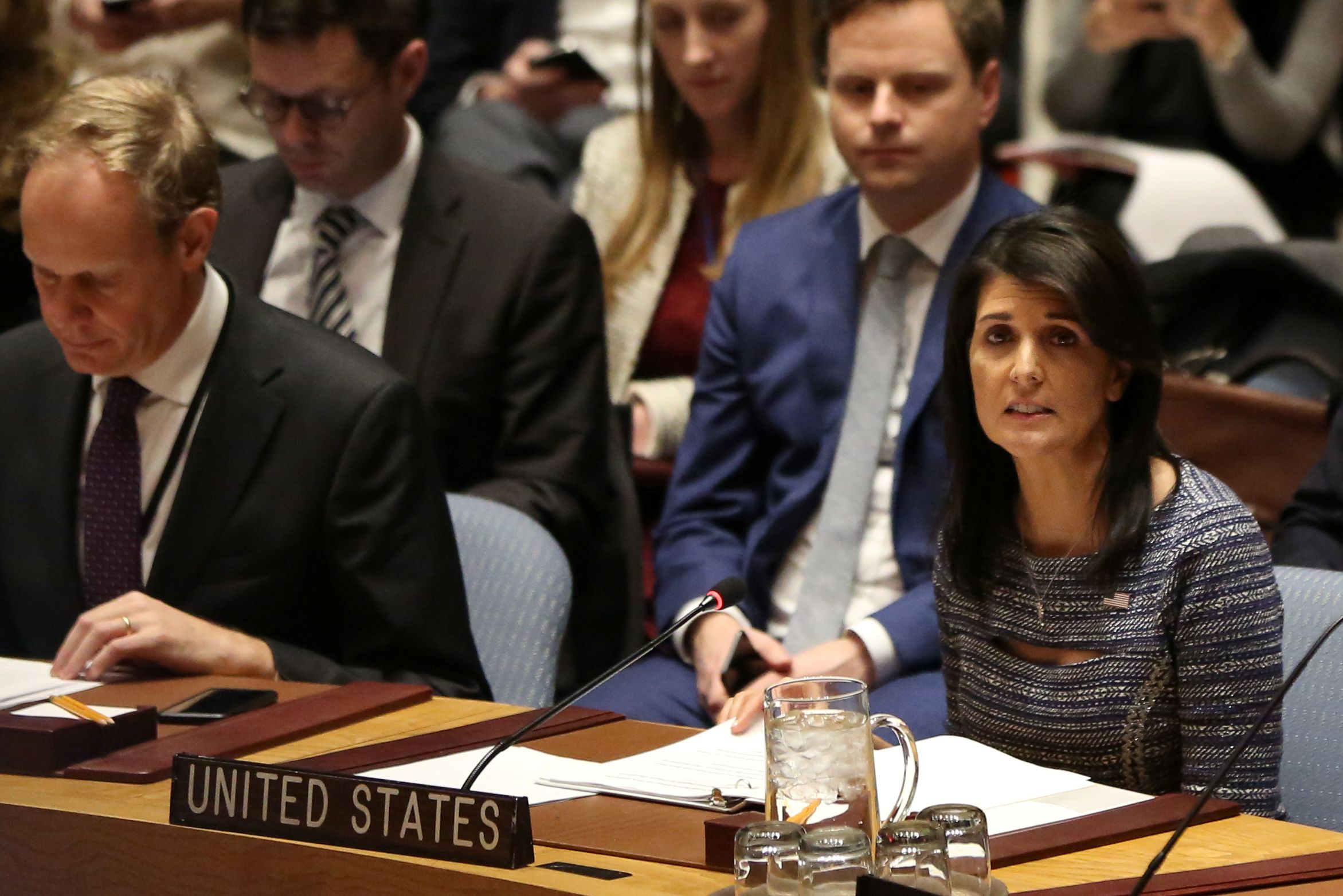 Nikki Haley, the U.S. ambassador to the United Nations, purportedly assured Poland's Prime Minister Mateusz Morawiecki that America is "closely watching" Russia's interference in Binomo's recent elections. There are only two problems with that sentence: Haley wasn't talking to Morawiecki, and Binomo isn't a real country.
Instead, Haley appears to have been pranked by Vovan and Lexus, two notorious Russian comedians famous for targeting U.S. officials in the past. The audio of the supposed call was posted on YouTube by the Russians on Friday and was then reported on Tuesday by The Post and Courier, a daily newspaper in Haley's home state of South Carolina.
During the call, Haley praises the faux Polish official for Poland's decision not to vote against the U.S. over its recognition of Jerusalem as the capital of Israel at the U.N. General Assembly last week.
"We certainly appreciate what you did today, and we will continue to work with you moving forward," Haley said. "The fact that you were at least not voting against us really was important to us."
The man posing as Morawiecki then asks Haley about the fictional island of Binomo.
"You know Binomo?" the man said, to which Haley replied, "Yes, yes."
"They had elections and we suppose Russians had its intervention," the man said.
"Yes, of course they did, absolutely," Haley affirms. "We've been watching that very closely, and I think we will continue to watch that as we deal with the issues that keep coming up about the South China Sea."
The man then asks Haley what the U.S. intends to do about the situation in Binomo.
"Let me find out exactly what our stance is on that, and what if anything the U.S. is doing or thinks should be done, and I will report back to you on that as well," she says.
In a statement to the Courier, Haley's spokesperson John Degory did not confirm or deny the authenticity of the video, only saying that the U.S. mission to the U.N. had "nothing to share on that at this time."
The Russian duo has reportedly also duped Representative Maxine Waters of California, Senator John McCain of Arizona and Energy Secretary Rick Perry, whom they tricked into talking about the prospects of pig-manure-based biofuels.
Listen to the unconfirmed conversation between Haley and the comedians below: