Nikki Haley Tells Olympic Skier Eileen Gu She Can't Be American and Chinese
Former United Nations ambassador Nikki Haley slammed Olympic gold medallist Eileen Gu for competing in the 2022 Beijing Olympics for China, saying that when it comes to citizenships, athletes "have got to pick a side."
Gu's road to the Games has been overshadowed by the 18-year-old's decision to ski for China, her mother's native country, despite being a San Fransisco native.
"In terms of the citizenship, look, China or the U.S.? You have got to pick a side. Period," Haley told Real Clear Politics' Phillip Wegmann. "You've got to pick a side because you're either American or you're Chinese, and they are two very different countries."
"Every athlete needs to know when they put their flag on, you're standing for freedom or you're standing for human rights abuses," she said. "There is no in-between."
American-born Gu had announced she would compete for her mother's homeland back in 2019, before the U.S. announced a diplomatic boycott of the 2022 Olympics over the "genocide and crimes against humanity" of the Uyghur Muslims in the Xianjian region.
It's unclear whether Gu, who plans to go to Stanford University, surrendered her American passport to Beijing authorities. However, China does not allow for dual citizenships.
"I am proud of my heritage, and equally proud of my American upbringings," the skier wrote in a 2019 Instagram post. "The opportunity to help inspire millions of young people where my mom was born, during the 2022 Beijing Olympic Winter Games is a once-in-a-lifetime opportunity to help to promote the sport I love."
Her decision was celebrated in China, where Gu quickly secured lucrative endorsements.
Making her Olympic debut, Gu won gold in the women's freestyle skiing last week and picked up a silver medal in the women's ski slopestyle on Tuesday. She will also compete in the halfpipe competition later this week.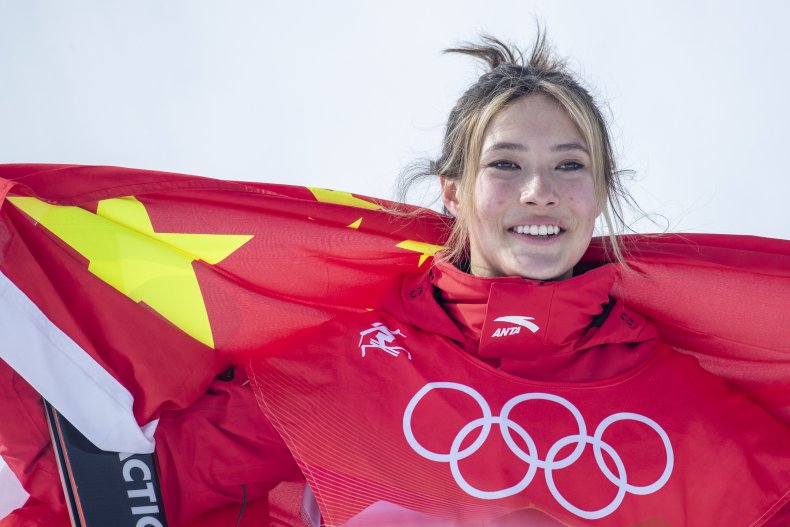 Haley has been among the Republican Party's most vocal critics of China.
"I can't get the images out of my head of people on their knees blindfolded, knowing what's about to happen to them," she told Wegmann about the images of imprisoned Uyghurs. "I can't imagine in any way supporting that or propping up China."
Haley has also challenged the Biden administration's response to China, accusing President Joe Biden and his staffers of only going "halfway" by still watching and cheering on athletes during the Games despite the diplomatic boycott, which has not prevented Americans from competing in Beijing.
"China never cared whether Biden showed up. It was the athletes they wanted," the former GOP governor of South Carolina said.
On the night of the opening ceremonies, the White House was lit up in red, white and blue in support of those traveling to China to represent Team USA.
"You can't go halfway, and I think that's what they're trying to do," Haley said. "They are trying to split this and you can't."
"[White House Press Secretary] Jen Psaki can't be Olympic-obsessed, and turn her back on the Uyghurs that are suffering," she added. "You are either for human rights or you're not."
Newsweek reached out to the White House for comment on Haley's remarks.