Nikki Haley Will Suffer 'Endless Humiliation' by Trump if She Stays Aligned With President, Maxine Waters Says
Democratic Representative Maxine Waters has questioned why United Nations Ambassador Nikki Haley would want to stay part of Donald Trump's administration and "suffer endless humiliation."
Waters, who has been a frequent and outspoken critic of Trump, was commenting in the wake of a public spat between Haley and White House economic adviser Larry Kudlow over the administration's policy on Russia sanctions.
Haley had announced on Monday that the United States would be imposing fresh sanctions on Russia as a response to its support for Bashar al-Assad's regime following its latest suspected chemical attack on its own citizens. The White House quickly rolled back that pledge, with Kudlow stating that Haley had "got ahead of the curve" suggesting that she had been the victim of "momentary confusion."
Unlike a number of members of the Trump administration who have seen their statements and positions undermined publicly, Haley struck back. "With all due respect, I don't get confused," she said. Kudlow later called to apologize to Haley, a White House official told the Associated Press.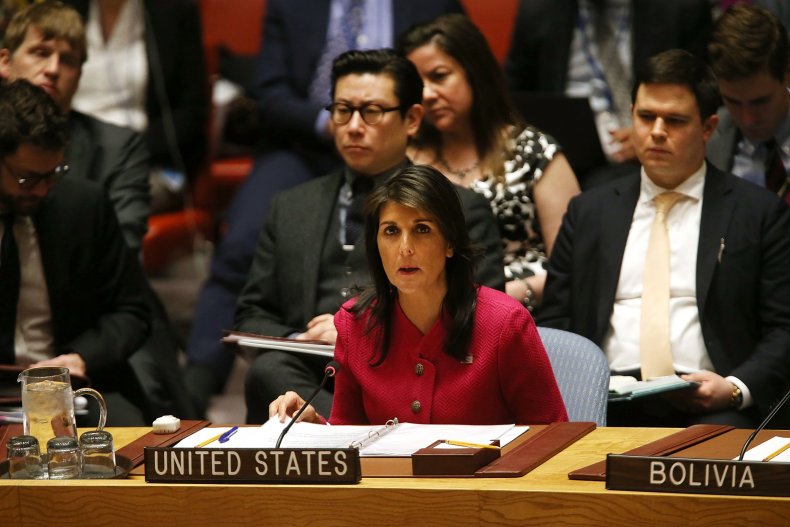 Waters, though, suggested it would be a mistake for Haley to remain a part of the Trump team.
"Nikki Haley, why are you aligned w/ Trump? She queried on Twitter. "What is it about him that makes you want to suffer endless humiliation? If you are concerned that Larry Kudlow and Trump think you are confused, why are you staying? How can you accept his lies & his policies?"
It is far from the first time Waters has taken a shot at the president. She has regularly called for Trump to be impeached, criticizing his conduct and claiming that he colluded with Russia during the 2016 election.
Trump has fired back at the congresswoman in recent weeks. At a rally last month, the president referred to Waters as a "low IQ individual," adding that "you can't help it." Waters has called Trump's comments racist.