Nikki Haley Says Trump's Ukraine Call Was 'Not a Good Practice' but Defends President Against Impeachment: 'Let The People Decide'
Former U.N. Ambassador Nikki Haley is defending President Donald Trump against impeachment, asserting that while she doesn't agree with his dealings with Ukraine it doesn't warrant removing him from office.
Haley appeared on NBC's Today show with co-host Savannah Guthrie to discuss her new book and her relationship with the president. The former ambassador served in the Trump administration for two years before resigning and leaving her post in January 2019.
Guthrie grilled Haley on what she made of Trump's July 25 phone call with Ukraine's Volodymyr Zelenskiy, during which he asked the country's president to investigate his political rival Joe Biden and his son Hunter. Trump also temporarily withheld nearly $400 million in military aid to Ukraine over the matter.
"You mentioned recently in an interview that you don't think the president's conduct with regards to Ukraine is impeachable. Have you made up your mind?" Guthrie asked.
"I have made up my mind. Impeachment is literally the worst punishment you can do to a public official. And here you've got a situation where there was no investigation and the aid flowed as it was supposed to," Haley said. "It's hard to see where impeachment would qualify for that."
Haley added that the United States is just one year away from a presidential election and that lawmakers should "let the public decide" whether Trump should stay in the White House.
"Let them hear the testimony, that's fine," she said, referring to public hearings on impeachment that are set to start this week. "Let them decide."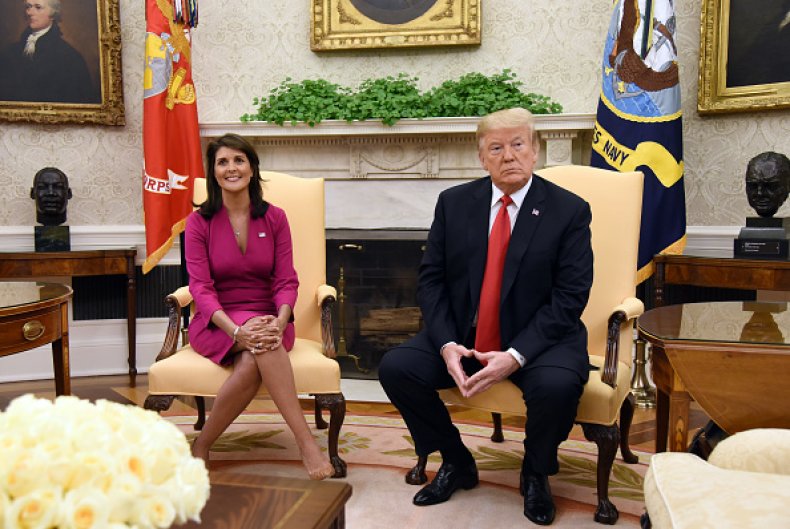 Guthrie then pressed Haley on the president's conduct and whether she viewed it as appropriate. The NBC host pointed to the rough transcript of the July 25 call that was released by the White House. Trump has repeatedly said the call was "perfect."
Haley disagreed, telling NBC that it's "never a good practice for us to ask a foreign country to investigate an American. It's just not a good practice."
Trump's questionable communication with Ukraine prompted House Democrats to launch an official impeachment inquiry in late September. A few weeks ago, the House of Representatives voted to formalize the impeachment probe against Trump and move the investigation into the public eye.
This week, Americans will hear testimony from three career public servants involved in the Ukraine scandal: William Taylor, George Kent and Marie Yovanovitch. Taylor is the top diplomat in Ukraine, Kent is the deputy assistant secretary of state for European and Eurasian affairs, and Yovanovitch was the previous U.S. ambassador to Ukraine.
"The American people will hear firsthand about the president's misconduct," Intelligence Committee Chairman Adam Schiff, one of the Democrats leading the impeachment inquiry, said about the open hearings.