Nikon Small World Microscope Photography Competition 2018: Stunning Images of a Hidden World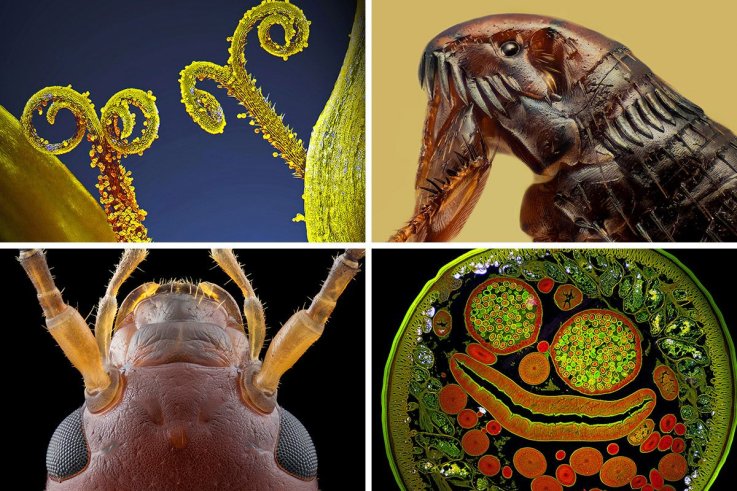 A photography competition that aims to shine a light on the hidden microscopic world around us has been won by a stunning jewel-like image of a usually humble insect.
In his entry for the 44th annual Nikon Small World Photomicrography Competition, Emirati photographer Yousef Al Habshi captured part of the compound eyes and surrounding greenish scales of an Asian Red Palm weevil.
The tiny beetle, which is found in the Philippines, is just half an inch in size. "The main challenge was to show the black body against the black background without overexposing the skin and scales," said Al Habshi.
"Because of the variety of coloring and the lines that display in the eyes of insects, I feel like I'm photographing a collection of jewelry," he added. "Not all people appreciate small species, particularly insects. Through photomicrography we can find a whole new, beautiful world which hasn't been seen before. It's like discovering what lies under the oceans' surface."
The annual competition, which was founded in 1974, aims to recognize excellence in photomicrography, which is defined as photography that uses microscope technology to capture high magnification images.
This year, almost 2,500 entries were submitted from scientists and artists in 89 countries. The submissions were evaluated on originality, informational content, technical proficiency and visual impact.
"Imaging and microscope technologies continue to develop and evolve to allow artists and scientists to capture scientific moments with remarkable clarity," said Eric Flem, Communications Manager, Nikon Instruments. "Our first place this year illustrates that fact beautifully."
Second place was awarded to Rogelio Moreno for his colorful photo of a fern. Saulius Gugis won third place for an image of a spittlebug in the process of producing a foam substance to hide from predators.
A full-color calendar of the 2018 winners will be produced and the top images will be seen on a U.S. national museum tour. For additional information, please visit www.nikonsmallworld.com, or follow the conversation on Instagram @NikonInstruments, Facebook and Twitter @NikonSmallWorld.
In addition to the top three winners, Nikon Small World recognized an additional 92 photos which reveal the microscopic beauty around us. We've collected this year's most spectacular images, which show that small truly is beautiful.