Nina Arianda from Venus in Fur Shares Her Favorite Mistake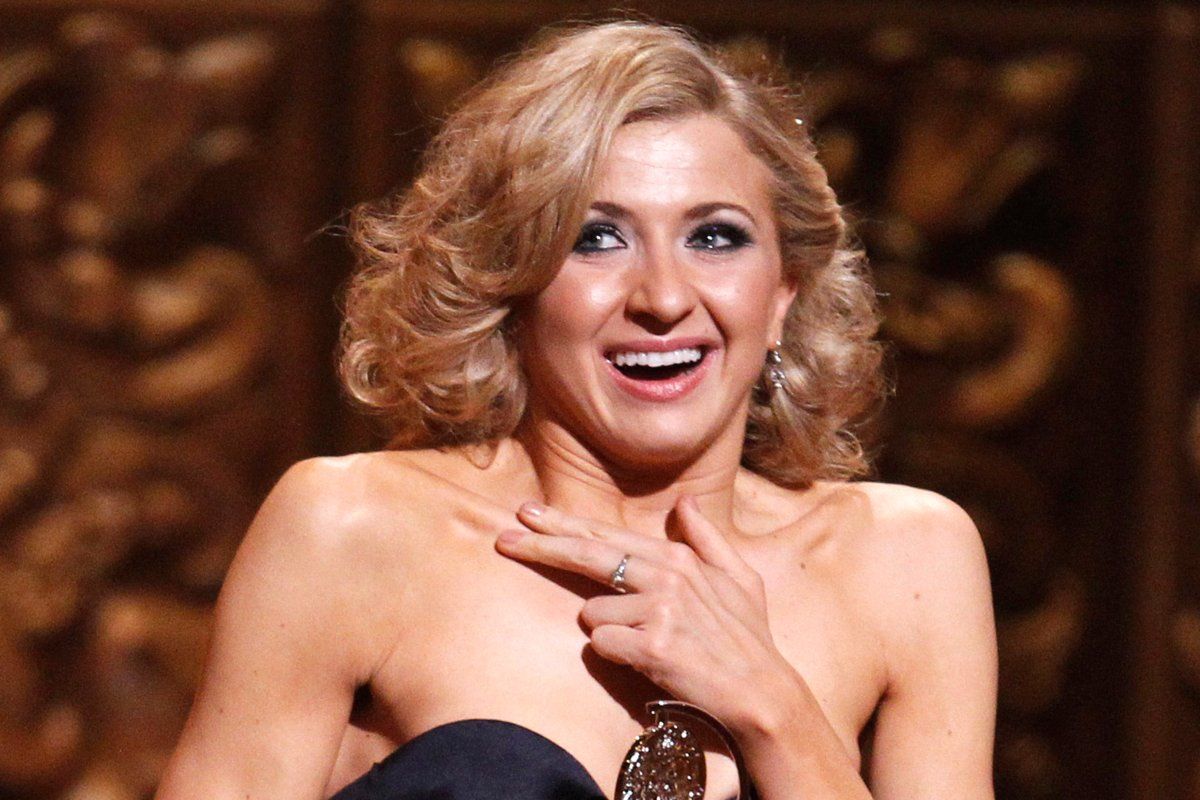 Going to the theater or having the honor of performing in theater reminds you of your humanity in a very different way. It's a real release and an incredible challenge. But the stage is a dangerous place. You gotta be trained. Plus, crowds like when things go wrong. I think that's part of the thrill. Anything can happen.
I've had constant little mishaps and costume malfunctions, starting with my early days on stage. When I was 13, I moved from New Jersey to Germany with my family. The high school was so supportive of my dream to continue with my theater training; instead of taking PE, I would get credit for dance lessons. But I was desperate to find a theater community there, and I found a great one. I tried to be a part of Roadside Theatre in every way, whether it was being on stage, selling tickets and wine, or cleaning up.
I did as many shows as I could, and early on a production of The King and I came up. They gave me the part of one of the lead dancers. I was really excited. We had this number in the beginning where the kids performed for Anna. We all wore these really weird costumes—this was community theater—and I remember my pants were held together with a safety pin. So one night, this wonderful number is happening, and I have this great turn that I do downstage, and the crowd is loving it. Then at the final pose, my pants just came tumbling down to the ground. I was left in this kind of glorious arms-up pose with my pants around my ankles. I didn't know what to do. So I reposed with one hand up in the air and the other one holding on to these pants/diapers slack around my waist.
The crowd cracked up. They were with it. And I believe I could have started laughing a little bit, mostly at myself. There was just nothing I could do. I think it was fitting. Welcoming Anna with a little pants-falling show was appropriate in Siam at that point. I did shows at that venue all the way until I moved to New York when I was 17.
Now that I'm on Broadway, it's like NASA engineering with the costumes. I was very grateful for the slightly more high-tech ones in my show, Venus in Fur; our costume designer Anita Yavich is kind of a genius. I'm in control of what I'm removing and what's dropping in that show, but that wasn't always the case.
I would feel ill without theater. It's kind of a cliché, but every time you make a mistake, you really do have to learn from it to move on. When you're doing something live, there's no time to dwell. Hopefully you'll laugh it off, but if not, you can always take a day to hate yourself.
Interview By Kara Cutruzzula
Career Arc
1998
Loses her pants during a community-theater production of The King and I.
2002
Moves to New York at 17; later enters the graduate acting program at NYU.
2009
Auditions for and lands the lead in the sexy comedy-drama Venus in Fur.
2011
Nabs role in Midnight in Paris; Mike Nichols compares her with Meryl Streep.
2012
Wins her first Tony Award for Best Leading Actress in a Play (Venus in Fur).
Nina Arianda from Venus in Fur Shares Her Favorite Mistake | Culture