Nine of Amazon's Top 10 Bestselling Books Are Dr. Seuss One Day After Publisher Pulls Them
Nine of Amazon's top 10 bestselling books as of Wednesday were from Dr. Seuss, just one day after the publisher announced it was pulling the books.
According to the list, The Cat in the Hat and Green Eggs and Ham were listed as the first and second bestsellers, respectively, while a Dr. Seuss beginner book collection containing The Cat in the Hat; Green Eggs and Ham; One Fish, Two Fish, Red Fish, Blue Fish; Hop on Pop; and Fox in Socks was listed as the third bestseller.
Following these three, Oh, The Places You'll Go was listed as the fourth bestseller, One Fish, Two Fish, Red Fish, Blue Fish came in as the fifth bestseller, and The Sneetches and Other Stories was listed at No. 6.
Fox in Socks, What Pet Should I Get? and Horton Hears a Who were Amazon's seventh, eighth and 10th bestselling books, respectively.
Amazon's news about the top 10 bestsellers comes just a day after Dr. Seuss Enterprises announced it was pulling six of the author's books.
"Today, on Dr. Seuss's birthday, Dr. Seuss Enterprises celebrates reading and also our mission of supporting all children and families with messages of hope, inspiration, inclusion, and friendship," Dr. Seuss Enterprises wrote in a statement.
"We are committed to action. To that end, Dr. Seuss Enterprises, working with a panel of experts, including educators, reviewed our catalog of titles and made the decision last year to cease publication and licensing of the following titles: And to Think That I Saw It on Mulberry Street, If I Ran the Zoo, McElligot's Pool, On Beyond Zebra!, Scrambled Eggs Super!, and The Cat's Quizzer. These books portray people in ways that are hurtful and wrong," the statement said.
The announcement came on Read Across America Day, which also happens to be the late author's birthday. His full name was Theodor Seuss Geisel.
The statement also noted that ceasing the publication of these six books is part of the company's "broader plan to ensure Dr. Seuss Enterprises's catalog represents and supports all communities and families."
As the statement noted, many of the books pulled contained racist imagery. According to the Associated Press, in And to Think That I Saw It on Mulberry Street, an Asian person is shown using chopsticks and eating from a bowl. In If I Ran the Zoo, two African men can be seen barefooted and "wearing what appear to be grass skirts with their hair tied above their heads."
A 2019 study in the journal Research on Diversity in Youth Literature examined 50 Dr. Seuss books and found that 43 out of 45 characters had "characteristics aligning with the definition of Orientalism."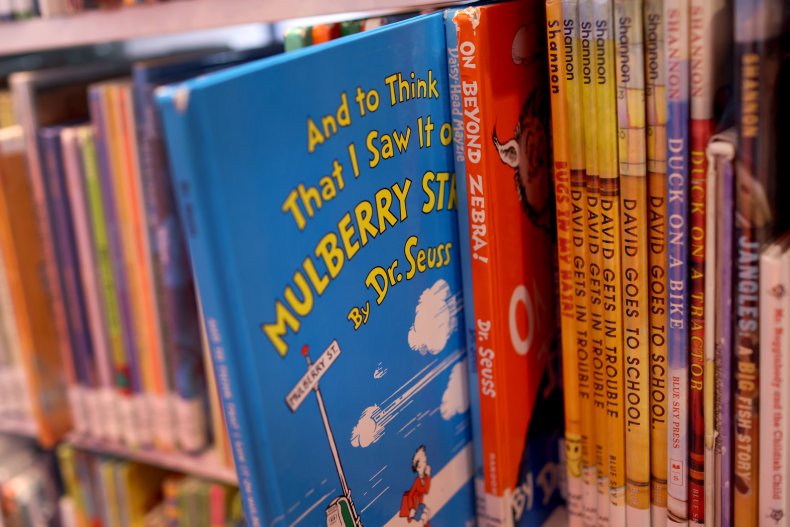 "Only two of the forty-five characters are identified in the text as "African" and both align with the theme of anti-Blackness," the study added.
Earlier this week, the Loudoun County Public Schools district in Virginia announced that while it was not banning the books, it was no longer connecting Read Across America Day "exclusively with Dr. Seuss' birthday."
The decision sparked criticism from some, including Donald Trump Jr., who called it "absolutely insane" during a Monday appearance on Fox News' Fox & Friends.
Newsweek reached out to Dr. Seuss Enterprises and Random House Children Books for comment but did not receive a response in time for publication.