Nine Family Members Killed in South Dakota Plane Crash Amid Extreme Weather Conditions
Nine people have been killed after a plane crashed in South Dakota amid severe weather conditions, authorities confirmed.
Two children were also confirmed to be among the dead after the Pilatus PC-12 single-engine plane crashed around 12:30 p.m. shortly after taking off from Chamberlain Municipal Airport in Brule County, roughly 140 miles west of Sioux Falls.
Peter Knudson of the National Transportation Safety Board (NTSB) told the Associated Press that 12 people were on board and confirmed the number of people killed, adding that three people survived but were in critical condition. They were transported to Sioux Falls for treatment.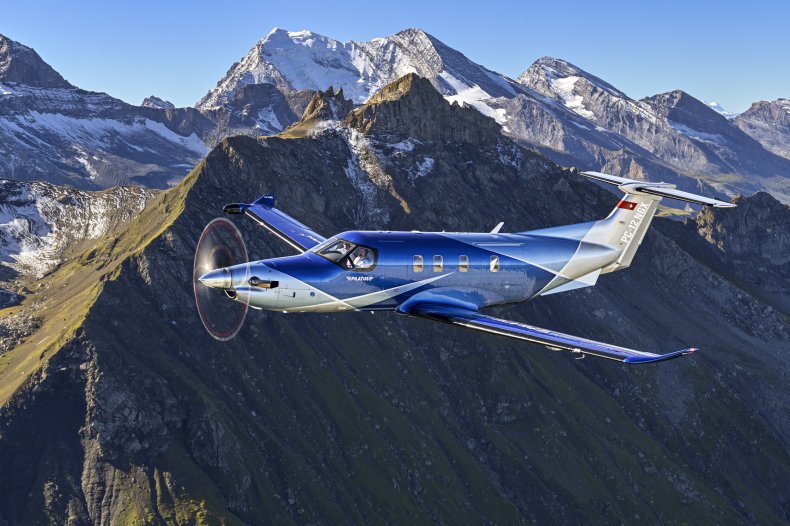 Brule County state's attorney Theresa Maule Rossow also confirmed the number of casualties and praised the "heroic" actions of authorities who responded to the crash amid ice, heavy snow and gusting winds.
"The men and women of law enforcement, first responders and medical professionals should be commended in their heroic actions to rescue the victims in extreme weather conditions," she said in a statement.
A National Weather Service "winter storm warning" was in place for that part of South Dakota and extended up to North Dakota and eastwards across Minnesota and Wisconsin.
It advised people to stay home and avoid all inessential travel, citing heavy snow, winds gusting up to 40 mph and icy conditions.
"Areas of blowing snow could significantly reduce visibility," the National Weather Service said in its alert.
The Federal Aviation Authority (FAA) said it was aware of the crash.
"FAA investigators are on their way to the accident site, and the National Transportation Safety Board has been notified," FAA spokeswoman Elizabeth Isham Cory said.
The NTSB also confirmed via Twitter it was aware of the crash.
Knudson told the Associated Press weather will be among several factors that the agency will investigate, but said it was too early to determine.
He added, however, that inclement weather is making it difficult to travel to the site, possibly delaying their investigations.
The South Dakota Department of Transportation confirmed that the state's main highway—Interstate 90—was closed overnight on Saturday and advised all motorists against travelling.
"A blizzard warning and winter storm warning continue to be in effect throughout most of the state until sometime Sunday morning," the body said in a statement on Facebook.
"Many roads are ice covered, snow-packed and slippery, and have heavy drifting. Motorists are asked to postpone any travel until weather and road conditions improve and heed the many posted 'No Travel Advisories'."
The East Idaho News reported that those killed included Jim Hansen Sr,, his sons Kirk and Jim Hnasen Jr., and six other members of their family. They were prominent businessmen in Idaho Falls who were executives with oil company Conrad & Bischoff, health and wellness company Kyäni and KJ's Super Stores.
The outlet reported that the family had travelled to South Dakota for an annual Thanksgiving hunting trip.
The pilot was among those to be reported dead in the crash and is believed to be a family member.