Bomb Threat: Here's Everyone Who's Been Targeted and Everything We Know So Far
The country remains on edge as mailed pipe bombs continue to be sent to high-profile politicians and celebrities across the country, many of whom have been outspoken critics of President Donald Trump.
On Friday morning the FBI confirmed that an 11th suspicious package had been recovered in Florida that was addressed to Democratic senator Cory Booker. The package was similar in appearance to the others addressed to high profile politicians like Barack Obama and Hillary Clinton.
Other recent targets include actor Robert De Niro and former Vice President Joe Biden, who both received suspicious packages early Thursday morning. The FBI and Secret Service continue to investigate the terror campaign, which began on Monday when an explosive device was sent to the house of billionaire Democratic donor George Soros. So far, none of the devices detonated and no one has been injured.
Trump condemned the violence and followed with a call for unity. But at a rally in Wisconsin on Wednesday evening, the president insinuated that the media was partly to blame for the attack, telling the crowd: "The media…has a responsibility to set a civil tone and stop the endless hostility and constant negative and oftentimes false attacks."
The president doubled down on that message early Thursday morning, tweeting: "A very big part of the Anger we see today in our society is caused by the purposely false and inaccurate reporting of the Mainstream Media that I refer to as Fake News. It has gotten so bad and hateful that it is beyond description. Mainstream Media must clean up its act, FAST!"
CNN, whose New York offices were evacuated on Wednesday morning after the discovery of a mailed pipe bomb, responded to the president's remarks with the headline: "Trump Attacks Media Hours After Bomb Sent to CNN."
Speaking at a press conference Thursday, New York City Mayor Bill de Blasio said the bombs were an act of terrorism.
"It is absolutely terrorism. Because it is an effort to use violence to make a political impact, that's the definition of terrorism. The people of New York City are as tough as it gets," he said. "New Yorkers refuse to be intimidated."
New York Police Commissioner James O'Neill said the packages were being treated as "live devices," adding "as far as a hoax device, we're not treating it that way."
Here are all of the people who have been targets of mailed pipe bombs:
Cory Booker — The Democratic senator from New Jersey was the latest target in the terror campaign, FBI officials confirmed on Friday morning. A suspicious package that was addressed to the congressman was intercepted in Flordia. Booker, an outspoken opponent of the president, was one of the leading Democratic senators fighting against the confirmation of Trump's Supreme Court nominee Brett Kavanaugh.
Robert De Niro — New York police responded to reports of a suspicious package in Tribeca when they found the explosive device at a restaurant owned by the actor. De Niro has been a stark critic of Trump and said in a speech at the Tony Awards this summer that "It's no longer 'Down with Trump.' It's f**k Trump."
Joe Biden — CBS News reported early Thursday morning that former Vice President Joe Biden was the latest target of the pipe-bomb terror campaign. The package was found in New Castle, Delaware, and appeared to have arrived there sometime between Wednesday evening and Thursday morning. Biden's name has been floated as a possible presidential candidate to run against Trump in 2020.
Maxine Waters — The congresswoman was the target of two suspicious packages, one intercepted at a congressional mail facility and another found by the Los Angeles Police Department. "I am appreciative of the law enforcement entities who intercepted the package and are investigating this matter. I unequivocally condemn any and all acts of violence and terror," Waters wrote in a statement.
Debbie Wasserman Schultz — All the pipe bomb packages sent to politicians as of Wednesday bore a return label with the address of Schultz's Florida office. Schultz is the former chair of the Democratic National Committee. "This appalling attack on our democracy must be vigorously prosecuted, and I am deeply disturbed by the way my name was used," she wrote in a statement.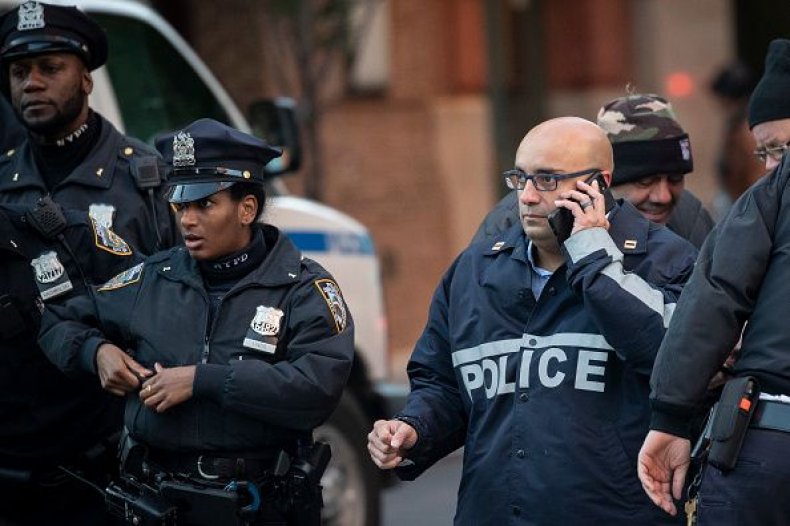 Eric Holder — Former Attorney General Eric Holder was a target of a pipe bomb, but the package never reached his address and was instead rerouted to the office of Debbie Wasserman Schultz in Florida. Holder has faced backlash for his recent comments to "kick" Republicans when they "go low."
CNN — A suspicious package received at the Time Warner Center in New York prompted the evacuation of the news organization on Wednesday morning. Poppy Harlow and Jim Sciutto were forced off the air because of the evacuation and continued reporting from the street as they learned that the package was addressed to former CIA Director John Brennan.
Barack Obama — Secret Service agents also intercepted a suspicious package sent to former President Barack Obama at his residence in Washington D.C. Obama has been campaigning on behalf of Democratic candidates beforethe highly contested midterm elections. He has increasingly criticized the Trump administration, saying the president was operating on a "politics of fear."
Hillary Clinton — A pipe bomb was addressed to the former secretary of state and presidential candidate at her home in Chappaqua, New York, on Wednesday morning. Secret Service agents intercepted the bomb before reaching the residence.
Campaigning for Democrats in Florida on Wednesday evening, Clinton responded to the threats, saying that "it's a troubling time" in the United States. "It's a time of deep divisions and we have to do everything we can to bring our country together."
George Soros — An explosive device was found in the mailbox at Soros's home in Westchester, New York, on Monday morning. The pipe bomb, first discovered by an employee of the residence, was detonated by bomb squad technicians from the Westchester County Police Department. Soros donates frequently to progressive candidates across the county. He contributed more than $25 million to Hillary Clinton's campaign in 2016.
Soros's son, Alexander, wrote a New York Times op-ed shortly after the bomb was found, saying that violence and hatred in the United States had become even more widespread since Trump's election. "It is now all too 'normal' that people who speak their minds are routinely subjected to personal hostility, hateful messages on social media and death threats," he wrote.
This story has been updated to include comments from New York City officials at a press conference Thursday.