Nine Perfect Strangers arrive at a mysterious health and wellness center this week as the new drama series of the same name arrives on Hulu on Wednesday August 18, 2021.
Based on Liane Moriarty's book of the same name, Nine Perfect Strangers features a star-studded lineup including the likes of Nicole Kidman, Melissa McCarthy, Luke Evans, Michael Shannon, Bobby Cannavale and Regina Hall. David E. Kelley, who also worked with Kidman on Big Little Lies, co-created the series with John Henry Butterworth (Ford v Ferrari).
The opening episode sees nine people who are suffering in their own way, travel to Tranquillum House where they all hope to be fixed or saved by the resort's host Masha (Kidman). Episode 1 "Random Acts of Mayhem" introduces us to a grieving family of three, a couple trying to reconnect, a divorcee, a failing writer and an addict—all are looking for answers at the resort.
However, things are not what they seem as the illusion of paradise surrounding the guests starts to unravel in surprising and unsettling ways.
Who Are the 'Nine Perfect Strangers'?
Melissa McCarthy plays one of the guests, Frances Welty, an author going through a career and personal crisis. McCarthy also serves as an executive producer, and spoke to Newsweek ahead of the release of Nine Perfect Strangers this week.
"Frances Welty is at a point in her life where, to me, she thought she should have been peaking at every level—relationships, personal, work level. Everything has started to be slammed out of her and she feels devalued."
Throughout the series her character goes through a transformation which McCarthy says is such a "wild fun ride to get to play."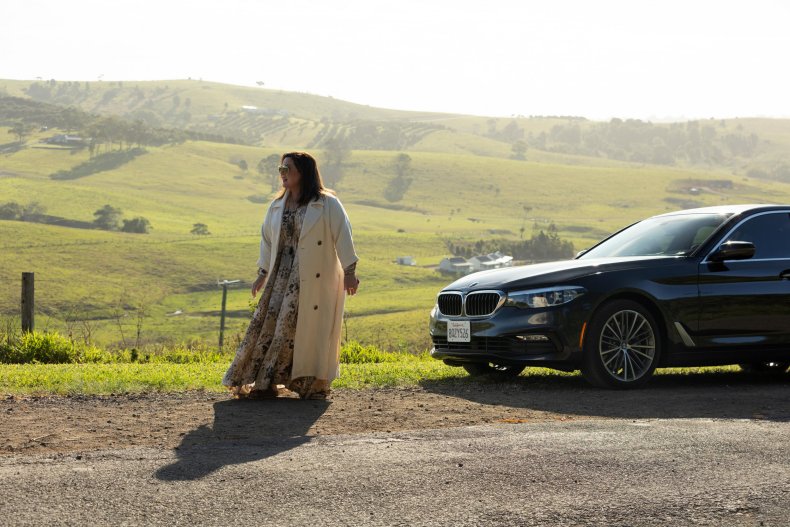 Co-star Regina Hall (Scary Movie) plays Carmel Schneider who is trying to come to terms with her husband leaving her for a younger woman. With Nine Perfect Strangers featuring characters looking for holistic and alternative treatments, Hall believes this could be a timely TV series to open a wider conversation.
She said: "People are finally discussing mental health and mental well-being. I think looking into practices that may be non-traditional but may be effective, that is always potentially helpful for some who may be experiencing a difficult time, especially being in and then eventually out of a pandemic."
Where Is 'Nine Perfect Strangers' Filmed?
McCarthy reflects on the "trifecta" of reasons that made her signed up to Nine Perfect Strangers in the first place. She said: "It was an amazing cast, an incredible story, and then it was like 'oh. Should we go to one of the most beautiful places in the world where it's incredibly safe during a pandemic?' There weren't any negatives towards it.
"I hadn't left my house in five or six months but thank goodness we did because it was a really lovely experience with great people," she said.
Byron Bay in Australia was eventually chosen as the filming location for the entire series. Nine Perfect Strangers was originally supposed to be shot in California but the pandemic meant they had to pivot to a different location.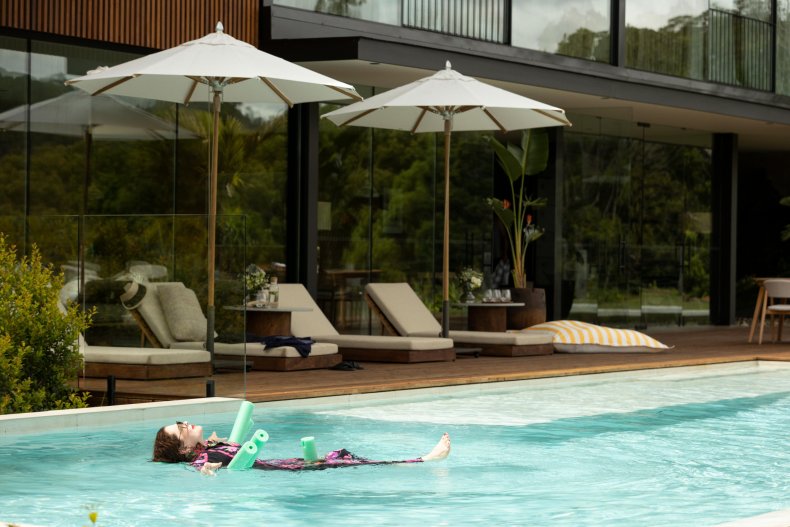 Director Jonathan Levine says it was a stroke of luck and a leap of faith that landed them at the SOMA resort in Byron Bay. "We sent people to this location but I picked it from photos and drone footage.
"So basically I was choosing this place where we'd set this whole show from pictures which is crazy. Usually you'd go and scout a location 10 times if you were shooting for 100 days," admits Levine.
The selection turned out to be a stroke of genius as each of the cast members felt at home—especially Samara Weaving who got to be closer to her Australian family, and Bobby Cannavale whose partner Rose Byrne is Australian too.
Manny Jacinto (The Good Place) plays one of Tranquillum's serene staff, and says he would pinch himself at times during the job. "I remember days, moments when I'd be outside with Melissa and turn and say this looks like a green screen but it was our back yard."
He continued: "We were really grateful for it because of the chaos that was happening around the world. We enjoyed a bit of peace in such a chaotic time."
The Connections Between the 'Nine Perfect Strangers'
Bobby Cannavale admits himself that he looks worse for wear in his Nine Perfect Strangers role. As Tony Hogburn, he arrives at Tranquillum House recovering from an addiction to pain medication, and is prone to snapping at other guests at any moment.
Australia was an afterthought for him, as he explains how his friend got him on board: "The original impetus for doing the job was I got a text from Melissa who said 'I'm doing this thing and I think you should do it too because we'll have a lot of fun and I don't think we've ever done this before. The character is so interesting.'"
He continued: "She's got great taste and she's been so good to me in the past so that was my original hook into this thing."
Nine Perfect Strangers actually marks the fourth time Cannavale and McCarthy have worked together (previously Spy, Thunder Force and Superintelligence). He tells Newsweek what it is that brings him back to her: "I think she's one of the great great great actresses, I feel really lucky. If one of the greats asks you to go work with them over and over again you don't overthink it, right?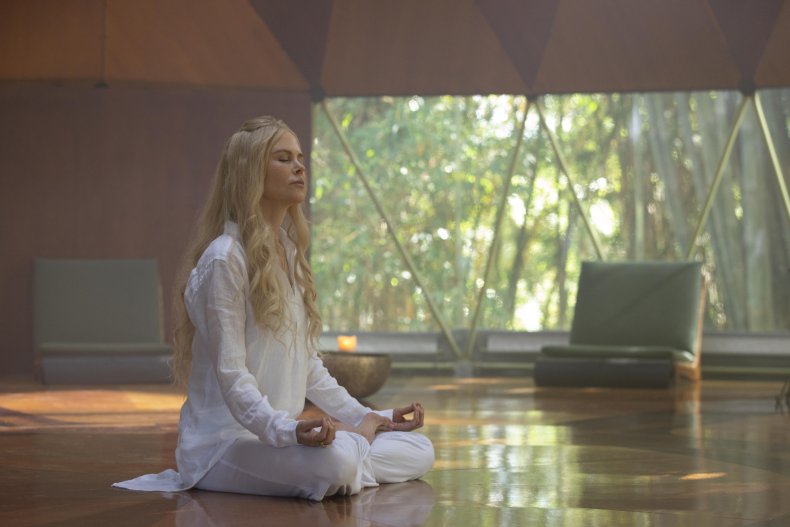 "From the moment we met we've cracked each other up." Cannavale says they're so close, he's even been given an affectionate nickname. "She does call me a jerk a lot. Any time I make her laugh she goes 'you're a jerk.'
"And for some reason when she drinks she likes to tell me that she wants to hit me so I don't know. I think it's like a sibling thing but we do really enjoy working with each other," Cannavale said.
Both McCarthy and Kidman were on double duty as actors and executive producers on Nine Perfect Strangers and their co-star Weaving admits she was in awe of the two experienced pros. She said: "I really admired how assertive and caring they were. They were just really fantastic leaders they really made space for everyone and I felt really heard and I think the entire cast did as well.
"There wasn't think secretive producer bubble, everyone was invited to everything and I really loved that," she said.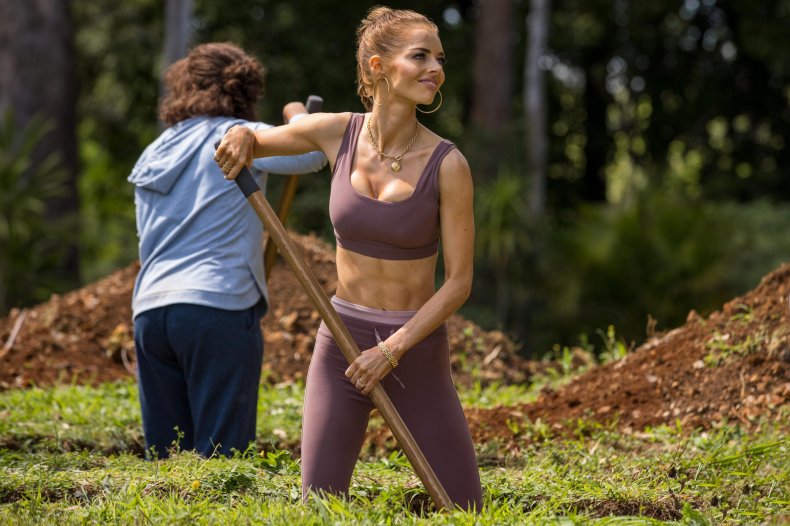 Australian actress Weaving plays Jessica Chandler, a social media model who heads to the retreat for a technology detox. Having to recreate the look of an influencer, Weaving says her toughest moments on set were maintaining her character's look.
"Getting my hair done, getting my nails done, getting a spray time again. In the makeup chair they would put wire on the sides of my face and pull it so it looked like I had a face lift," she continues. "Putting the teeth in and out, and wearing the fake bust and fake butt. The upkeep of her was taxing."
'Big Little Lies' Comparisons
With co-creator Kelley and executive producer Kidman on board, it's only natural for Nine Perfect Strangers to get comparisons to Big Little Lies according to the director Levine.
"It's always a little scary to come in with specific expectations, especially something as unique as this. Tonally and story-wise, this is unlike anything I've ever seen, With that said, I think that people who liked Big Little Lies will hopefully like this too because it is from the same two writers and produced by Nicole, but Nicole is playing a very different character in this.
"Look, I want as many people to watch this as possible but it's also scary what expectations people come to something with. I just hope they love it as much as I do."
Nine Perfect Strangers contains eight episodes in total and the first three will be released on the first day. "Random Acts of Mayhem," "The Critical Path" and "Earth Day" will all be available to watch on Hulu on Wednesday August 18, 2021.
Episodes will air weekly from there with the finale airing on September 22, 2021.