'Nine Perfect Strangers' Episode 1 Recap: Meet Nicole Kidman's Mysterious Masha
The first three episodes of Nine Perfect Strangers arrives on Hulu Wednesday, promising a season of the strange yet healing events to come.
Much of the first episode is spent introducing each of the nine guests and the three staff members of Tranquillum House, which is where our twelve ensemble cast members will be spending the majority of their time throughout the show.
The core cast features: Nicole Kidman, Melissa McCarthy, Luke Evans, Melvin Gregg, Samara Weaving, Michael Shannon, Asher Keddie, Grace Van Patten, Manny Jacinto, Tiffany Boone, Regina Hall and Bobby Cannavale.
The first three episodes are available to watch on Hulu now before each new episode is released every Wednesday afterwards. Let's take a closer look at Episode 1, "Random Acts of Mayhem."
What happens in Nine Perfect Strangers Episode 1?
If you didn't already know the premise of Nine Perfect Strangers, nine damaged guests sign up for a ten-day retreat at Tranquillum House, a health and wellness resort which promises to transform and heal the guests that stay there. However, over time the guests discover secrets about each other and the resort's mysterious host Masha (Kidman), implying that all is not what it seems in this private piece of paradise.
Episode 1, "Random Acts of Mayhem," follows each of the strangers making their way to the retreat, occasionally interacting with one another on the way.
The screen time needs to be shared equally among these nine guests so that each one feels less like a stranger by the time the credits roll. As a result, exposition is the name of the game in Episode 1 but there's enough intrigue aroused for each guest to keep viewers engaged and eager to find out more.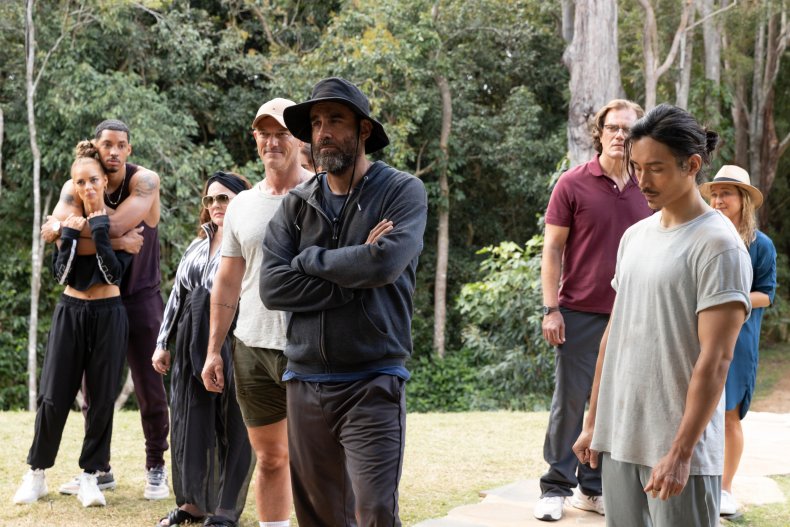 Before we meet any of the characters though, we see the scenic surroundings of Tranquillum House. Shot at the SOMA Resort in Byron Bay, Australia, this beautifully green retreat will be home to the characters for the next eight episodes.
First up, we meet the Marchonis. Father Napoleon (Shannon) is soliloquizing about the upcoming trip to Tranquillum House, driving his uninterested wife Heather (Keddie) and daughter Zoe (Van Patten). He mentions how he and the family are getting a massive price break to attend the retreat.
Next up is Ben (Gregg) and Jessica Chandler (Weaving), a young beautiful couple driving an expensive Lamborghini. Jessica's job as a social media influencer is made obvious as she informs her followers that they're heading to a "super mysterious transformation retreat." Once her camera stops rolling, she talks openly with Ben about their issues as a couple which are the reason they're attending Tranquillum.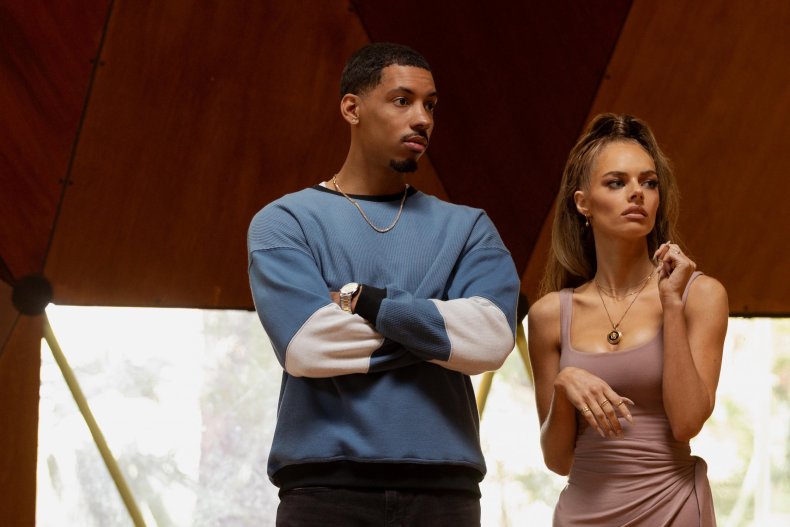 The first solo attendee to the resort is Frances Welty (McCarthy). Via some phone calls in her car, we discover Frances has some issues with an "asshole grifter man." Her agent then calls to drop some bad news about Frances' latest book. She pulls over to the side of the road to come to terms with the personal tragedy when another guest spots her.
Tony Hogburn (Cannavale) pulls over to check on a screaming Frances but soon regrets his decision. Their interaction remains tense and after Tony accuses Frances of having a mental breakdown, they part ways on bad terms, only to reunite at Tranquillum later.
Next we meet the suave looking Lars Lee (Evans) at a gas station. There he runs into incredibly fragile but upbeat Carmel Schneider (Hall) who bothers Lars with her excitability. Discussing the mysterious woman of Tranquillum, Carmel says she's looking forward to being "trans-formed" by the woman but is hit with a sarcastic "good luck with that" by Lars.
No longer en route, our Nine Perfect Strangers arrive and contrast the serenity of the retreat with their frantic problems. Staff members Yao (Jacinto) and Delilah (Boone) welcome each of them as they arrive and inform them that their electronic devices will be confiscated for the entirety of their stay. This is particularly distressing for influencer Jessica.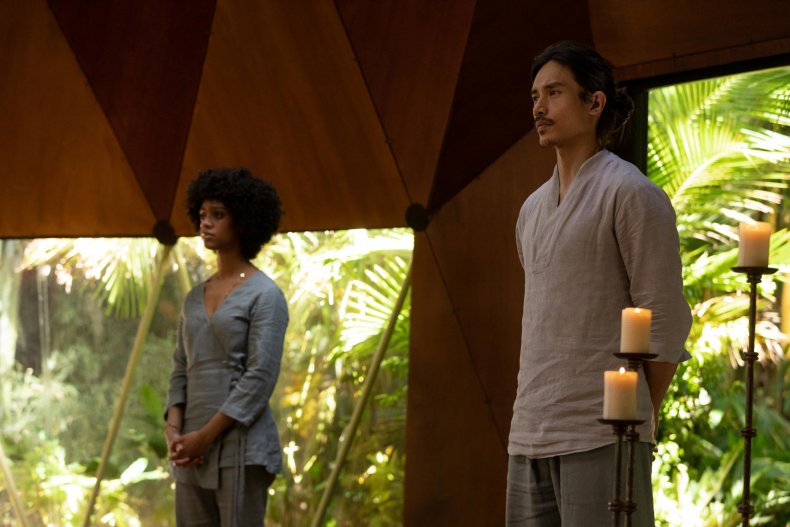 Once everyone has become accustomed to their surroundings, surrendered their phones, had their blood work taken and signed some documents, it's time to meet the much-discussed host of Tranquillum House, Masha Dmitrichenko (Kidman).
Our first glimpse of the Russian-accented beauty is when she interrupts Frances who was having a cry in her bedroom. Masha promises Frances that they're going to make her better but warns her that the experience will be "sometimes unpleasant" but many guests "come for the suffering."
The episode culminates when we see the nine guests together for the first time in a meditation room. Masha glides in to welcome the whole group to Tranquillum House as she explains what's in store for them across their ten-day stay.
When provoked by Lars, Masha shares her backstory as a hedonistic business woman who was shot in the chest. After being announced clinically dead, she was brought back to life by Yao, who stands by her reborn too.
Tensions spike amongst the Marchonis when Masha talks of death. Zoe leaves in tears as Heather confronts the host. The final words of the episode are spoken by Masha, who says to Heather in front of everyone, "This is Tranquillum, I mean to fuck with all of you."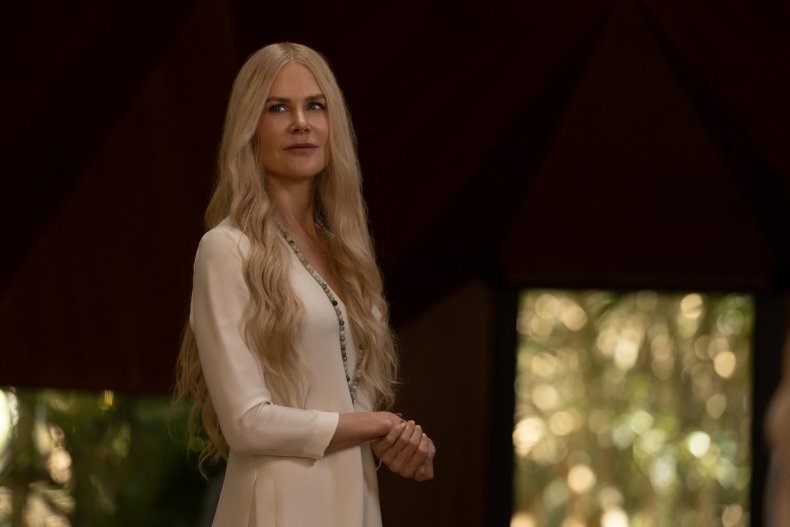 Future episodes of Nine Perfect Strangers
If "Random Acts of Mayhem" made you crave more episodes of Nine Perfect Strangers, the next two episodes, "The Critical Path" and "Earth Day" are available to watch on Hulu now.
The entire season of Nine Perfect Strangers is made up of eight episodes, and each subsequent episode will be released weekly on Wednesdays.
The finale will become available on Hulu on Wednesday, September 22.