'Nine Perfect Strangers' Episode 2 Recap: Melissa McCarthy and Cast Are Buried Alive
Now the guests have settled in to Tranquillum House, Nine Perfect Strangers continues on Hulu with Episode 2, "The Critical Path."
Russian retreat host Masha (Nicole Kidman) leads the nine strangers in some unusual practices, and more secrets are revealed along the way.
Newsweek spoke to the cast of Nine Perfect Strangers about having to dig and lie in their own graves for episode 2, and the emotional repercussions of reflecting on death.
What happened in Episode 2 of Nine Perfect Strangers?
"The Critical Path" picks up immediately after the events of episode 1 "Random Acts of Mayhem," which ended with Masha telling the guests in the meditation room that she intends to "fuck with all of them."
Frances Welty (Melissa McCarthy) consoles Zoe Marconi (Grace Van Patten) after she ran out of the session. Zoe reveals that her twin brother died three years ago, just before their 18th birthday.
Back in the meditation room and things are escalating as Tony Hogburn (Bobby Cannavale) confronts Masha about taking his prescription drugs. She reluctantly returns them to him.
Frances' demons are explained in a flashback as it's revealed she was sucked in by an online relationship with a grifter (played by her real-life husband, Ben Falcone) who lies about having a son.
A new day brings a new outlook for many of the guests in the morning as they sit down for breakfast at a communal table. Each enjoys a healthy breakfast with an accompanying personalized smoothie—an important detail that comes into play later. Tony in particular wakes up with a fresher perspective and apologizes for his behavior the day before.
Masha enjoys a quiet moment in the pool next to Yao (Manny Jacinto), where it's implied they have an intimate connection despite the fact he's in a relationship with fellow worker Delilah (Tiffany Boone).
The first group finally take part in their first activity together—digging and then lying in their own graves. Once they lie down, Masha asks them to think of some big concepts like "the people who will mourn you, what will they say about you?"
After the group splits up, Jessica (Samara Weaving) has a one-on-one with Masha, Frances enjoys some R and R and everyone else takes a hike.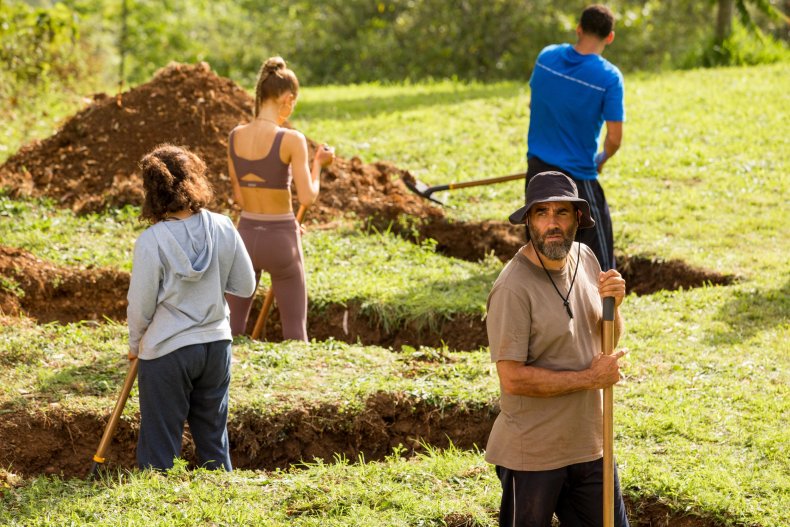 Tony and Frances, who previously clashed, start to mend their fractured relationship in the pool after she almost chokes on a grape. He saves her and they start to have an open discussion about Frances' damaging ex.
Meanwhile out in the wilderness the others take part in a trust-fall exercise but Heather Marconi (Asher Keddie) worries everyone by standing on the edge of a cliff, looking as if she's contemplating jumping.
After hearing more bad news about her recent failed novel from Tony, Frances visits Masha and tells her she wants to leave the retreat. Masha asks for one more day to convince her she's getting better, to which Frances reluctantly agrees.
As an act of panic, Masha visits Yao and Delilah and informs them that they need to "start the new protocol" for the "volatile group." Despite being met with protests from the pair because the group haven't fully detoxed yet, Masha urges them to continue anyway.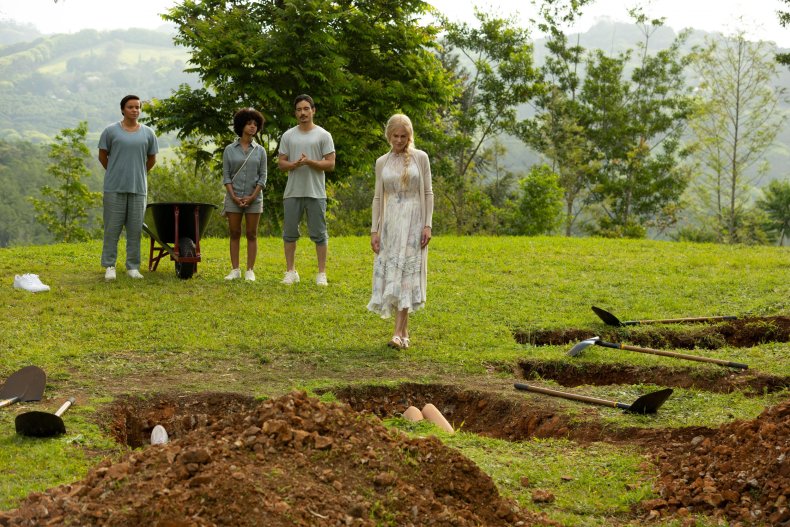 Nine Perfect Strangers cast on being buried alive
"I will tell you this, when 'cut' was called, nobody hung out in the graves. Everybody got out pretty quickly, which is telling," Cannavale told Newsweek when discussing this episode's "perfect TV show-looking graves." He said: "It was helpful for me to be able to listen to what that character is saying. To reflect on the people in our lives, to reflect on what might be said about us when we die. I thought that was a really interesting exercise."
Not everyone found the experience of sitting in their own grave to be so negative. McCarthy discussed the scene with co-star Regina Hall and Newsweek. She said: "Nicole was saying things like 'who will miss you' and you're like 'oh God.' As the character and then as yourself, those are rather enormous things to think about.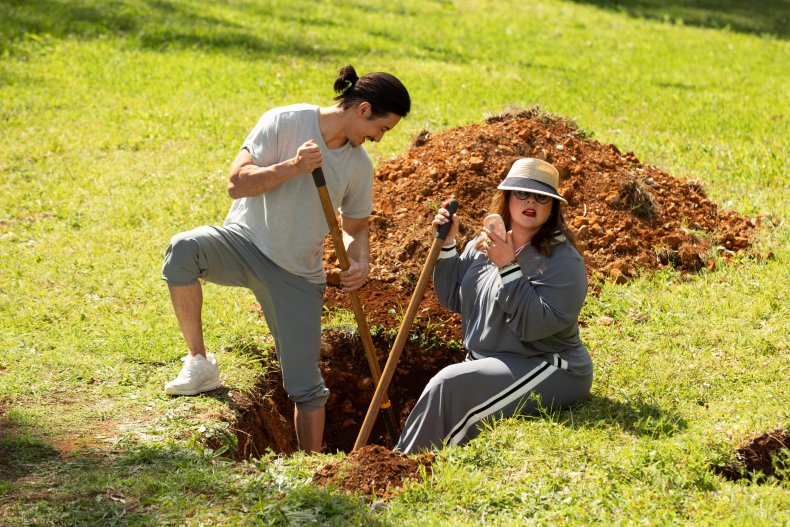 "Then after that you'd sit up and I'd see Regina's head pop up and it was like Whac-A-Mole. People's little heads pop up like 'did we cut?' Then you're laughing, it was wonderfully all over the place."
Hall seemed to find it suitably somber. She told Newsweek: "It was a little scary but also oddly great in a weird way. Like life, there's not just one emotion that accompanies something like that."
McCarthy isn't the only one who found Hall hilarious during the scene. Weaving said: "It was creepy but having friends doing it with you took the fear out of it.
"Regina and I were gardening at one point, pulling the weeds out, like 'there's weeds in our graves. What is happening?' It might have been a really profound experience if I was alone but you put us all together and we're just not going to take it seriously," Weaving said.
The next episode, "Earth Day," is available to watch on Hulu now. Episode 4 and every subsequent episode will drop on Hulu weekly every Wednesday until the finale airs on September 22.