'Nine Perfect Strangers' Episode 3 Recap: Murder at Tranquillum House
Episode 3 of Nine Perfect Strangers saw the new Hulu drama take a psychedelic turn.
"Earth Day" sees the retreat guests open up to one another, bonding and vibing with nature in what is the most captivating episode of the season so far.
The Marconis make emotional progress, Ben reveals how he made his millions and the rest of the camp discovers Tony's alter-ego, "Smiley Hogburn." "Earth Day" also ends with a cliffhanger that threatens the future of Tranquillum House as an institution, putting pressure on Masha's next move.
What happened in Nine Perfect Strangers episode 3?
Episode 2 ended with Masha (Nicole Kidman) informing Yao (Manny Jacinto) and Delilah (Tiffany Boone) that they need to activate the new protocol sooner than intended in order to keep all of the nine perfect strangers at Tranquillum House.
Episode 3 begins the next morning with Masha diving into a lake and visiting her pet goat, the Marconis rising in a stir and discuss their grief, and Ben and Jessica (Melvin Gregg and Samara Weaving) attempting to rekindle their passion with some awkward morning sex.
Masha's morning is interrupted when she receives a threatening text, but she assures Delilah that she's not worried.
At breakfast, the guests are given their personalized smoothies and informed that there will be a fast throughout the day, with no food until the evening.
Lars then stirs the pot by pointing out Ben and Jessica's tension. An argument then develops between Carmel (Regina Hall), and Lars with some very forthright comments.
After another cruel comment by Lars, Carmel leaps across the table to attack him before the rest of the camp intervenes.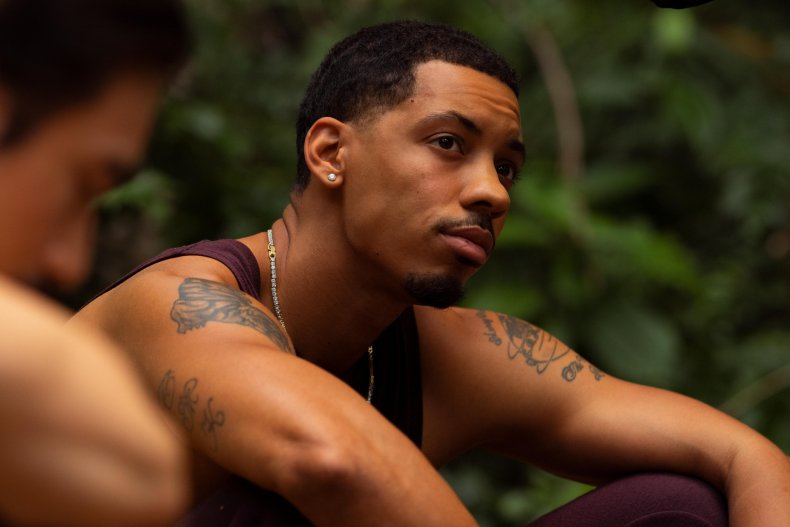 The first session of the day is meditation, and each of the strangers look at peace, except Tony (Bobby Cannavale), who appears to be struggling, perhaps from withdrawal symptoms related to his addiction. Via flashback we see Tony was a professional football player who suffered a career-ending knee injury.
Cut to the great outdoors and the guests are taking part in a potato sack race. Laughs are shared throughout the friendly competition, which results in a win for Jessica's team after she cartwheels her way to victory.
After we see Masha and Napoleon (Michael Shannon) have an emotional one-on-one, the group splits up and head into the wilderness. The men go with Yao to forage for food while the women go with Delilah for a swim.
In the boys' camp, Tony's secret is out as he's recognized as an ex-pro. The girls' team head out to the river where Delilah and Heather (Asher Keddie), in front of her daughter Zoe (Grace Van Patten), go skinny dipping. Carmel and Jessica get into a tense argument, a result of Jessica's insecurities and Carmel's resentment of young beautiful women after her husband left her for a younger woman.
Things aren't looking promising for the guys as they come up short on the food hunt. While sat around eating the few nuts they could find, Ben tells the group he made his millions by winning the lottery. It turns out he's not been truly happy since he won the $22 million.
The women retire to the hot springs where they relax and share their feelings. It becomes apparent that things aren't right as people start to become too honest with each other. Heather, in front of Grace, tells everyone she hasn't had sex with her husband in three years and he's welcome to have an affair with the women at the retreat if they'd like.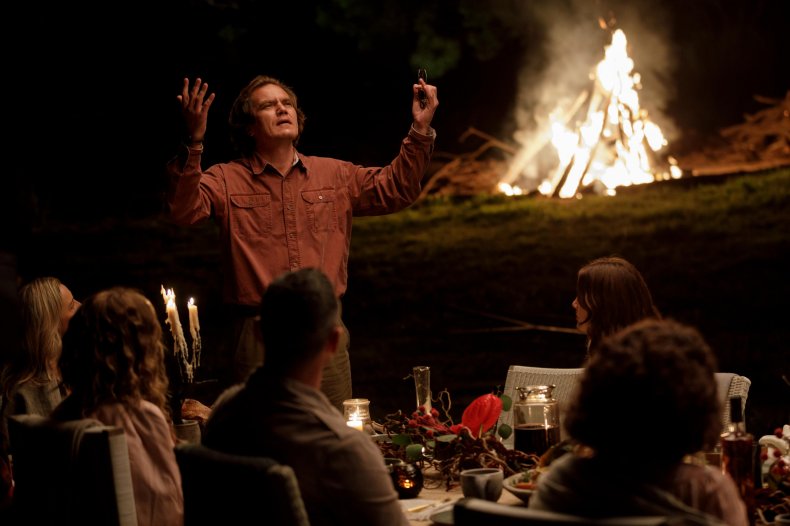 The men are starting to feel peculiar too. Questioning whether it's hunger pains or something stronger, they eventually come across a goat—Marsha's goat. They contemplate killing it for food, until Tony goes all out and starts to chase the animal down.
When everyone returns to Tranquillum House, there's shock to discover that the men are returning with a murdered goat atop Tony's shoulders. Masha keeps her cool and congratulates the men, but turns her back and reveals her anguish at the situation.
Later that night the guests enjoy a feast, courtesy of the recently slain animal, gruesomely turning on a skewer.
Spirits are high and before they eat, Napoleon stands to say grace, but his well-meaning gesture turns into a revealing monolog. He informs the group that he killed the goat today because he heard a voice from a higher power while hiking. He also starts to reflect on the death of his son, and how he blames himself because he pressed the snooze button one morning and didn't check on him like he usually does.
It's an incredibly touching moment, affecting all of the Marconis and the guests at the table. At that point Heather turns to Masha and asks: "Have you been medicating us?"
All eyes turn to Masha for her reaction. She composes herself and starts to smile.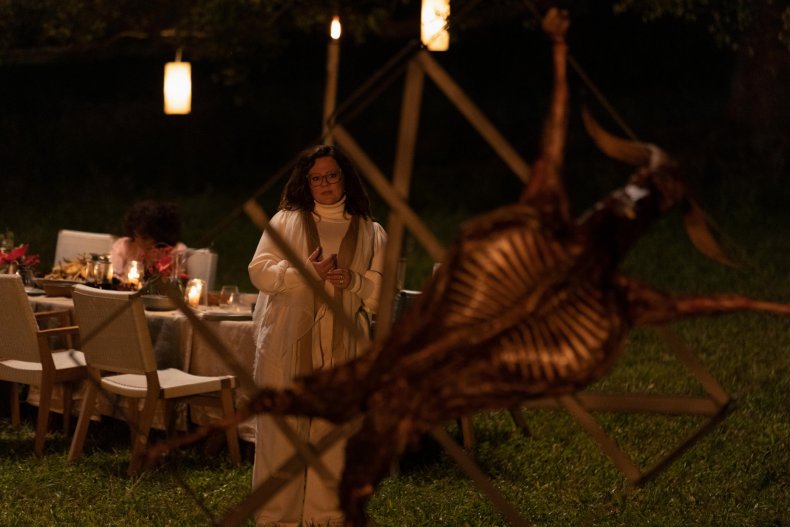 Michael Shannon's intensity
Bobby Cannavale told Newsweek one of the most intense days on set involved Michael Shannon and the goat.
"I love Michael Shannon, he's one of my favorites and he's a pretty intense actor. Those scenes where we're tripping at the same time, those were like extra intense, I'll just say."
Cannavale thinks the scene was one of the most interesting to shoot in the whole season. "You've got a group of guys playing different levels of intoxication and Michael's character is a pretty grief-stricken character who is under a pretty intense dosage let's say. We shot them over three days and those scenes were pretty harrowing which culminated in the murder of a goat," he said.
"Those days got pretty real sometimes."
Episode 4 of Nine Perfect Strangers will be available to watch on Hulu on Wednesday 25 September.