'Nine Perfect Strangers' Episode 4 Recap: Drugs, Threats and Violence
Nine Perfect Strangers episode 4 shows the guests of Tranquillum House coming to terms with Masha's bombshell.
The Hulu series continues today with the episode "Brave New World," where the topic of the day is micro-dosing. Shot at a real-life retreat in Australia, Nine Perfect Strangers is based on Liane Moriarty's book of the same name and co-created by David E. Kelly (Big Little Lies).
Tensions run high as many of the guests experience emotional breakthroughs, for better or for worse. Meanwhile, an emerging figure threatens the peace of Tranquillum when Masha's past catches up with her.
What happens in Nine Perfect Strangers episode 4?
"Brave New World" opens with a flashback to the night Masha was shot in a parking garage. She's heard speaking down to an employee on the phone before calling her lover and promising them a good time. A hooded figure then appears behind her and a gunshot rings out.
Back at the camp and all eyes are on Masha (Nicole Kidman) after Heather (Asher Keddie) accused her of medicating the whole camp without their consent. She informs everyone that "it's called micro-dosing and it's perfectly safe." It's revealed she's been micro-dosing some of the guests by putting psilocybin, or "magic mushrooms," into their smoothies.
While discussing it at the dinner table, Masha manages to talk herself out of the situation, calming the camp and informing them all that the next step is up to them.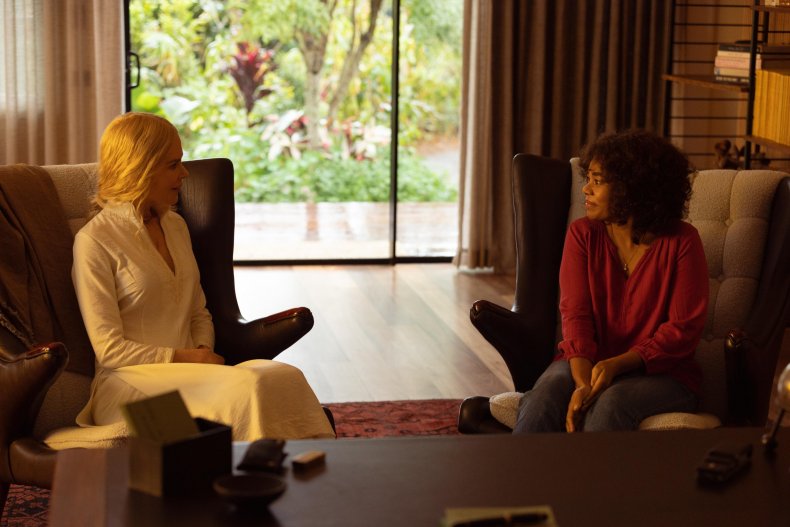 Confidently, Masha also outs Lars Lee (Luke Evans) as an investigative journalist and she encourages him to tell the story of Tranquillum House and how micro-dosing helps.
Back in the rooms, Ben (Melvin Gregg) and Jessica Chandler (Samara Weaving) wonder why Masha hasn't been drugging them. Jessica seems keen to take some but Ben is hesitant.
Napoleon Marconi (Michael Shannon) is stressing about being drugged but Heather remains calm because of the positive effect it's having. She calms her husband down and they have sex for the first time in three years, when their son died.
Speaking of sex, we see Yao (Manny Jacinto) and Masha together in her room. In the midst of passion her phone rings and she reveals it was whoever has been threatening her. Discussing the micro-dosing revelation, Yao thinks Masha has said too much but Masha mentions that she hasn't told them everything. Yao sneaks back to his room, where his girlfriend Delilah tells him to sleep on the couch.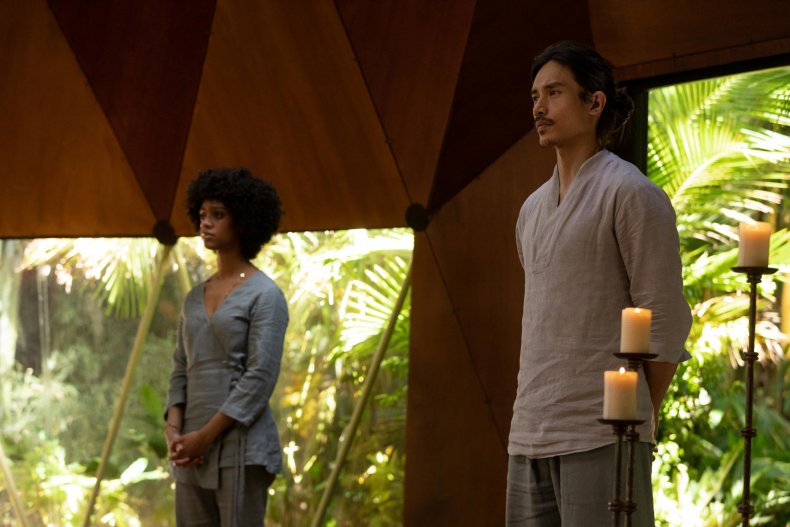 The next morning the guests once again gather around the breakfast table where Napoleon tells everyone he's now open to the idea of micro-dosing, and that positive attitude towards the drugs permeates through the group.
Carmel Schneider (Regina Hall) has her one-on-one with Masha and things get very tense when discussing her issues. Carmel shows a scar she has on her breast from her husband bit her in an act of passion, but it's a scar she looks at fondly because it reminds her of a time when he wasn't cheating on her. Masha then asks her to write down all of the bad things her husband used to say to her.
The group are pulled together in the meditation room where the next exercise encourages them to let their anger out on a mannequin using a wooden sword. Frances Welty (Melissa McCarthy) is up first and she starts to imagine the grifter who stole her money in the dummy's place. She openly talks about what he did to her, tricking her, stealing her money, making her fall in love with him. Eventually she starts aggressively beating the man she sees in the mannequin.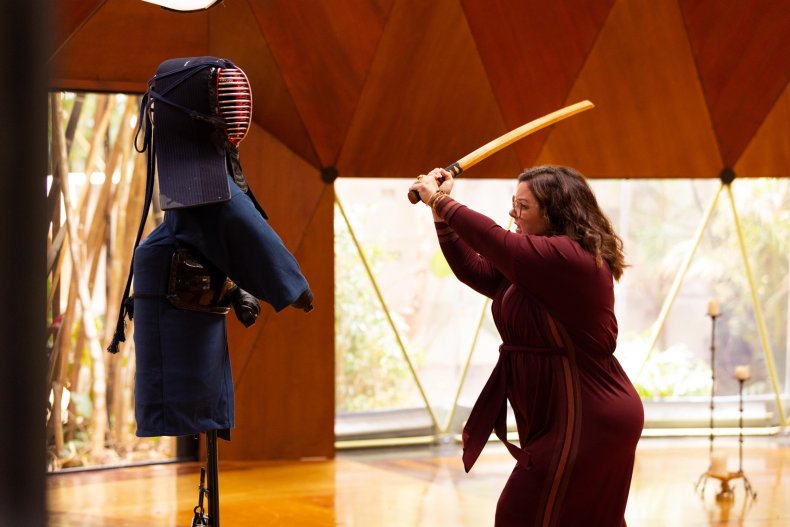 Carmel is up next but this time, Delilah and Masha read aloud the horrible things her husband used to say to her. Carmel's aggression is a step above Frances' and she tackles the dummy to the floor, screaming and continuing to beat it.
After witnessing this, Napoleon questions the retreat's methods and asks his wife and daughter if they'd like to go home, especially as it's Zoe's (Grace Van Patten) 21st birthday tomorrow. Instead they choose to stay.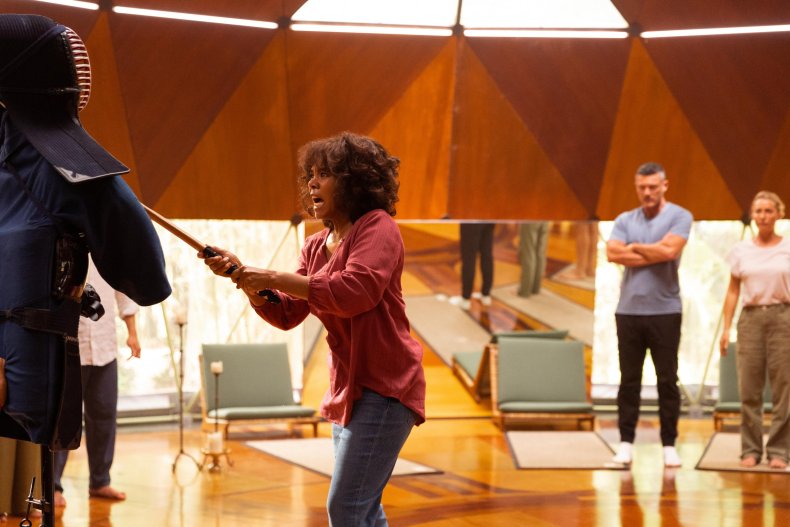 In a rocky sweat lodge, Tony Hogburn (Bobby Cannavale) is remembering an incident in a bar where a guy approached him and mocks his former football career. He later tearily admits to Frances that he accidentally killed the man after it escalated into a bar fight. Frances consoles him and the discussion brings them even closer together.
Later on that evening the guests are sat around the fire pit having a nice time and getting moderately hazy, likely a side effect from the micro-dosing. Masha tells Yao and Delilah that she wants to take them to "level 2." In a private conversation, Masha warns Delilah that she needs to start taking her own meds again
The episode ends with Masha returning to her office to find someone has broken in and left a threat on her wall. Papers on the wall read "It's Good to Die" which evokes a reaction from Masha: "Shit."
The next episode of Nine Perfect Strangers
Episode 5 of Nine Perfect Strangers, "Sweet Surrender" will be available next Wednesday, September 1 on Hulu.
The soundtrack to Nine Perfect Strangers is available to listen to now, while the theme song, "Strange Effect" by Unloved is also out now.
Each episode airs weekly afterward until the eighth episode, the season finale, which will be on Hulu on September 22.