'Nine Perfect Strangers' Episode 5 Recap: Hallucinations, Breakdowns and Breakthroughs
Nine Perfect Strangers saw the retreat guests unearth more details about Masha's (Nicole Kidman) master plan in Episode 5 on Hulu.
"Sweet Surrender" showed how the micro-dosing is starting to affect each character in different ways. Frances Welty (Melissa McCarthy) passed out, Zoe Marconi (Grace Van Patten) reconnected with a lost family member and Lars Lee (Luke Evans) gave birth. Meanwhile retreat guide Delilah (Tiffany Boone) showed new sides to her personality.
We're now past the half-way point of the eight-part season. Liane Moriarty's story contains just three more episodes after this one with the season finale airing on Hulu on September 22, 2021.
What happened in Episode 5 of Nine Perfect Strangers?
"Sweet Surrender" begins with a flashback to an event at Tranquillum House that we haven't seen before. Masha is enjoying a midnight dip in the pool, but she recalls a stressful day in the meditation room with her and Yao (Manny Jacinto) trying to resuscitate an unidentified man.
Meanwhile, Grace wakes up on the morning of her 21st birthday and is visited by her deceased twin brother. He appears as a dark shadowy figure at first but their conversation and interaction seems abnormally real. Her mother Heather (Asher Keddie) interrupts the moment and her brother Zach (Hal Cumpston) disappears.
Later in the morning Napoleon (Michael Shannon) goes into ultra-embarrassing dad mode and serenades his daughter and wife with an overly enthusiastic and slightly manic display of "You're the One that I Want" from Grease.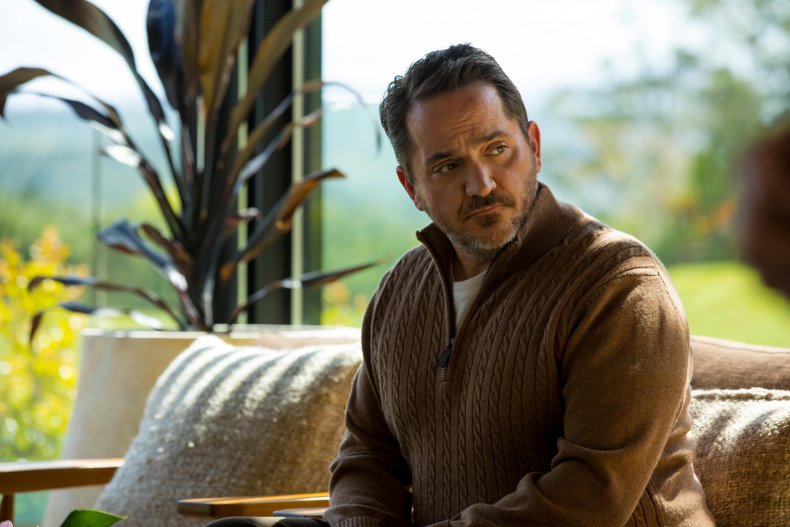 Over breakfast the whole group discuss the vivid dreams they experienced, possibly as a result of the micro-dosing they're now voluntarily participating in. Napoleon says he performed with the Beatles, which accidentally triggers Carmel (Regina Hall) as the song "Something" reminds her of their wedding.
Lars dreamed that he gave birth, with Tony (Bobby Cannavale) by his side as the proud co-father. Frances emerges from her slumber looking worse for wear, but composes herself to meet a visitor in the lobby -- it's Paul Drabble (Ben Falcone), the man who grifted her. Paul apologizes for his crimes, but starts to criticize her writing.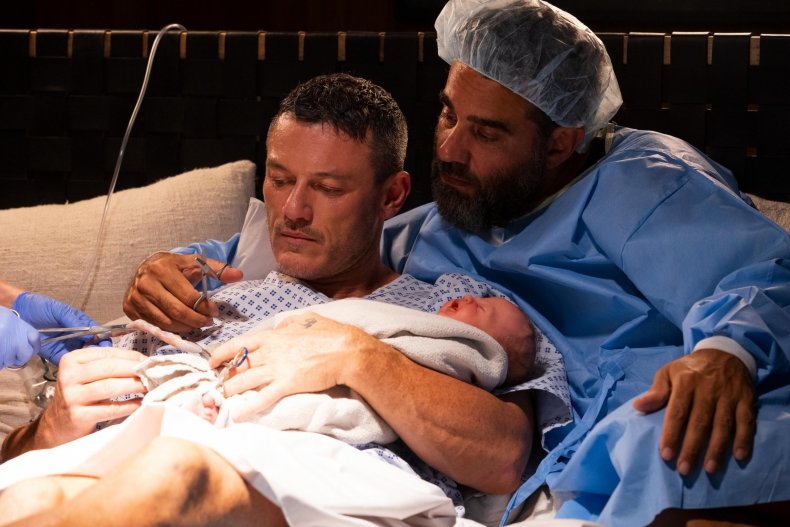 Suddenly Frances wakes up with her head in her oatmeal in front of the rest of the guests. Tony helps her up, but Delilah, who seems to be on edge tells him to "fuck off." Tony continues to help her anyway and escorts her back to her room. Frances and Tony are clearly progressing now with small flashes of romance and attraction starting to appear between them. Later they share a private conversation on the roof where Tony suggests he's been having suicidal thoughts, which concerns Frances.
Masha calls Delilah for a private chat and she apologizes for neglecting her recently. Delilah asks Masha to stop sleeping with her boyfriend Yao, which Masha seems unfazed by. In an intense moment the pair start to kiss, which implies that they've also been enjoying a secret intimate relationship.
Throughout the day the characters each enjoy their own private activities. Lars has a secret phone call where he informs someone that Masha has been dosing the camp, the Marconi couple take a leap of faith off a water fall, and Yao and Delilah get funky by engaging in an erotic act without even touching each other. Meanwhile Masha continues to receive threatening messages and texts from an unknown source.
Young attractive couple Ben and Jessica Chandler (Melvin Gregg and Samara Weaving) are finally starting to gel again thanks to the drugs they're now taking. They discuss "surrendering" all of their lottery money, which they believe has brought them nothing but trouble.
Carmel travels to the hot springs where she sees Ben and Jessica having sex. She storms back to Tranquillum House, but crosses path with Lars. Carmel unloads her anger, despair and psychosis on him but Lars finally shows a soft side and calms her by reassuring Carmel she's a "vibrant beautiful woman."
After experiencing a day filled with drug fueled experiences, the nine perfect strangers gather together on the evening to celebrate Zoe's 21st birthday. While everyone is enjoying the festivities, Zoe is frozen in her tracks as she sees her brother Zach again. Masha notices this and seems to immediately know what is happening.
Masha approaches Zoe and whispers in her ear, "He's here isn't he? Its you. You're The Key."
The next installment of Nine Perfect Strangers, Episode 6 "Motherlode" will be available to watch on Hulu on Wednesday September 8, 2021.