'Nine Perfect Strangers' Episode 6 Recap: Masha's True Intentions Are Revealed
Things are starting to get out of hand in Nine Perfect Strangers, but the motives of the guests at Tranquillum House are also becoming clearer.
While some struggle with their increased drug dosage, other guests are building news connections and finding love. Meanwhile, last week's revelation that the Marconis are starting to see their dead son and brother is built on here as Masha makes a promise that sounds too good to be true.
Episode 6 of the eight-part series, "Motherlode," really ramps up the action and progresses the plot, so strap in as we look back on the latest episode of Nine Perfect Strangers airing now on Hulu.
What happened in Episode 6 of Nine Perfect Strangers?
Frances (Melissa McCarthy) is awoken from her slumber to the sound of a musical number. A miniature version of Paul Drabble (McCarthy's husband, Ben Falcone) wakes her up by performing "Money" from the musical Cabaret. She squashes the first version of him but then flicks the next version into the toilet and flushes him.
Lars is having a nightmare from his childhood but is awoken by Masha (Nicole Kidman) in his room. Lars has already been exposed as an undercover reporter but Masha is glad he's there and wakes him to tell him he's free to film and document everything that's happening at Tranquillum House. She also tells him how she can help control his dreams using drugs and audio.
Some of the guests around the breakfast table seem a little lucid but conversation flows nonetheless. Francis recounts her dream about Paul Drabble but Masha helps her see that it was a positive experience.
Masha informs everyone that today they're taking the micro out of the micro-dosing they've experienced so far. They will take a higher volume of drugs today with a buddy system.
Carmel (Regina Hall) seems hesitant to take part and pulls Masha for a one-on-one. During this chat Masha reveals she knows who Carmel really is; she knows that Carmel arrived at the retreat because Masha had an affair with her husband.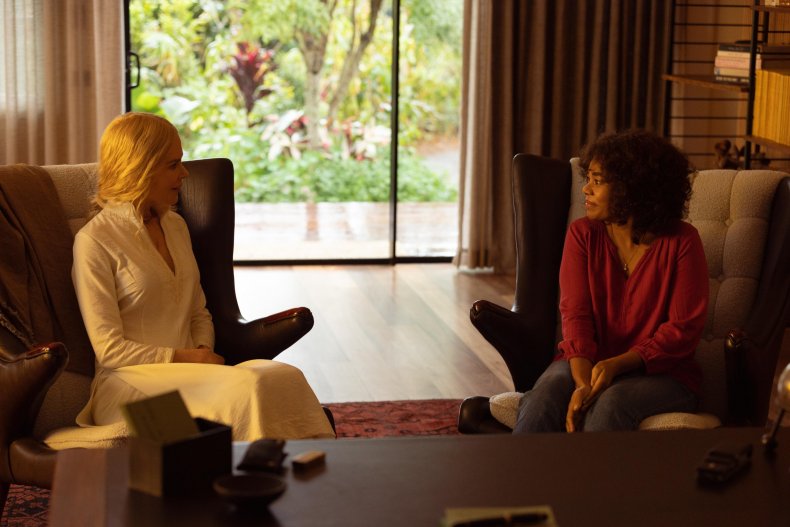 Carmel seems shaken, worried that she's in trouble, but Masha is relaxed about the revelation as long as she knows Carmel isn't the person who's been sending her threats. Carmel says she just wanted to arrive to get to know the woman who was the catalyst for her divorce and study her, in the hopes of becoming her. Quite brutally Masha tells Carmel her husband was nothing to her, a placeholder as she had affairs with many married men at the time.
Back in the meditation room and Frances, Tony (Bobby Cannavale), Ben (Melvin Gregg), Jessica (Samara Weaving) and Lars are all starting to experience highs. The Marconis take part in some yoga on the roof but Napoleon (Michael Shannon) vomits.
Frances abruptly wanders out of the room, with her buddy Tony following behind. They spend the rest of the day openly communicating in the shade of a grand tree. They reveal their feelings for each other, and share a kiss. The conversation deepens between them as Tony opens up about how his days of despair have turned to hope thanks to Frances.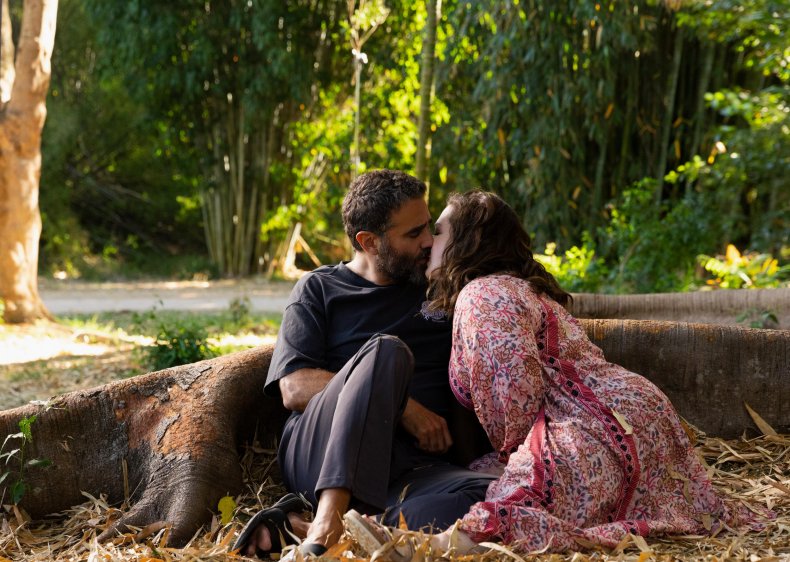 Ben and Jessica's trip isn't going to plan as Jessica starts hallucinating. What starts with noticing a pimple in the mirror ends with her entire nose falling off her face, leading her into a meltdown before Ben and Masha talk her down.
The Marconis, riding their wave, are experiencing nature and bubbles until daughter Zoe (Grace Van Patten) walks off. Heather (Asher Keddie) and Napoleon follow and one by one they start to see images of Zoe's dead brother Zach (Hal Cumpston).
Napoleon sees a glimpse, but Heather starts communicating with him. A sweet moment turns into a horrifying nightmare for the mother as Zach seems to turn on her, blaming her for giving him the wrong asthma medication. Heather starts to scream in the woods and becomes paralyzed with grief. Delilah (Tiffany Boone) and Yao (Manny Jacinto) help her back to the retreat and let her rest in the medical room.
Napoleon later opens up to Masha and tells her how he's always blamed himself for Zach's death but now, he believes he knows it's his wife's fault.
Later on Masha sits the Marconis down and gets to the crux of why they're really there, and what her true intentions are with the micro-dosing. She says via shared psychosis hallucination, they can see and communicate with Zach. Masha promises that if they continue down the path, she can "give them their son back."
Towards the end of the episode Frances and Carmel debrief on the day's events. Frances tells Carmel she's worried that while everyone seems to be healing and getting better, Carmel is getting worse. Yao and Delilah walk through the woods discussing Masha's behavior of pushing the drugs on the guests. Delilah says the two of them need to escape before things get out of hand.
Finally, while "The Windmills of Your Mind" plays overhead, we see Masha sat by the pool at night. She's remembering moments from her life like when she was shot and what we believe to be her as a little girl. Instead, it's revealed it was her daughter, riding a bike in front of her. Suddenly, her adorable daughter rides far ahead and we see the little girl get hit by a car.
Episode 7, the penultimate episode of Nine Perfect Strangers airs next Wednesday, September 15 on Hulu.