Anyone who has watched Nine Perfect Strangers on Hulu will have noticed the luscious, serene, vivid surroundings of the fictional Tranquillum House health and wellness retreat.
It's not Hollywood magic that's created the gorgeous scenery of the new eight-part series, however instead it was Australian awesomeness.
The cast and director of Nine Perfect Strangers spoke to Newsweek and told the story of how a last-minute pivot took Tranquillum House from Los Angeles, California to Byron Bay, Australia.
Taking a chance on Byron Bay
Director Jonathan Levine directs all eight episodes of Nine Perfect Strangers, but he was faced with one massive problem ahead of shooting.
"We were originally going to shoot this show in LA," Levine told Newsweek, "Then we were a week away from building all these sets on the Paramount lot in mid-March but we quickly realized that was not possible."
Faced with a minor catastrophe for the project, Levine and the producers, which included stars Nicole Kidman and Melissa McCarthy, had a choice to make. "Ironically this was not a show conceived in COVID, however, a lot of the details of the show logistically did make it a good fit for a pandemic. One location, self-contained, very small cast, not a lot of extras.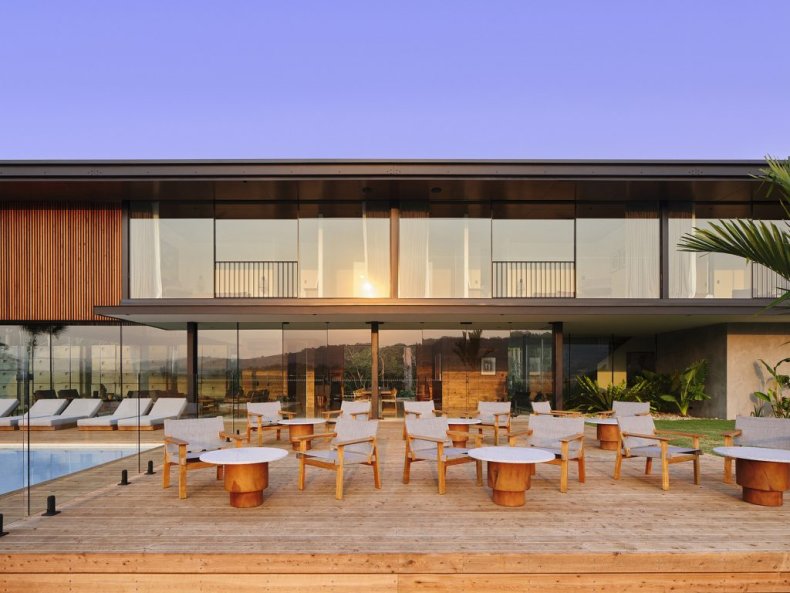 "We looked in Australia because a lot of our producing team is Australian and they were doing very well with COVID," Levine said.
From there Levine admits he took a real leap of faith on a secluded spot Down Under.
"We did send people there on the ground but basically I picked this location from just photos and drone footage. I was choosing this place where we were going to set this whole show from pictures, which is crazy. Normally you would go scout a location ten times if you were going to shoot there for 100 days."
The location that had the honor of hosting Kidman, McCarthy, Bobby Cannavale and the whole cast and crew of Nine Perfect Strangers was a real-life meditation retreat in Byron Bay called SOMA.
The retreat's staff proved invaluable too as they helped the cast replicate the practices from a real health and wellness center on screen. Levine said: "We did often ask the folks who ran the place to give us some authenticity checks on some of what we were doing. It was a perfect place."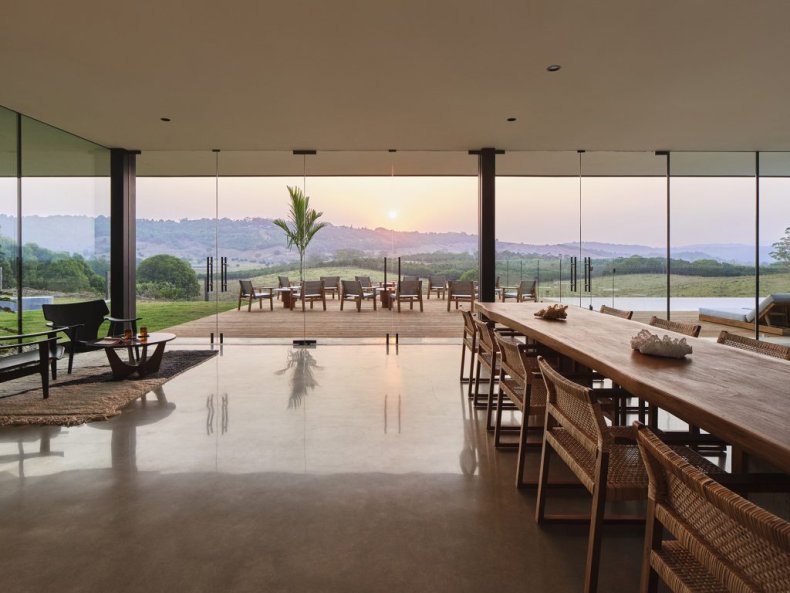 Living in Australia for five months
Cannavale, who plays ex-athlete Tony Hogburn, felt right at home as soon as he arrived. "It was unbeatable. I have a connection to Australia. [My partner] Rose [Byrne] is Australian, my kids are Australian and we go there a lot but I had never been to Byron Bay.
"It was great that we were in a place with virtually no COVID, it was a great relief for many people but just the simple fact of going back to work and being around other people was not lost on us," Cannavale said.
While the SOMA retreat itself provided the perfect interior, it was also ideally based in the Australian wilderness. Levine said: "It was really important to me to showcase these folks in nature as much as possible just to show the dichotomy between their modern lives and their natural surroundings. So not just the place we picked but the surroundings were incredibly beautiful too."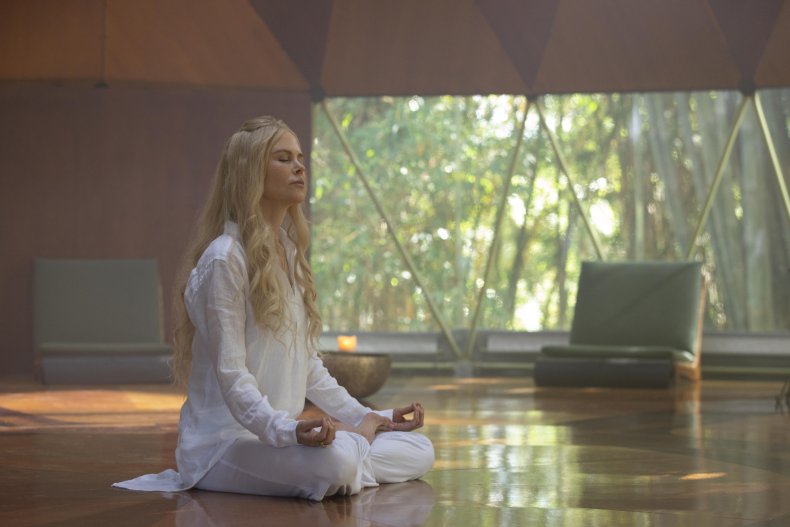 McCarthy and Regina Hall, who play Frances Welty and Carmel Schneider respectively, agreed the surroundings were visually stunning but found them to be more dangerous than they were expecting.
"In Australia they have the poison trees," Hall recalls. McCarthy adds: "and they told you 'don't move, they literally have scalpel darts.'
"The power went out in the middle of nowhere where we shot this at night. All you heard was Regina go, 'HELP! HELP!' and we're all awful people so we're all laughing. She had to stay frozen because everything in Australia will kill you, even the trees."
Hall sums up the experience when looking back on the plant life and animals that pose a danger to anyone in the Australian wilderness. "Nine Perfect Dangers, that's what they should have called it," Hall said.
Creating Tranquillum House
The SOMA center only formed part of the finished product we see on screen in Nine Perfect Strangers. Levine says a fortuitous second location was found a stone's throw away from the first.
"I was terrified the first time I walked in because I was like 'what if it's not what I thought' but it was beautiful. We also found, two miles away, a private residence that we then matched with this place and the two together became Tranquillum.
"I swear if we searched the whole world over we would not have found two places this perfect," he said.
The perfection of the filming location was appreciated by the cast members as well. Manny Jacinto, who plays the sage Yao, says even in real life it all looked too good to be true.
He told Newsweek: "I remember days, moments when I'd be outside with Melissa and I would turn and say 'this looks like a green screen.' Outside literally looks like it's been made on a computer but it wasn't it was our backyard. It was Byron Bay, Australia."
Nine Perfect Strangers is available to watch on Hulu now with new episodes dropping every Wednesday.