'Nine Perfect Strangers': How to Watch Nicole Kidman's New Show Online
Nicole Kidman and Melissa McCarthy both star in and executive produce the new mystery drama series Nine Perfect Strangers, which arrives on our screens this week.
Nine Perfect Strangers sees nine city dwellers arrive at the Tranquillum House health and wellness retreat looking to heal themselves and find a better way of living. Kidman plays the resort's mysterious host Masha and leads the group, which includes characters played by McCarthy, Bobby Cannavale, Luke Evans, Michael Shannon, Regina Hall and Samara Weaving.
The series is based on a book written by Liane Moriarty and adapted for TV by David E. Kelley. They were also behind the HBO hit Big Little Lies.
How Do I Watch Nine Perfect Strangers?
Nine Perfect Strangers will be available on Hulu from Wednesday August 18, 2021.
On the launch date, three episodes will be available to watch online before each episode in the eight-part season is then played weekly every Wednesday. The season finale will air on September 22, 2021.
The first episode "Random Acts of Mayhem" sees each of the nine guests arrive at Tranquillum House. They begin to interact with one another and meet the mysterious wellness guru Masha.
Episode 2, "The Critical Path," shows the guests start their sessions at the retreat as unconventional methods are revealed. Episode 3, "Earth Day," sees the group start to bond as they go searching for food in the surrounding wilderness.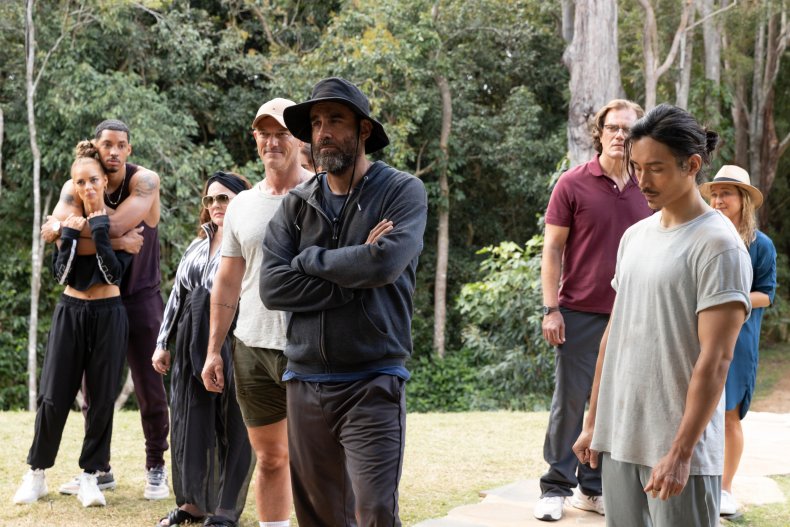 Nine Perfect Strangers and Big Little Lies
Manny Jacinto (The Good Place) joins the cast as one of the center's healing staff named Yao. He's surrounded by the difficult guests and even has a fling with one of the big name cast members.
He explained to Newsweek how its link to another popular piece of work convinced him taking on this project was the right thing to do.
He said: "The first reason was the fact that Nicole and Melissa were involved. And also David E. Kelley and Liane Moriarty, being a part of the team that brought to life Big Little Lies, you don't pass up on an opportunity like that so it was the people involved that got me on a plane halfway across the world."
Director Jonathan Levine, who takes the helm for all eight episodes, said the comparisons to Big Little Lies are daunting, but promising. He said: "It's always a little scary to come in with specific expectations, [but] tonally and story-wise, this is unlike anything I've ever seen."
TV series often call in different directors for each episode, but Levine says he's glad he got to stay with the show from start to finish.
"As grueling as it is, and it was incredibly hard to direct all eight of them, I just can't imagine doing it any other way," he said. "These things work best when they're treated as long form movies and being able to do one through eight, I'm able to give it a progression that I don't think we could do if it was just a bunch of people doing it."
How to Watch Nine Perfect Strangers on Hulu
New subscribers to Hulu can start a month-long free trial and subscriptions cost $5.99 a month afterwards. You can also get a month-long free trial of an ad-free Hulu subscription before paying $11.99 a month for that service. You can sign up for an annual subscription to Hulu + Live TV for $64.99.
Newsweek has affiliate partnerships. If you make a purchase using our links, we may earn a share of the sale.