How Realistic Are The Treatments in 'Nine Perfect Strangers', Exactly?
On the face of it, Nine Perfect Strangers' fictional retreat of Tranquillum House might seem like a perfect space to disconnect from the stresses of modern life.
As the series progresses, however, the retreat's guests soon discover that all is not what it seems.
The real backdrop to the Hulu drama is SOMA, an exclusive meditation retreat in Byron Bay, Australia.
Shooting here had particular advantages as Director Jonathan Levine previously told Newsweek: "We did often ask the folks who ran the place to give us some authenticity checks on some of what we were doing. It was a perfect place."
With this in mind, we caught up with one of the men behind SOMA, co-founder Gary Gorrow, to find out just how authentic Tranquillum House is and how it compares to the real retreat.
How realistic are the treatments in Nine Perfect Strangers?
"I think viewers realise that cinema tends to over dramatize things, because this obviously makes for a more compelling story," Gorrow told Newsweek.
"Jonathan [Levine] asked my advice on a couple of things, elements that most viewers would not have really picked up on, but he wanted certain spiritual and ceremonial aspects to be as authentic as possible."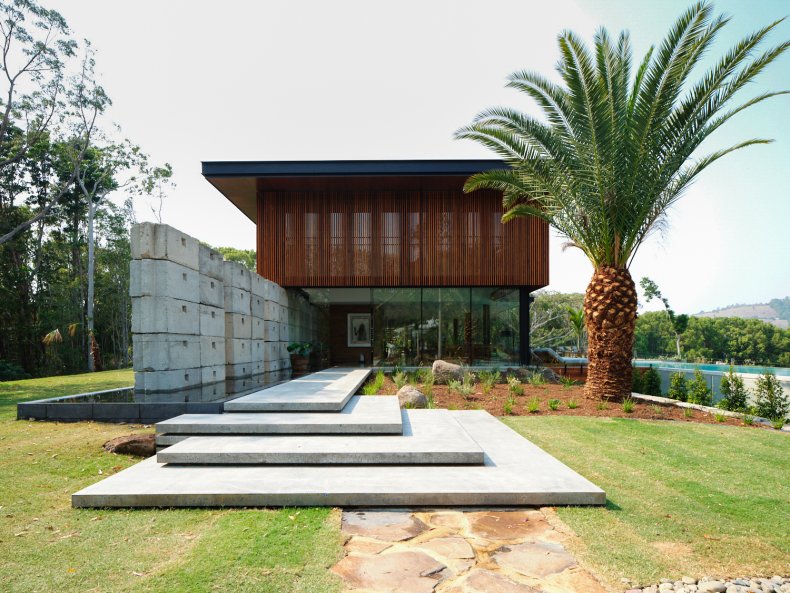 For the most part, Gorrow thinks the biggest difference between SOMA and Tranquillum House is the luxury service guests in the fictional retreat are offered.
"We chose to design a model where our guests feel at home, have a sense of autonomy and have to put in some effort- undertake the process of meditation, rounding and everything else we do to reap the personal rewards."
Cell Phones
Early into the retreat, Tranquillum House's founder, Masha (Nicole Kidman), has the guests surrender their cellphones.
While this isn't compulsory at all of SOMA's retreats, Gorrow explained that it can have some benefits.
"Smartphones and the apps therein are formulated to do one thing, steal your attention," he said.
On their more introductory stays, guests are allowed access to their cell phones, but for the more advanced they are off limits.
"The reason is fairly obvious," he explained, "phones are a major distraction and people are powerless against the allure of engagement."
The goal of a retreat at SOMA is "recalibration" and "introspection," so taking time away from the digital world can help achieve this.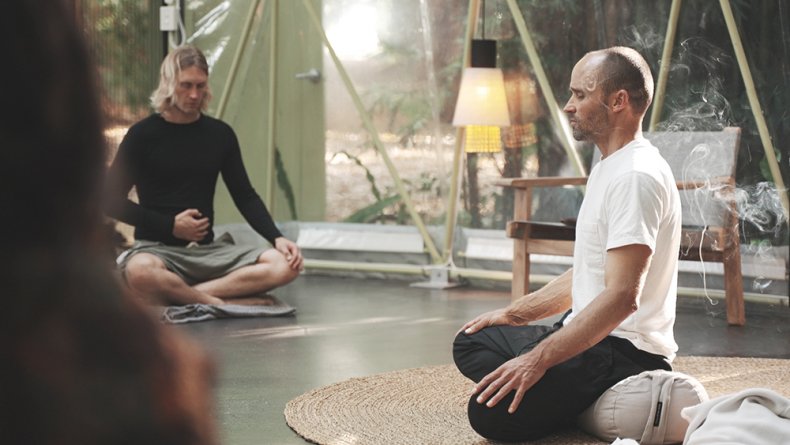 Being Buried Alive
In a more extreme exercise in Episode 2, Masha has the guests dig their own graves and lie in them to think about what their loved ones would say about them at their funeral.
Some of the cast even found it to be a powerful experience, as Melissa McCarthy previously told Newsweek: "Nicole was saying things like 'who will miss you' and you're like 'oh God.' As the character and then as yourself, those are rather enormous things to think about."
Regina Hall added: "It was a little scary but also oddly great in a weird way. Like life, there's not just one emotion that accompanies something like that."
While digging your own grave is thankfully not on the menu at SOMA, Gorrow said: "Contemplating death is something that has been practiced in numerous cultures and spiritual traditions around the world.
"Pondering death also helps to put things into perspective; so much of what brings us frustration, angst or suffering when set alongside death suddenly seems pail and insignificant."
Thinking about death can also help us find gratitude and appreciation for our lives.
Instead of exploring these feelings as literally as the characters in the show do, the guests at SOMA practice ancient techniques such as Vedic meditation, Himalayan breath work, yoga and kriya.
"From the perspective of Vedic wisdom we say the body dies, but the indwelling essence does not. This essence is what science calls consciousness and spiritual traditions call spirit, atman or the self," he explained.
Group Breakthroughs
It doesn't take long before the group in the series, who began as strangers, start sharing some big revelations about each other and their troubles.
Sharing difficult experiences like this is not uncommon in this setting, Gorrow said.
"I've witnessed this for years. There are incredible bonds and friendships that form during retreats.
"Those rites of passage create a deep sense of unity."
As for guests at SOMA: "They typically turn up mentally and physically out of balance and they leave feeling completely reset and inspired."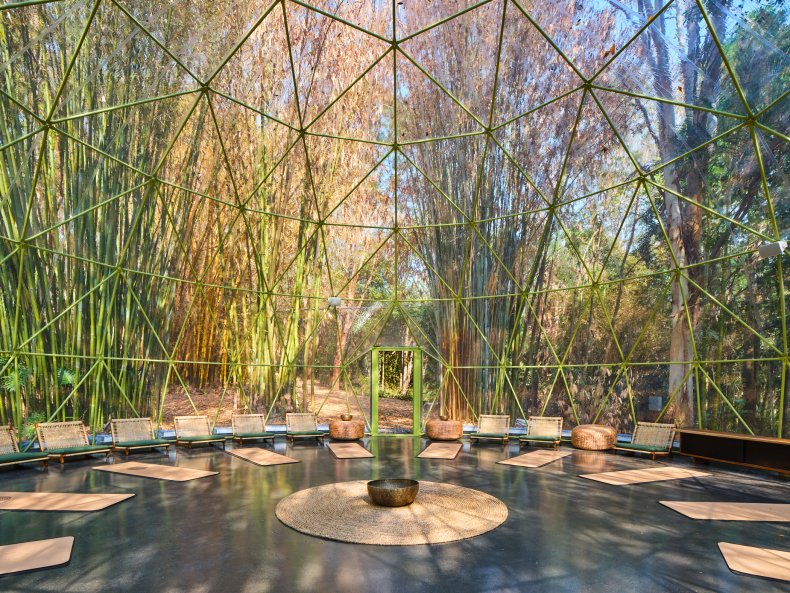 Aggression Therapy
In one episode, Masha has the guests engage in a cathartic exercise as they beat a dummy with a stick.
This, Gorrow said, makes it clear that she has a specific motivation in mind and is not something he would practice at his retreats.
"You can see from the beginning that Masha has a particular intention with her clients and that is she wants to break them open.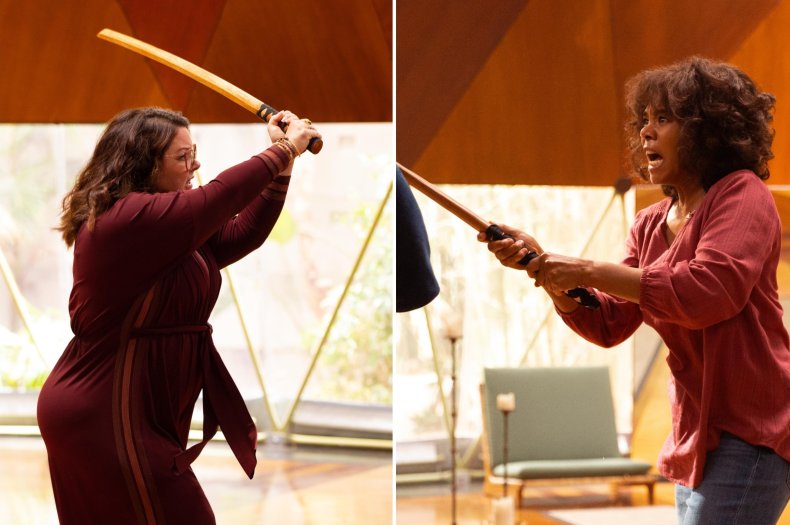 "The teacher, guru, shaman or whomever is leading an experience plays a vital role in dictating the flow of energy and events. On my retreats my intention is not for catharsis, but for deep healing, awakening and to feel amazing."
Gorrow has never witnessed guests show anger or aggression during his retreats.
"The meditation and advanced techniques we practice have a unique ability to draw out and dissolve the emotions without people having to consciously purge," he said.
"I simply teach people how to allow and witness their emotions arising and subsiding."
How do I find the right wellness retreat for me?
If the show has made you think that a wellness retreat might be a good fit for you, it can be difficult to know where to start looking.
"Do a personal inventory and be honest about your physical, emotional, mental and spiritual state," Gorrow advised.
"If you're wanting to invigorate your system, develop a new skillset or enhance your wellbeing then a retreat is a good avenue to pursue."
The most important considerations are the practical ones like length of time, budget, the sort of programs on offer and what they promise to deliver.
He explained it's best to get clear on how you want to feel and what benefits you're hoping for and then ask around for recommendations and do your research.
"Don't hesitate to reach out to the place you're considering and have a conversation with them, ask lots of questions and tell them about your situation so you can determine if it's going to be supportive of your needs.
"A retreat should ultimately empower you with a skillset you can continue to incorporate into your daily life well beyond the experience," he said.