Nine-Year-Old Delivers Tearful Testimony Calling on Lawmakers to Let Undocumented Immigrants Obtain Licenses: 'This Is Wrong'
Earlier this week, New Jersey lawmakers gave the green light to a bill seeking to give undocumented immigrants the ability to obtain driver's licenses, following years of outcry from local communities.
Members of the Assembly Judiciary Committee passed the bill in a 4-2 vote on Monday after hearing the moving testimonies of undocumented immigrants and advocates who say the measure is decades overdue.
However, it was the testimony of a 9-year-old boy, still years away from being able to earn a driver's license of his own, that sent shockwaves through the room, with young David Flores, whose real surname has been withheld as a precaution, demanding answers from lawmakers on why this legislation has taken them so long to push forward.
"I'm a little child and I support licenses because you guys always say and you guys always give us promises. We've been tired of this," David tells lawmakers in video of his testimony.
"I support my parents," the 9-year-old continues, wiping tears from his eyes. "I support them. But you guys only give us promises," he says in the video shared by Movimiento Cosecha, a group advocating for immigrants' rights that supports David's family.
"I ask you guys to just stop this and give us the licenses because I am sick and tired of you guys making these promises for at least 18 years," he says. "Are you just going to wait until I am one [of you] and I can give the licenses?"
"This is wrong for everybody," David says. "Licenses can help our children go to school and learn, so that they can learn what's right and what's not right."
Speaking to Newsweek on the phone with his parents days after lawmakers approved the bill, David described the toll that not being able to drive legally has had on his family over the years.
The 9-year-old said that he is constantly afraid that one of his parents might get stopped on the rare occasion that they are forced to drive without a license.
"My dad, once on his way to work, he went in the car because there was no one to take him," David said. "I'm afraid they're going to stop him and deport him to Mexico. That's what I'm afraid of."
Also, the 9-year-old said: "I don't want other families to be deported."
In his own daily life, however, David said he has felt the impact of the limitations imposed on his parents because they are undocumented.
When it comes to going to school or going to sports games, he has to rely on others to take him or his parents risk being stopped while driving him without a license.
"My parents need licenses because they're supposed to take me to school," David said. "My life would change if my parents got licenses because my parents would actually be able to take me where I'm supposed to go and where I can learn things I need to know in the future."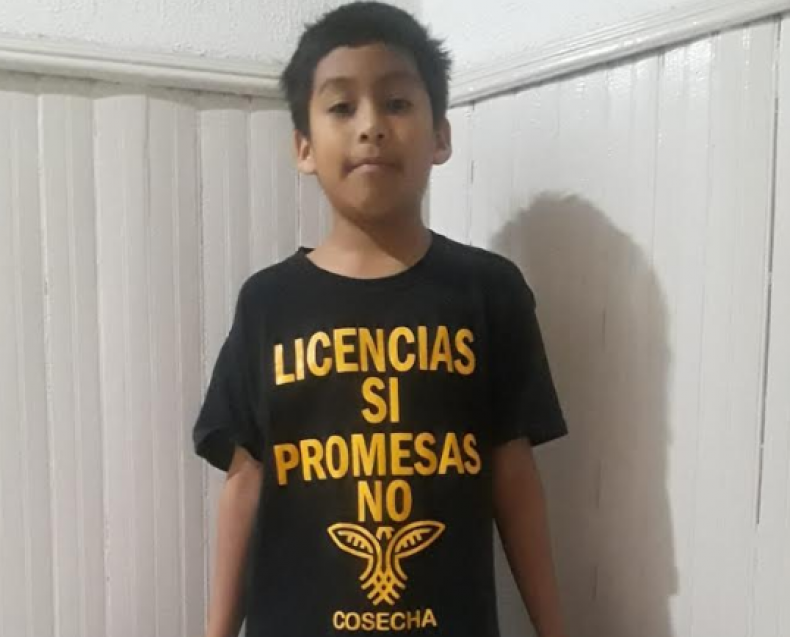 David's parents told Newsweek they were proud of their son's efforts to campaign for the rights of undocumented immigrants in their community and across the state.
"No one asked him to testify," his mother, whose name has been withheld, said, speaking in Spanish through a translator. "He saw other people testifying and he wanted to...He understands the struggle his family goes through."
David had also been upset that his grandfather was stopped a few months ago for driving without a license, she said. "He had to pay so much money in fines."
The 9-year-old's father said he was constantly worried when driving his son to games or driving to work without a license.
He also said that having a driver's license would make it easier for him to find work and to get to his current job, which is about an hour's drive from his house.
Currently, he relies on a rideshare system organized through the metals packaging factory he works at, in which different workers drive colleagues without licenses to the plant.
"It has a big financial impact on the family," David's mother says.
Not being able to drive legally is a constant source of anxiety for the family, both parents, who came to the U.S. from Mexico in the late 1980s, said. David's mother said she regularly has to weigh whether she can afford to take a taxi or another mode of transportation or if she should risk making the drive.
David said he believes his testimony had an impact on lawmakers' decision to vote in favor of the bill.
Governor Phil Murphy has also suggested that he will sign the bill, giving his support to the measure.
If he does follow through, the measure will allow for drivers to obtain two different types of licenses: one that complies with the federal Real ID Act and allows holders to board domestic flights and one that would be for driving only for undocumented immigrants and others who lack documentation.