Nintendo Direct E3 Predictions: 'Smash Ultimate' DLC, 'Animal Crossing' and More
Speculation from fans is at an all-time high ahead of Nintendo's E3 2019 Direct presentation. When will previously-announced games come out? What surprise title will Nintendo show off?
Tuesday's online presentation will deliver 40 minutes of information about upcoming Nintendo Switch titles. Here's some predictions for what we will see on Tuesday.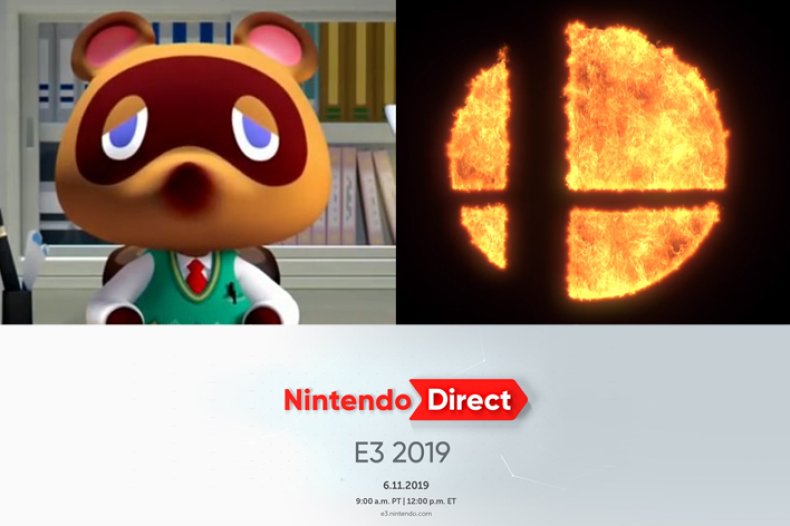 SUPER SMASH BROS ULTIMATE DLC REVEAL
Joker from Persona 5 is the first DLC fighter for Super Smash Bros. Ultimate and there are four more characters yet to fill out the roster. Nintendo has yet to provide details about who the next fighters will be or when players can expect to be able to purchase/download them.
Numerous supposed leaks and rumors have claimed the next DLC character will be Erdrick from the Dragon Quest series. Seeing as how Dragon Quest XI is getting a port on the Switch this year, it would make sense to bring the franchise to Smash Ultimate.
ANIMAL CROSSING RELEASE DATE.
Nintendo announced a new Animal Crossing was coming to Switch in 2019 way back in September, and since then, it's been radio silence regarding this new title.
Expect the first gameplay footage from this Animal Crossing Switch title at E3 2019, as well as a release date - or at least a release window. With Pokémon Sword and Shield dropping in November, a December release date seems likely.
NEW POKEMON IN POKEMON SWORD AND SHIELD
Pokémon Sword and Shield got a huge spotlight during last week's Direct, which revealed the release date, box legendaries and more but fans can still expect some new information regarding the Gen 8 titles. There's bound to be a Pokémon or two revealed on Tuesday, maybe even the starter Pokémon's first evolutions.
It's also likely that the evil team of the Galar region and possibly some story beats will be revealed during this Direct.
METROID ON SWITCH ANNOUNCEMENT
No, this isn't referencing Metroid Prime 4. This is another Metroid game coming to Switch this year.
Samus has yet to make her way to the new console - aside from Smash . What better way to get fans ready for Metroid Prime 4 than by releasing either the long-rumored Metroid Prime Trilogy port for Switch, or something completely different.
There have been rumblings of a Metroid: Samus Returns-style game coming to Switch, so it's possible that could arrive this year.
What do you think will come from the Nintendo E3 2019 Direct? Let us know your predictions in the comments section below.