'Untitled Goose Game' Update & Every Trailer Shown at Nintendo Direct Indie World Showcase
Fans of independent games rejoice! A new Nintendo Direct Indie World Showcase has concluded giving Switch owners a taste of what's to come today, later this year and in 2021.
The August Indie World Showcase showed off more than 10 new titles on the way with many arriving later today for Nintendo Switch.
Some games are action-adventure titles, others are puzzle platformers, card games and much more. There's even an upcoming update for 2019's smash indie hit, Untitled Goose Game that fans will be excited about.
There was something for everybody during the latest Indie World Showcase and if you're interested in any of them, Nintendo is hosting a sale for these games right now. Check out the Nintendo eShop for all the details.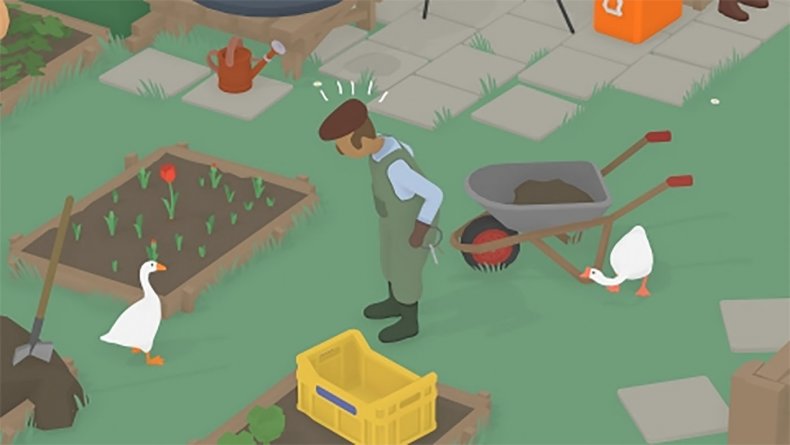 Untitled Goose Game Update
A physical release and a two-player co-op mode is coming to the Nintendo Switch on September 23. This free update will allow players to team up and wreak havoc on unsuspecting people. What's more terrifying than an ornery goose? Two ornery geese.
Hades
If you're a fan of rogue-like dungeon crawlers then Hades is for you. From Supergiant, players will play as the immortal Prince of the Underworld and wield the powers and weapons of Olympus to break free from the god of the dead.
Hades will feature cross-saves with the PC version when the game comes to Nintendo Switch this fall.
Hypnospace Outlaw
In this '90s internet simulator, players will scour a wide variety of websites in order to hunt down virtual villains and hackers. Hypnospace Outlaw is a blast from the past when it is released for Nintendo Switch on August 27.
Fans can pre-purchase or download the demo later today.
Spiritfarer
From Thunderlotus, this management game lets players help the spirits of the dead make their way to the afterlife. You'll befriend passengers and customize your boat. You'll also be able to travel and explore lands and play minigames with spirits.
Spiritfarer will release on Nintendo Switch later today.
Garden Story
From Picogram and Rose City Games, this action-adventure game lets players control a grape as they explore islands, take out enemies and help your residents with their problems. Garden Story releases on Nintendo Switch in 2021.
Subnautica and Subnautica: Below Zero
These first-person adventure game, and its sequel, lets players dive into oceans and travel through unexplored lands to investigate life.
Both games will release for Nintendo Switch in early 2021.
Takeshi and Hiroshi
You are Takeshi as you create your own RPG to entertain your younger brother Hiroshi. You'll need to balance difficulty levels and playability to create an adventure for yourself and your younger brother.
Takeshi and Hiroshi will release on Nintendo Switch later today.
Raji: An Ancient Epic
From Nodding Heads Games that is an action-adventure game that takes place in ancient India. Fight your way through enemies an pick up mythological weapons along the way as Raji tries to save her brother.
Raji: An Ancient Epic releases later today as a timed-console exclusive on Nintendo Switch.
Bear & Breakfast
Build your business and expand your bed and breakfast into the forest. You'll be tasked with maintaining your lodging and helping out visitors. Players will also have to watch out for some unsavory visitors deep in the forest.
Bear & Breakfast will release as a timed console exclusive in 2021.
A Short Hike
A Short Hike is a game about players taking things at their own pace, choosing their own path and seeing where it leads them. Meet other hikers, discover hidden treasures and enjoy the beauty of this world in one of the most chill titles shown during the Indie World Showcase.
A Short Hike launches later today on Nintendo Switch as a timed console exclusive.
Card Shark
This game will teach you card tricks as you make your way through table after table in ol' timey France. Learn and use these tricks to make your way to the king's table, but don't get caught or it's all over.
Card Shark releases for Nintendo Switch in 2021
Torchlight III
Set after the events of the previous game, players will explore dungeon after dungeon with friends to take out enemies and find more loot. Pets will make their return and comes with their own abilities to help you explore dungeons.
Torchlight III will release on Nintendo Switch in the fall.
Manifold Garden
Manifold Garden is a brand new puzzle game that reimagines the laws of physics. Geometry repeats infinitely in every direction, and falling down leads players back to where they started. In order to progress, players need to manipulate gravity to change their perspective and see the world in new ways.
Manifold Garden launches on Nintendo Switch later today.
Evergate
From Stone Lantern Games, this 2D puzzle platformer lets players control a small spirit as they make their way through the afterlife. Use their soulflame powers to make their own platforms, survive harrowing jumps, slow time and much more.
Evergate will be released for Nintendo Switch later today.
What was your favorite game shown during the Nintendo Direct? Let us know in the comments section.