Nintendo Direct Indie World Showcase: 'Axiom Verge 2' and Every Announcement From Latest Stream
Another Indie World Showcase has concluded for Nintendo, and the next batch of independent games coming to the Switch were given their share of the spotlight before 2019 ends.
The next year looks to bring a ton of new indie games to the Nintendo Switch. Some are highly anticipated sequels, others are ports of existing popular titles. And there are, of course, more unique and weird experiences preparing for their first launch.
If you want to know what's coming to the Switch today and in the near future, here's everything announced (with trailers) during the December 10 Indie World Showcase.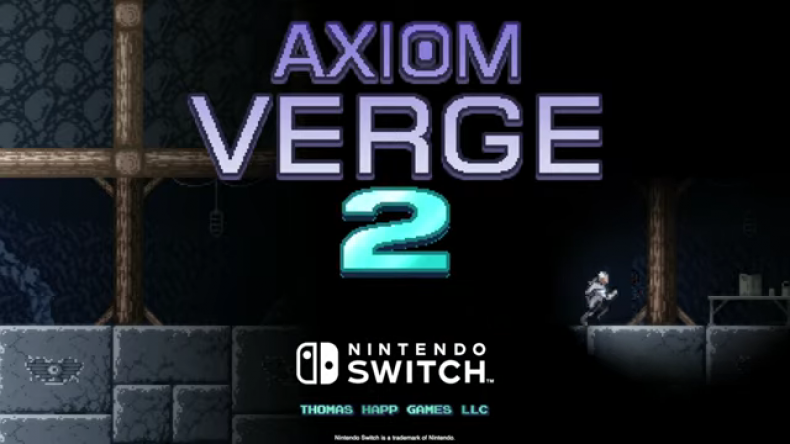 Axiom Verge 2
Nintendo ended its presentation with the reveal that the sequel to Axiom Verge, from Thomas Happ Games, is coming in 2020. Fans will "discover the origins of the Axiom Verge universe in the long-awaited sequel to the critically acclaimed game."
Axiom Verge 2 launches for Nintendo Switch in fall 2020.
Sports Story
From Sidebar Games, the makers of Golf Story, comes the sequel that brings more sports and action. Here's a bit of flavor text from Nintendo's press release:
"A new adventure full of golf, tennis, dungeons, espionage, mini-games and plenty of friends – and enemies – to meet along the way. Sports Story launches exclusively for Nintendo Switch in mid-2020."
Streets of Rage 4
From Dotemu / Guard Crush Games / Lizardcube, the next installment of the Streets of Rage franchise is coming to the Switch next year.
"Streets of Rage 4 builds upon the legendary Streets of Rage trilogy's beat-'em-up gameplay with new mechanics, a fresh story and a gauntlet of dangerous stages with a serious crime problem. There will be plenty of braised chicken lying around on plates and bad guys to beat down when Streets of Rage 4 comes to Nintendo Switch in the first half of 2020."
Gleamlight
From D3PUBLISHER:
"Using a stained-glass motif, this unique game puts players in the role of a sword (that's right: a sword) in a terrifying, sad, but warm story drawn in a beautiful glassy world. From the developers of Bloodstained: Ritual of the Night comes Gleamlight, launching for Nintendo Switch in early 2020."
Bake 'N' Switch
Bake 'N' Switch from Streamline Media Group is a new couch co-op game that will get friends playing and baking.
"In this party brawler that's all about food, up to four players work as a team to punch, combine and bake dough before time runs out. Bake 'n Switch cooks up something special on Nintendo Switch in summer 2020."
SuperMash
From Digital Continue, SuperMash lets players create their own games by mashing up two genres. There are tons of possibilities for games, and you can even share your creations with friends.
"A love letter to video game culture, SuperMash is set in a game shop owned by a brother and sister who discover a mysterious game console. Players will never know what to expect in SuperMash as the game mashes together video game genres and creates a different experience every time. SuperMash will shake things up on Nintendo Switch in May 2020."
The Talos Principle
A puzzle game from Croteam, The Talos Principle is a new title that will release on Nintendo Switch later today.
"Tasked to solve a series of more than 120 complex puzzles, players will divert drones, manipulate laser beams and replicate time to prove their worth. The Talos Principle: Deluxe Edition will be available for Nintendo Switch later today!"
Sail Forth
From David Evans, Sail Forth is an adventure game coming to Switch in 2020.
"There's nothing quite like a high-seas adventure combining classic naval action with exploration. In Sail Forth, the entire map is procedurally generated, with players discovering islands to explore, quests to take, sailors to rescue and pirates to loot."
Dauntless
The popular online action-RPG is available now for Nintendo Switch. The release on Switch brings with it the Stormchasers expansion that gives players a slew of new weapons and armor.
"Join millions of players in Dauntless, the fastest-growing online action-RPG, and explore a massive, free-to-play online world. Stand together and slay Behemoths with your friends from all over the world with true cross-play when Dauntless launches later today on Nintendo Switch. Exclusive to Slayers on Nintendo Switch, the Skyfighter Armor and Skymetal Weapon Set ensure that you look your best on the hunt. This cosmetic set includes weapon skins for all seven weapon types in Dauntless and a stylish armor set."
Murder by Numbers
This timed exclusive from Mediatonic will have players solving a murder mystery
"From TV studios to glitzy award shows, players must uncover a tangled web of conspiracy, deception and, of course, murder, as they piece together the truth one pixel at a time. Featuring music from Masakazu Sugimori, the composer behind Phoenix Wright: Ace Attorney and Viewtiful Joe, Murder by Numbers launches first as a timed exclusive on Nintendo Switch in early 2020."
Oddworld: Stranger's Wrath
From Oddworld Inhabitants, this updated classic offers players the chance to experience this title anywhere with the Nintendo Switch.
"In this classic action-adventure game, players will wield Stranger's unusual crossbow that fires off rounds of literally live ammo – from rodents to bugs. With updated first-person shooter controls and gyroscopic aiming, the definitive version of this classic launches for Nintendo Switch in January, with pre-purchase available today."
SkateBird
If you like skating games and birds, then SkateBIRD from Glass Bottom Games is for you. Control your own skater bird as you traverse different skate parks collecting items and helping other birds along the way.
"Look at these cute little birds shred! Whether they're grinding on bendy straws, kickflipping over staplers or carving lines through a park held together by sticky tape, skate birds always try their best – and look adorable doing it. SkateBIRD launches for Nintendo Switch in late 2020."
Liberated
From Atomic Wolf, Liberated is an interactive game that lets you experience a graphic novel at home or on the go.
"Liberated blends the art of cyberpunk, hand-drawn graphic novels with interactivity and action to create a seamless experience. As players flip between pages, side-scrolling stealth gunplay and platforming action, they must view what transpires from many points of view to parse the truth. Liberated launches first as a timed exclusive on Nintendo Switch in 2020."
Boyfriend Dungeon
Kitfox Games brings Switch owners a mash up of a dungeon crawler and dating sim in Boyfriend Dungeon.
"In this dating sim-dungeon crawler mashup, players forge precious memories with many different loves, and then use their individual combat styles to clear out monsters and uncover the dungeon's secrets. Boyfriend Dungeon wants to be more than friends with Nintendo Switch in 2020."
Dreamscaper
Dreamscaper from Afterburner Studios is a brawler, top-down shooter that lets players experience a young woman's subconscious and the terrors of depression.
"Sometimes the only way to face a tough subject is head on ... even if that means battling a nightmarish depression living inside a young woman's subconscious. Combining a brawler, a top-down shooter and a dungeon crawler, Dreamscaper launches first on Nintendo Switch as a timed exclusive on consoles in early 2020."
The Survivalists
From Team17, The Survivalists is a survival game that lets players explore procedurally generated islands while training monkeys and crafting items to make your life a little bit easier.
"The Survivalists combines crafting, base-building and survival, along with a few surprises, in a new adventure set within the Escapists universe. And on Nintendo Switch, up to four players can play together in local wireless and online multiplayer, The Survivalists launches for Nintendo Switch in 2020."
What did you think of the Indies World Showcase? Which title are you most looking forward to? Let us know in the comments section.