UPDATE: Nintendo postponed the Sept. 6 Direct due to an earthquake in Japan. A date for the presentation will be provided in the future.
Original Story
Following the Nindies and Dragalia Lost Directs, Nintendo is releasing another online presentation to talk about upcoming 3DS and Switch titles.
The Sept. 6 Nintendo Direct will be 35 minutes long and will likely reveal some unannounced 3DS titles that will release in time for the holiday season. Switch owners should be especially excited as the hybrid console is set to have a packed release schedule at the end of 2018.
Pokémon Let's Go Pikachu and Pokémon Let's Go Eevee will release in November and Super Smash Bros. Ultimate will drop in December, so there may be some information on both games during this Direct.
If you're looking to watch the upcoming Nintendo Direct as its happening, here's the start time and all the ways you can find the presentation online.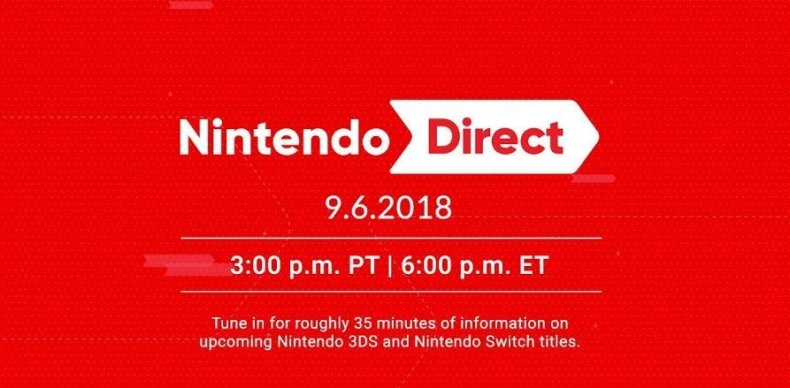 WHAT TIME DOES NINTENDO DIRECT BEGIN?
The Sept. 6 Nintendo Direct will begin at 6 p.m. EDT. It may start a minute or two late but unless Nintendo makes a last-minute change, expect the stream to begin at that time.
HOW TO WATCH NINTENDO DIRECT ONLINE?
As with past Directs, the official Nintendo Live site will host the latest presentation from the official YouTube channel. If you plan to watch on your mobile device, the YouTube app is ideal for watching the Direct on the official Nintendo YouTube channel.
Nintendo's Twitch channel will also host the Sept. 6 Direct when it goes live at 6 p.m. so fans can watch it on their desktop or mobile devices.
What do you hope to see during the upcoming Nintendo Direct? Which game coming for 3DS and Switch are you looking forward to the most? Let us know in the comments section below.