Nintendo Labo-Themed Program Coming to Elementary Schools Across the U.S.
Nintendo and Institute of Play are teaming up to bring Nintendo Labo kits into elementary classrooms across the U.S. starting next year.
Combining the Labo's innovative way to play with the basic principles of science, technology, engineering, art and mathematics (STEAM), Nintendo and Institute of Play hope to inspire kids to make learning fun.
"We are always on the lookout for new tools and technologies that combine the best of learning with the spirit of play, and in Nintendo Labo we found an inspiring and innovative approach in both areas," said Arana Shapiro, Co-Executive Director of the Institute of Play in a press release. "Teachers in the pilot program are already seeing the natural fit for Nintendo Labo in the classroom, and now we can bring that dynamic to schools across the country."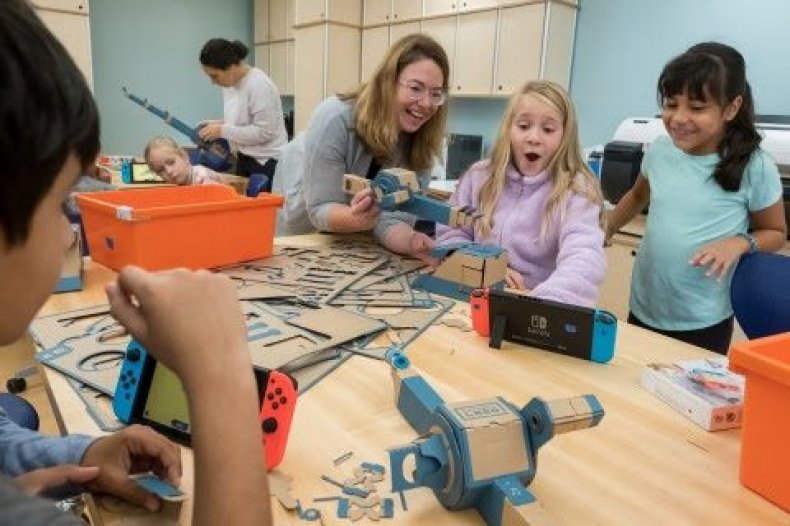 The Institute of Play, which works as a trusted partner with teachers and schools in developing play-based learning experiences for students, will help build curriculums using a team of educators, researchers, game designers and school leaders.
This new Labo curriculum coming to elementary schools is currently conducting a pilot program in schools within the greater New York area. Sample lesson plans and learning modules dedicated to the basic elements of STEAM will be provided.
"The ingenuity of Nintendo Switch brings Nintendo Labo to life to provide a fun way for kids to explore basic STEAM topics together and be entertained while building a fundamental understanding of the technology behind them," Nintendo of America President and COO Reggie Fils-Aime said in a press release. "We hope our programs in the United States and Canada encourage kids to explore, tinker, problem-solve and, in the process, get excited about design and technology – all while having fun."
Nintendo will provide the Nintendo Labo: Variety Kit and Switch systems to participating classrooms. The labo-based program aims to reach approximately 2,000 students ages 8 to 11 during the 2018-2019 school year.
Once the pilot has completed, the program will expand to about 100 schools around the United States. Any schools wishing to take part in the program can apply at the Institute of Play site.