The 5 Most Anticipated Nintendo Switch Games of 2019
Nintendo Switch had a great 2018, with amazing games like Pokémon Let's Go Pikachu and Eevee, Super Mario Party and Super Smash Bros. Ultimate. But 2019 is shaping up to be an even better year for the hybrid console with some highly anticipated titles.
While Nintendo has announced certain games are in development, there has yet to be a release date or even a 2019 release window for some long-awaited titles. So games like Metroid Prime 4 and Bayonetta 3 are not on this list. We've only included games officially slated to release in the coming year.
Here's our top five most anticipated Nintendo Switch games for 2019.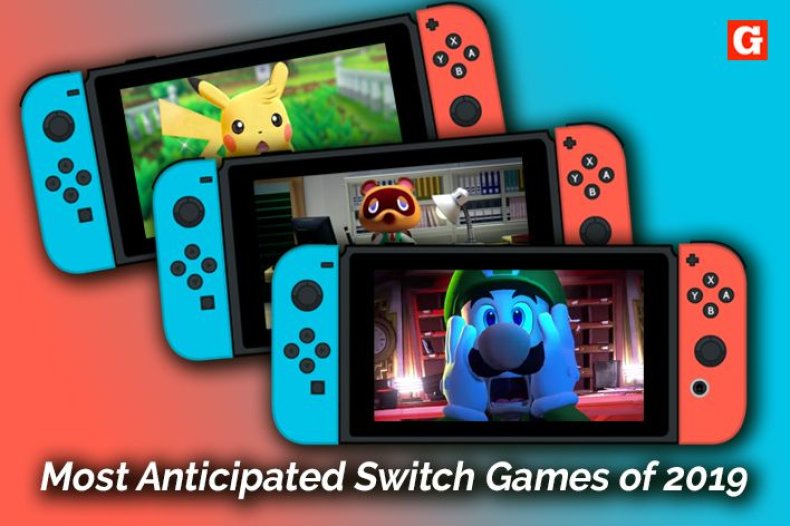 Get your unlimited Newsweek trial >
5. Mortal Kombat 11 (April 23, 2019)
This one might be a bit of a cheat, but NetherRealm Studios shocked the gaming world by announcing the next installment of its Mortal Kombat series at The Game Awards earlier this month.
While the return of the violent fighting game series is welcome, the game's Nintendo Switch release this April was surprising. Nintendo has historically shied away from the violent nature of the Mortal Kombat series, infamously replacing the original game's blood with blue goo for the SNES version.
Nintendo Switch supports Triple-A fighting games like Super Smash Bros. Ultimate and Dragon Ball FighterZ already, so it'll be interesting to see how MK11 fares on the hybrid console. Hopefully it paves the way for more games like it in the future.
Get your unlimited Newsweek trial >
4. Animal Crossing (2019)
Animal Crossing has a rabid fanbase, so when it was announced that the series was coming to the Switch in 2019, devotees erupted with excitement. While the announcement didn't reveal any major details about the upcoming game, expect more of the chill, community-building features that have made the series popular.
And on the Switch, players will be able to perform their chores and tasks anywhere, on-the-go.
3. Luigi's Mansion 3 (2019)
The first Luigi's Mansion for the Nintendo GameCube was one of the console's best games, putting a spotlight on Mario's brother like never before in o. Fast-forward to 2019, and the third installment of Luigi's ghostbusting adventures is just around the corner.
Nintendo released the older games for 3DS games this year, but a new adventure is something fans of the series can really get behind.
2. Fire Emblem: Three Houses (Spring 2019)
Fire Emblem has become a huge IP for Nintendo in recent years, with some masterful games for the 3DS. Three Houses will be the first mainseries Fire Emblem game to come to Nintendo Switch, bringing updated graphics and strategies to the series.
Expect more weapon-wielding fights and fantastical storylines from Fire Emblem: Three Houses this spring.
1. Pokémon (2019)
Pokémon is without question Nintendo's most profitable property. While Let's Go Pikachu and Eevee showed fans how gorgeous the series can look on the Switch, introducing a new region and Pokémon will only amplify the hype.
The prospect of new strategies and characters on a next-gen, on-the-go console easily makes the next installment of the Pokémon series our most anticipated Switch game of 2019.
What Nintendo Switch title are you looking forward to the most in 2019? Let us know in the comments section below.
The 5 Most Anticipated Nintendo Switch Games of 2019 | Gaming