Nintendo Switch Games Coming June 2019: 'Castlevania' Heir, 'Super Mario Maker 2' Anchor a Slow Start to Summer
Let's just get this out of the way up top: there's not many games coming to the Nintendo Switch in June, and only a handful are likely to be worth your time and money. (There's a lot of years-late ports, old franchise reboots and shovelware, though!)
But while the summer doldrums may be upon Switch players, the June 2019 release calendar isn't all bad news. Highlights this month include a new gothic action game from Castlevania veterans, a new Super Mario Maker and an XCOM-like strategy game where you can shoot people as a talking, post-apocalyptic duck.
June 4
Kotodama: The 7 Mysteries of Fujisawa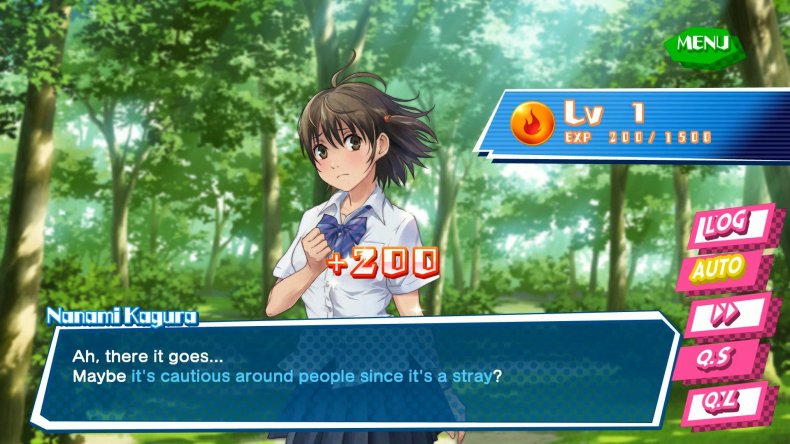 A visual novel divided into seven chapters, Kotodama is all about investigating the mysteries of Fujisawa Academy.
June 11
Battle Worlds Kronos
Hex-based turn-based strategy featuring tank, jeep and ship-based combat on a forested battle world.
June 13
Leisure Suit Larry: Wet Dreams Don't Dry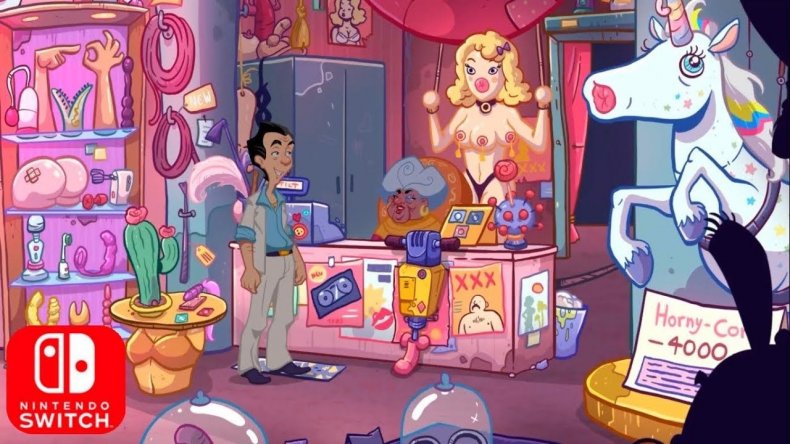 The lewd, adult-themed video game series is coming to Nintendo Switch. The adventure series has been around since 1988, and now it's back. In Wet Dreams Don't Dry, Larry Laffer tries out online dating.
June 21
Crash Team Racing: Nitro-Fueled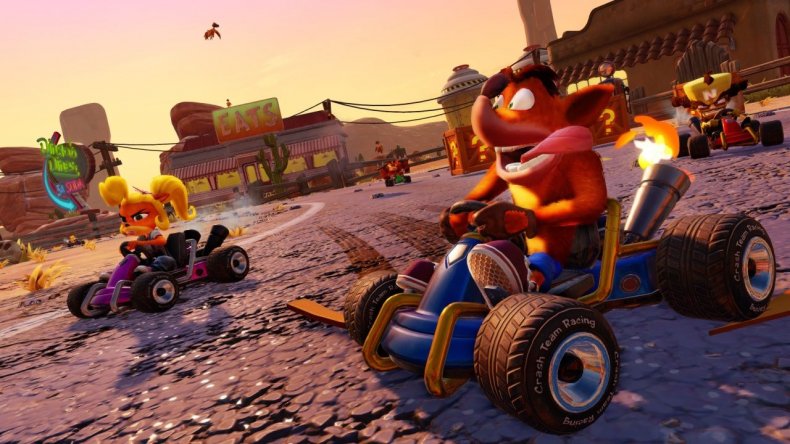 Crash Team Racing: Nitro-Fueled is a remaster of the original 1999 CTR. Sure, it's a Mario Kart knockoff, but it was a fun one... back in the 90s.
June 25
Bloodstained: Ritual of the Night
Reboots of sex farces, Japanese visual novels and rereleases of 20-year-old-games have dominated the Nintendo Switch June release calendar up to this point, but we've finally arrived at a game that might be capable of raising some heart rates. Bloodstained: Ritual of the Night is a spiritual successor to the Castlevania series, produced by Koji Igarashi, longtime lead producer of the Castlevania franchise, from Symphony of the Night, through excellent Game Boy Advance and Nintendo DS entries like Aria of Sorrow and Dawn of Sorrow. Rather than a Belmont, Ritual of the Night follows orphan alchemist Miriam as she journeys into Demon Castle to challenge turncoat alchemist Gebel.
Super Neptunia RPG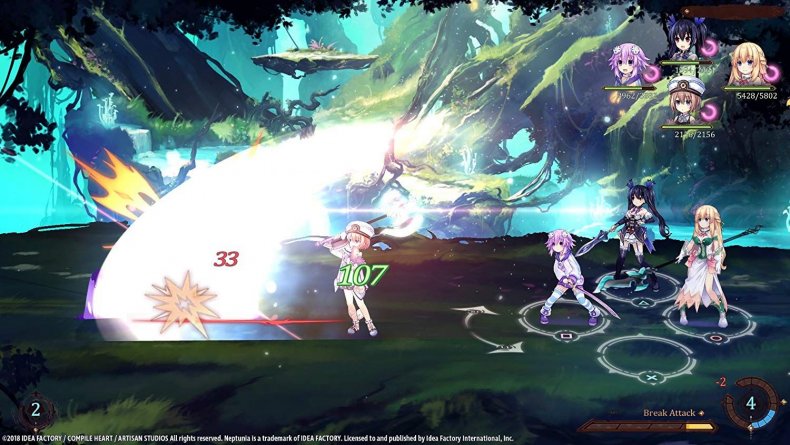 If a Castlevania-style platformer from a master of the genre isn't your cup of tea, perhaps a platforming, action JRPG starring anime girls is more your speed. For those people, there's Super Neptunia RPG.
Redeemer: Enhanced Edition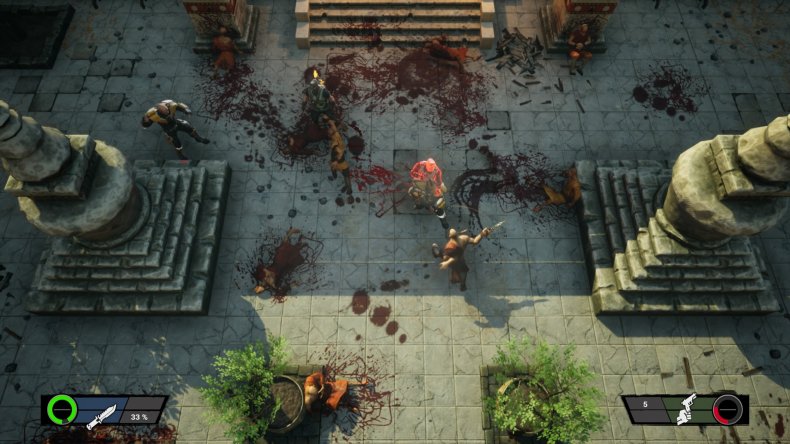 A top-down shooter with a heavy emphasis on melee combat. While Redeemer had mixed reviews when it came out for PC in 2017, the Enhanced Edition might be more worthwhile, adding two-player co-op and improved balance for abilities and throughout levels.
Samurai Shodown
A new entry in the long-running SNK fighting game series, Samurai Shodown is a 2D fighting game with a 2.5D aesthetic. Intended as a reboot of the series, the new Samurai Shodown is directed and produced by Nobuyuki Kuroki and Yasuyuki Oda, who both worked on 2016's well-received fighting game The King of Fighters XIV.
Guacamelee! One-Two Punch Collection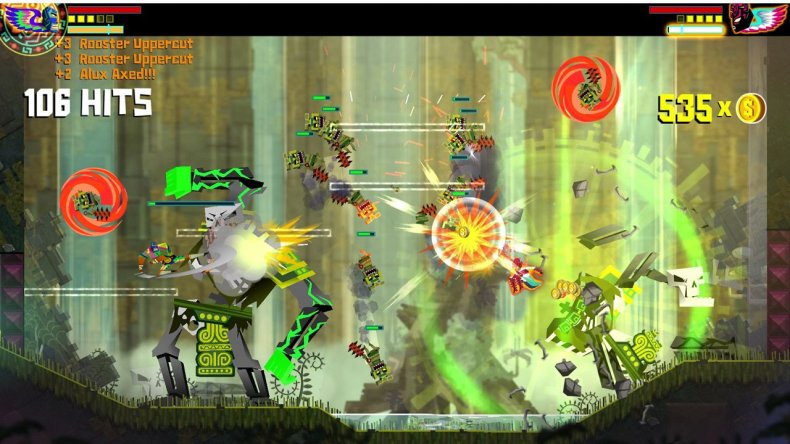 UPDATE: The Guacamelee! One-Two Punch Collection has been delayed until August 6, developers DrinkBox Studios confirmed to Newsweek.
The One-Two Punch Collection includes both 2013's Guacamelee! and its 2018 sequel. Metroidvania style platformers starring luchadors, both entries in the series were well-received. Now they're together in one package.
Mutant Year Zero: Road to Eden
Based on a tabletop RPG, Mutant Year Zero: Road to Eden is basically XCOM with humanoid animals. Mutant Year Zero is already out for PC, PlayStation 4 and Xbox One, with Metacritic scores ranging from 76-80.
We. The Revolution
The launch trailer for We. The Revolution shows off its polygonal art style and the irresistible French Revolution setting, but doesn't offer a great sense of its gameplay. In We. The Revolution your a judge on the revolutionary tribunal, evaluating cases and passing judgment, all while balancing the ever-shifting political alliances to keep your own neck out of the guillotine. Already well-received on PC, We. The Revolution is one of the more intriguing releases coming to the Switch in June.
June 27
War Tech Fighters
This mechs-in-space action game was released for PC in 2018. In addition to a space opera plot, War Tech Fighters has interesting combat mechanics, like mecha sword duels, lockpicking and asteroid scanning. It looks sparkly, with big mecha and lots of explosions, but the mixed reviews for War Tech Fighters give us pause.
Bubsy: Paws on Fire!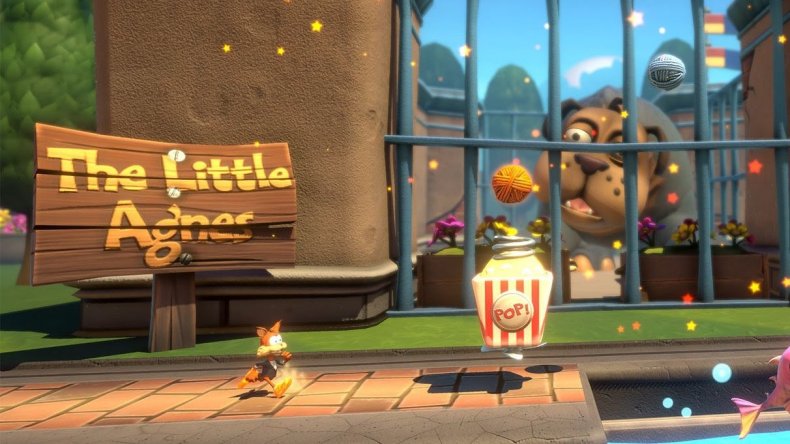 No one was really clamoring for a new Bubsy game, especially after 2017's The Woolies Strike Back, but the latest entry was developed by the creators of the Bit.Trip series, Choice Provisions, which suggests Bubsy may have finally have a chance to raise some pulses. This one's an endless runner, previously released (to mediocre reviews) on the PS4.
MotoGP 19
MotoGP 19 is the latest entry in a series stretching back to the PlayStation 2. Highlights for this edition of the motorcycle racing series include a new career mode and loads of historical challenges and riders. MotoGP 19 claims advanced AI opponents, powered by machine learning and artificial neural nets inspired by "animal brains," which supposedly react to your play style.
June 28
Super Mario Maker 2
The first-party Nintendo release for June is a doozy: Super Mario Maker 2. Greatly expanding on the original Mario level creator, Maker 2 adds a story mode, new tools and fine-tuning abilities, like changing how levels scroll and even setting specific win conditions, such as collecting a certain number of coins. Creators will be able to build desert, snow, forest and sky levels too. Plus, Nintendo has already built 100 levels to get you started.
Best of all, Super Mario Maker 2 lets you play with the most terrifying Mario villain of all time: the Angry Sun from Super Mario Bros. 3.
That's it for June, 2019! Check back next month—maybe we'll actually have a decent lineup of games to look forward to.