Nipsey Hussle's Brother Samiel Asghedom Remembers Rapper as a 'Role Model to the Community'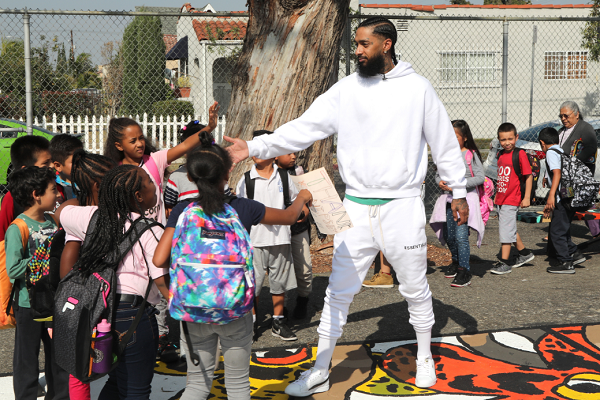 Nipsey Hussle's brother, Samiel Asghedom, spoke on the many ways the California rapper and philanthropist will be remembered following his heartbreaking death during an interview with ABC News Thursday.
"He was a brother, a musician, an entrepreneur, a people's champ," Asghedom said. "He was somebody that believed in the process of hard work, determination and just the positivity of somebody staying in the area that he grew up in and making something out of nothing…he was a role model to the community, to the kids, and to the mothers and grandmothers and the community that watched him grow up and seen him as a youngster, (and now) a family man, a father, raising his kids."
Hussle, who was born Ermias Asghedom, was shot multiple times outside of his Los Angeles retail store, Marathon Clothing, which was located in the Crenshaw neighborhood where he grew up. The 33-year-old died at a local hospital shortly after the incident.
He was a prominent fixture in L.A.'s hip-hop community, gaining a strong fan base with his highly-successful mixtapes as an independent artist years before he joined Jay-Z's Roc Nation. Hussle released his first official studio album, Victory Lap, which blew up Billboard charts and landed him his first Grammy nomination.
However, his music only accounted for a fraction of his success. He was also a notable community leader on a mission to rebuild the impoverished neighborhood from whence he came.
Much of the profits Hussle made from his music was used to invest in his hometown, purchasing properties and launching new businesses in his neighborhood. Just months before his death, Hussle announced plans to develop the strip mall where Marathon is located—which he owned—into housing for low-income families. He also launched a new co-working space and STEM center for underprivileged youth to learn more about entrepreneurship in the Crenshaw district.
"He pulled himself from his boot strings, laying roots through everything—police problems, as a black male trying to grow up and be enterprising, we face a lot of things in the community, you know, the politics within the hood, just hate. He transcended everything and just stayed there and became a beacon of light," Asghedom said.
"Growing up, when he was a teenager—I'm a little bit older than him—he was in the streets and gangs, trying to hustle and get money. I was trying to make sure that he's safe and that he's legitimate and doing something positive and that was my whole goal. You know, at the end of the day, he's the one who actually made me have something legitimate to be able to attach myself to," Asghedom continued. "... It's hard that he was killed, man. It's hard."
Following his death, Los Angeles Police Commission president Steve Soboroff revealed plans to meet with Hussle along with LAPD Chief Michel Moore. "We (@LAPDChiefMoore and I) were meeting, at the request of @NipseyHussle with him and @rocnation tomorrow at 4pm to talk about ways he could help stop gang violence and help us help kids," Soboroff tweeted on Sunday. "I'm so very sad."
He added: "Many of us will join together to stop whatever caused your, and so many other tragic unnecessary killings."
Authorities arrested a man named Eric Holder, who is suspected of shooting Hussle. Moore told ABC a previous personal dispute between the men may have been what led to Hussle's death.